One of the Finest Home Fitness Treadmills – The Landice L770 Home ProSports Trainer
Home fitness treadmills like the Landice L770 Home ProSports Trainer don't come along very often. It's one of the finest pieces of exercise equipment you'll ever own. Even at $3,600, it's a good deal because of the superior quality of every component.
The Machine
Landice isn't yet a household name but it soon will be if it continues to make home fitness treadmills like the L770 Home ProSports Trainer. Part of the allure is that not only are the features good, but each feature is made with superior quality components surpassing those of the competition. The L770 offers: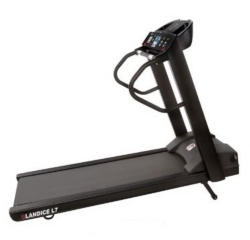 3.0 HP continuous duty motor
20" x 58" running deck
15% maximum incline
400 lbs. user weight capacity
Aircraft grade aluminum frame
Wireless heart rate monitor
2.5" rollers
VFX belt cushioning
5 user defined programs
LED display console
Lifetime parts warranty on everything; 1 yr. labor

The Buzz
Professionals and fitness experts routinely recommend Landice treadmills as the best home treadmills to their clients. Part of this is familiarity, since Landice is very popular in health club chains, but familiarity can breed contempt, which certainly isn't the case here.
Instead, fitness experts love the whole L7 series, noting the virtually silent deck and belt, the smooth operation and the powerful motor. One fitness trainer noted that the 3.0 HP motor in the L770 Home ProSports Trainer seems even more powerful than it is, and that the brand (Baldor) is the best in the industry.
We've found that individuals who purchase Landice home treadmills are fiercely loyal – some fitness buffs probably wouldn't consider another brand. But then, they probably won't have to, since the lifetime warranty and amazing durability of these treadmills means they will be using the same treadmill 20 years from now. The VFX (variable flex) cushioning is a patented design by Landice that prevents side to side rolling of the foot while minimizing the impact of each stride; users rave about it.
What We Say
If you have $3,600, Landice makes the best home fitness treadmills you can buy.
The thought they put into the design shows – aircraft aluminum frames are both far lighter and much stronger than stainless, the one-touch display consoles are very user-friendly and the peak speed of twelve miles per hour on models like the Landice L770 Home ProSports Trainer mean even fitness fanatics can push themselves to the limit.
In our opinion, some of the finest home fitness treadmills around are built by Landice.