The NordicTrack X9i Incline Trainer Review - Ramp Up the Cardio
The NordicTrack Incline Trainer X9i treadmill helps you get in the best shape of your life with an incline that adjusts up to 40% and a decline to 6%.
With endless features and a surprisingly affordable price tag, this machine has just about everything you could ask for.
If you are serious about your workouts and want to burn a ton of calories, this could just be the one for you.
let's jump into our review and see what this treadmill has to offer...
X9i - The Machine
The NordicTrack Incline Trainer X9i has a 7" Smart HD touch screen console display including a full color built-in web browser powered by Android, so you can surf the web or watch videos while you workout.
Then, with a touch of a finger you can view your exercise stats for time, speed, distance, calories burned, pulse, and program settings.
The full specs of the NordicTrack X9i are: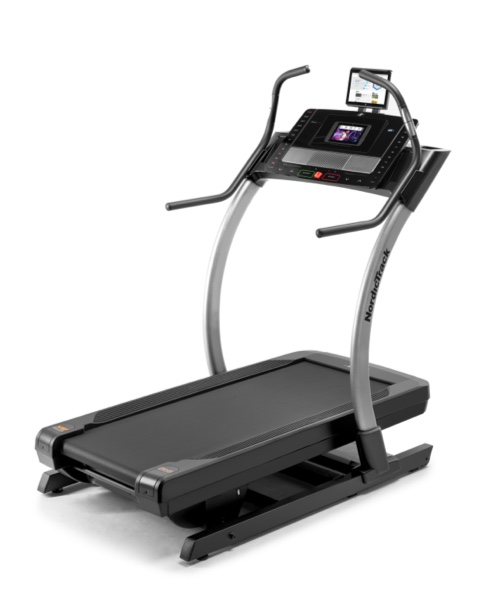 3.0 CHP DurX™ Motor
22" x 60" Tread Belt
0-12 mph 1-Touch™ Speed
0-40% Incline / -6-0% Decline
iFit Coach Workouts
Reflex™ Cushioning
iFit Enabled
CardioGrip™ Heart Rate Monitor
Wireless chest strap included
300 lbs User Weight Capacity
Dimensions: 70.2"L x 39.6"W x 71.6"H
Warranty: Lifetime on frame, motor, deck; 5 years parts,electronics; 2 years labor

The Buzz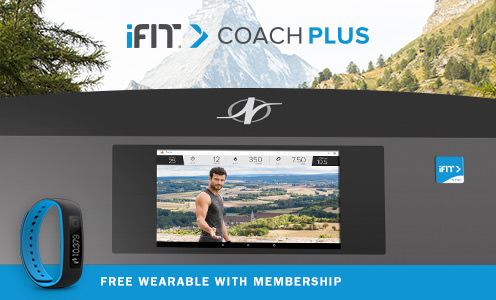 UPDATE:  It looks like NordicTrack might be discontinuing the X9i for the new model year.  Last we checked it wasn't featured on the company site.
As such you should check out the up-level X22i Incline Trainer which was redesigned and updated with some incredible new features.
The NordicTrack Incline Trainer X9i treadmill was recently redesigned and features the latest iFit Coach program, giving you endless personalized workout programs, custom meal plans, workout tracking and sharing, and a free wearable activity tracker with membership.
With the Google Maps™ feature, you can virtually run on any city street or park path anywhere in the world.
(Note: The web browser feature requires a wireless network in your home.)
The X9i is a  step up from the base X7i Incline Trainer (recently discontinued), which had a 2.75 HP motor and only -3% decline capability.  That model was not web enabled for your reference.
The mechanical features on the new NordicTrack X9i include a quiet and powerful 3.0 CHP motor, a large 22" x 60" tread belt and two Autobreeze™ workout fans to cool you off during a hard workout.
You get the advanced Reflex cushioning with advance impact-absorption technology, 1-touch speed controls, heart rate sensors built into the handlebars, a free HR chest strap, music port and speakers on the console, and a 300-lb user weight capacity.
The key feature of NordicTrack's Trainer is the incline/decline ramp which works more effectively than standard treadmill inclines to strengthen the large muscles in your legs and trunk and will burn calories at a much more rapid rate - up to 5x the normal amount of calories burned by walking.
The 6% decline (which it shares with the up-level X11i model), combined with the interactive hill programs on iFit, adds variety and an exciting simulation of going up and down terrain.
Note that there is a new X32i model on sale as well, which boasts one of the largest touch screens available on any treadmill.
How Does the NordicTrack X9i Compare to the Other Incline Trainers?
There are currently three incline trainers in the NordicTrack lineup:  the base X9i, the mid-level X11i and the top of the line X22i.
All of them give you up to 40% incline and 6% decline, advanced Reflex cushioning, wireless heart rate monitoring, 300 lb. max weight capacities, large 20" x 60" decks and 44 built in workout programs in addition to the endless library that iFit Coach offers.
The only real difference is in the motors and the display sizes.
As you've read, the X9i features a 7" Smart HD touch screen display and a 3.0 CHP motor.  
The mid-level X11i features a 10" Smart HD display and a 4.25 CHP.  
The top of the line X22i has, as you may have guessed, a 22" Smart HD display, and the same 4.25 CHP motor as the X11i.
So you're getting a less powerful motor and a smaller touch screen on the X9i, but keep in mind that you are also spending much less.  
The X9i is usually around $1,899 or so on sale...the X11i is $2,299 and the X22i is $3,299.  Those numbers do vary depending on the time of year, but those are about what you'll see.
If budget is a concern, by all means go with the X9i.  You don't need the stronger motor unless there will be multiple users and very heavy use.  
Our favorite model in the series is the X11i due to the stronger motor and larger touch screen, but again they are not 100% necessary if budget is tight.
The top end X22i is fantastic, and the screen will blow you away, but for an extra $1000 on top of the already pricey X11i, it's just not worth it in our opinion...unless your budget is wide open.
What about the X9i vs the other NordicTrack treadmills?
It's hard to make a direct comparison but the Incline Trainers are most similar to the Commercial Series treadmills.  
Both are well made, well-cushioned, with strong motors and incline/decline capability.
Go for an Incline Trainer if you want more incline and decline for intense cardio and leg muscle targeting.  Walking at those levels can really ramp up the training.  
If you don't need quite the level of incline or decline, look at the Commercial Series as well. The 1750 and 2450 are around the same price and both great choices.
NordicTrack X9i - Bottom Line
While you might expect to pay about $4,000 for a machine that does all this, the NordicTrack X9i Incline Trainer manages to do it all for under $2,000 on sale.
Reviews by users indicate that most are very happy with the expanded tread belt size (over the older model) so that you can really use it as a treadmill and not just as an incline trainer.
We would normally be leery of a steep incline treadmill but Nordictrack proudly backs this machine with a very long lifetime motor warranty, as well as 5 years on parts, and 2 years for in-home labor.
With that kind of backing, it looks like the company truly believes in the NordicTrack Incline Trainer X9i, and you should too.
If you want a little more power and a larger HD touch display, check out the mid-level X11i as well as the top of the line X22i trainers.
Bot regardless of which incline trainer you end up choosing, you're getting a calorie-burning, cardio-pumping treadmill that will definitely help you reach your fitness goals...and have fun while doing it.