The NordicTrack Commercial X32i Review -Bigger, Stronger, Better
Just when you thought the screens couldn't get any bigger, the NordicTrack X32i Incline Trainer hits the market with a huge 32" Smart HD touch screen display.
It comes on the heels of the recent X22i release, which is unique in its own right with its 22" touch screen.
Both of these powerful treadmills are quite impressive, and the size of the screens is only the tip of the iceberg.
Let's get into our review to see what this new Incline Trainer has to offer...
X32i - The Machine
The X32i features a reinforced steel frame, multi-position handlebars, advanced cushioning and of course a huge, bright display with all of your relevant workout information and iFit Coach training capability.
Here are the most important specs...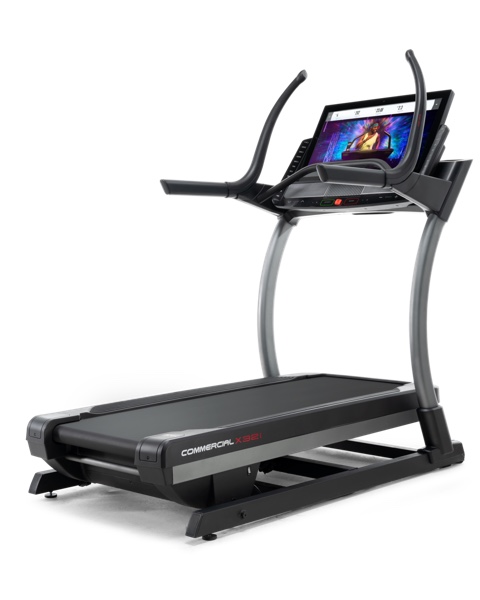 4.25 CHP DurX™ Commercial Pro Motor
22" x 60" Tread Belt
0-12 mph 1-Touch™ Speed
0-40% Incline / -6-0% Decline
50 Built-In Workouts
Reflex™ Cushioning
iFit Coach Plus Ready
Wireless heart rate strap included
300 lbs User Weight Capacity
Dual AutoBreeze workout fans
Warranty: Ten years on frame, motor, deck; 2 years parts, electronics; 1 year labor

The Buzz
There's a lot of excitement surrounding the release of the new NordicTrack X32i.  
Smart TVs are more popular than ever today, and the fact that you can actually get one attached to your treadmill is very appealing to lot of people.
Touch screens on home treadmills are still pretty rare these days, and if you do find them they are typically around 7" or 10" like the base X11i Incline Trainer has.
NordicTrack has really upped the ante here, with screens that are bigger and better than all of their competition, and even most of the treadmills you'll find at a high end gym.
The X32i has a 32" Smart HD touch screen, which means you can control your workouts and access everything you need with just the touch of a button.
Perhaps the most appealing aspect is iFit, which is a totally immersive program only found on NordicTrack and ProForm treadmills.
This subscription based programs (currently free for one year on the X32i) gives you access to an unlimited library of personalized workouts, one on one on demand training with personal trainers around the world, and Google map integration so you can choose any location and it's as if you are actually running there.
Seeing an exotic location on a large HD screen is something to behold...and the incline and speed are automatically adjusted to match the terrain that you choose...a very cool feature that never gets old.
Beyond the awesome screen and the endless workout options, you have an impressive 40% incline and 6% decline...capability that no other treadmill has.  The typical treadmill will give you 15% incline tops, and no decline at all.
This allows you to target leg muscles that you can't hit on traditional treadmills, and to ramp up your cardio burn as if you are actually running  up and down hills outdoors.
There's solid commercial-grade cushioning to ease impact on the joints, a new sled push option to change up your routine a bit, wireless heart rate monitoring, and a music system with digitally amplified 3" speakers.
The NordicTrack Commercial X32i treadmill is just jam packed with features and capabilities, and there's nothing missing here.  It is also backed by a very solid warranty.
How Does the NordicTrack X32i Compare to the X11i, X15i and X22i Incline Trainers?
As we mentioned, all of the NordicTrack Incline Trainers are awesome, so you really can't go wrong with any of them.
They will each give you a very solid cardio workout, with 40% incline capability and 6% decline capability.
They're all have plenty of built in workouts and iFit Coach capability which gives you even more workouts.
The only real difference between the four treadmills is the screen size, and of course the price.
The base X11i, which replaced the X9i as the most affordable model, has a 10" Smart HD touch screen.  It costs just under $2,000, so if you are looking to save a little bit of money, definitely look at that model.
The step up X15i has a 14" Smart HD touch screen.  That one costs around $2,500 when it's on sale.
Note: The X11i and X15i were recently discontinued.
The more advanced X22i has the 22" Smart HD touch screen.  Otherwise, it is nearly identical to the X11i.  That one will cost just under $3,000, so it's about $1000 more expensive than the base model.
The top-of-the-line X32i has the 32" Smart HD touch screen.  Otherwise, it is nearly identical to the X11i and X22i.  It does however give you 50 built in workouts as opposed to 44 on the X22i and X11i.
That one will cost just under $4,300 on sale, so it's about $1200 more than the X22i.
So it's a matter of deciding what your budget is and what screen size you prefer.  Some people love to have as large a display as possible...others prefer the smaller size.
But how does the NordicTrack X32i compare to the rest of the NordicTrack treadmills?
The Incline Trainers are the most advanced treadmills in NordicTrack's lineup, which also includes the Commercial Series and the T Series.
The X32i is probably closest to the most advanced Commercial Series treadmill, which is the 2950.  That one has a 22" touch screen like the X22i, and the same motor, speed and weight capacity.
The only real difference is the incline and decline: 15% incline and 3% decline, as opposed to 40% and 6% on the X32i.
So if you are trying to figure out which NordicTrack treadmill to buy, think about your budget as well as your needs as far as screen size and incline/decline capability.
If budget is a major concern, then definitely look at the EXP Series first to see if one of those treadmills appeals to you.  Otherwise, the Commercial Series and Incline Trainers will be your best bet.
NordicTrack X32i Review - Bottom Line
The NordicTrack X32i is an incredible treadmill in every way, with features you're just not going to find anywhere else.
You get impressive incline and decline, high grade cushioning to reduce impact, tons of workout, iFit with Google maps, wireless heart rate  monitoring and so much more.
Yes, it's on the pricey side, but if you can afford it it's one of the most advanced treadmills on the market today and is sure to keep you motivated to reach your fitness goals.
If you want to save a little bit, consider the mid-range X22i and base X11i models as well.  Both of those are great choices as well.