Should You Invest in a Manual Treadmill?
When it comes to a manual vs a motorized treadmill, whether or not you should buy one depends on exactly which type you are talking about.  There are the incredibly cheap ones that cost under $200, and there are the very high end ones that cost $3000 +.
If you're talking about the former, there are many more drawbacks to these than advantages, and in many cases you'd be much better off with a motorized version.  However, if you're talking about the commercial-grade treadmills from Woodway, SpeedFit or one of the other club quality brands, then there are plenty of entries in the plus column.
Let's take a closer look at each one...
What to Expect with a Cheap Manual Treadmill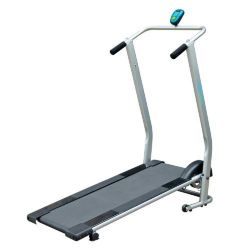 So what are the pros and cons of buying an inexpensive manual versus a motorized treadmill?
Let's take a look at the drawbacks first, as there are many more of those to contend with.
They are hard to initiate and get the belt moving over the deck (setting up the incline, if available, helps here)
They often wobble and feel very unstable
You have to dismount to change the incline levels
You can only go as fast as your feet can move the belt; once you stop, it stops
There will likely be parts that fail or break
The warranties are always sub-par
As for the pros of getting a manual treadmill, well there's this:
Like Fred Flintstone and his stone-age car, you provide all the power to make the belt move thus giving your legs a good workout
The price - usually less than $200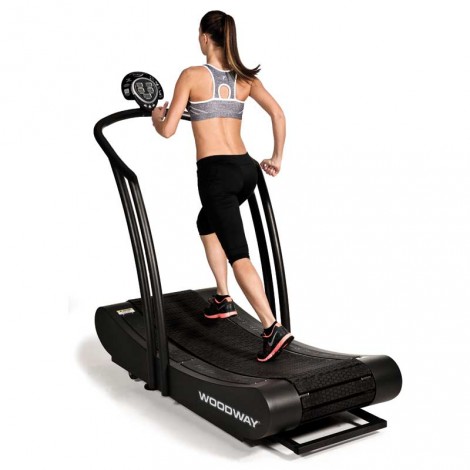 What to Expect with a High-End Manual Treadmill
A high-end manual treadmill is a completely different animal...the motors are left out for a good reason, not just to keep the cost down.  These are commercial grade machines built for performance.
Let's take a look here at some of the advantages first:
They offer unlimited speed options
They allow for specialized sports training
They save you money on electricity
They are a green option
They last a lifetime, maintenance free
They have stellar warranties
What are the drawbacks of a high-end manual treadmill?
You have to do all the work
The consoles are very basic
You can't choose incline levels
What to Expect with a Motorized Treadmill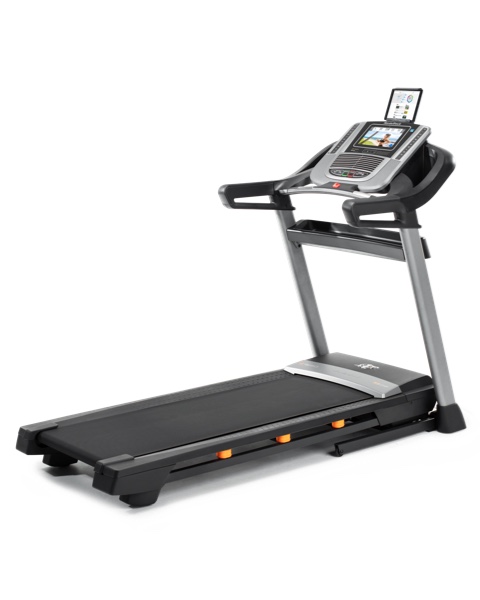 The pros of a motorized versus a manual unit are fairly obvious, but we'll discuss them anyway for perspective...
The belt moves automatically so it's easier
You get built in workout programs
You get power incline capability
You get more advanced consoles
What are the drawbacks of a motorized treadmill?
They use up more electricity
There are more parts that can be damaged
They are more expensive than cheap non-motorized machines
Where to Find the Best Cheap and High-End Manual Treadmills
You are interested in a cheap manual treadmill to save money...
You can check out some of the cheap manual home treadmills on sale at Amazon and you'll find they average from $100 to $170.
If this is what you want to get, Amazon is a great place to shop since many of the better selling models such as Stamina, Confidence and Exerpeutic have been reviewed by dozens of owners who will tell you their experience with these machines.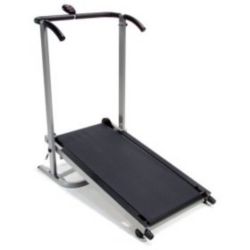 If you're mulling the purchase of low-cost manual vs. a motorized treadmill, take some time to look for discounted electric treadmills first. New models come out every year and you can find last year's models at very reasonable sale prices. 
Finally, give some thought to how often you'll use a treadmill. You can buy a cheap manual, non-motorized treadmill and see if you can "stay with the program", that is, if you'll stick with using it and exercising on a regular basis rather than turning it into a clothes hanger within a few weeks.
Once you're sure that a home gym workout is the answer to your fitness needs, then you can step up from your manual treadmill to a more expensive motorized unit.
You are interested in a high-end manual treadmill for a unique workout...
If you want one of the commercial-grade manual treadmills, definitely start your search at Woodway, as their Curve is probably the most popular manual treadmill on the market today.
The Curve is designed with individual slats rather than a uniform belt, providing unique cushioning ability and lowering impact on your knees and joints considerably.  The belt also requires no maintenance at all, so it will last a lifetime.
Another high-end manual treadmill comes from Assault Fitness, called the Air Runner.  This one is also quite popular and very similar to the Woodway Curve in many ways.
There is another model from SpeedFit, called the Speedboard Lite and Speedboard Pro XL, and the Runner model from Speedfit, both good choices as well.
Should You Buy a Manual Treadmill?
If you are considering one of the cheap manual treadmills, we would only recommend buying one if you simply don't have more than $200 to spend and can not stretch your budget at all.
Otherwise, you will be much better served with a motorized version for so many reasons.  Especially if you plan on doing some jogging and running in addition to walking.
Even if you are using it for rehab or you are elderly, you'll still be much happier with a motor on your treadmill.
However, if you're considering a Curve or Air Assault, or one of the other high end manual treadmills, by all means go for it.  These are nothing like their cheap counterparts, and actually provide a very unique workout that is ideal for many people, especially high level athletes who need to make immediate speed changes on the go.
Commercial manual treadmills are built to last, and allow you to train in ways traditional treadmills don't.
If you are considering one of these, we suggest you try one out in your gym first if possible to see if this is something you'd like to buy for your home.  Many high end health clubs feature the Woodway Curve, as well as its motorized counterpart the 4Front.
Try one of these out, watch other people use them, and then make the decision.  At over $3000, it's not something to take lightly and you don't want to get stuck with a machine that you will never use.
Bottom line here...cheap manual treadmill, not recommended; high-end manual treadmill...recommended if you enjoy the workout.