The NordicTrack Commercial 2950 Review - A Powerful Cardio Machine
The NordicTrack Commercial 2950 treadmill is the top model in their sturdy construction series with plenty of great features including a powerful yet quiet motor, customizable cushioning, incline/decline and a ton of other capabilities.  
The latest model features an impressive 22" Smart HD touch screen, one of the largest displays you'll find on a treadmill.
Commercial 2950 - The Machine
The treadmill is built from commercial-grade steel and offers a large Smart HD web-enabled touchscreen, a large tread belt for runners and a free Heart Rate Monitor for more accurate measurements.

The specs for the NordicTrack Commercial 2950 treadmill are: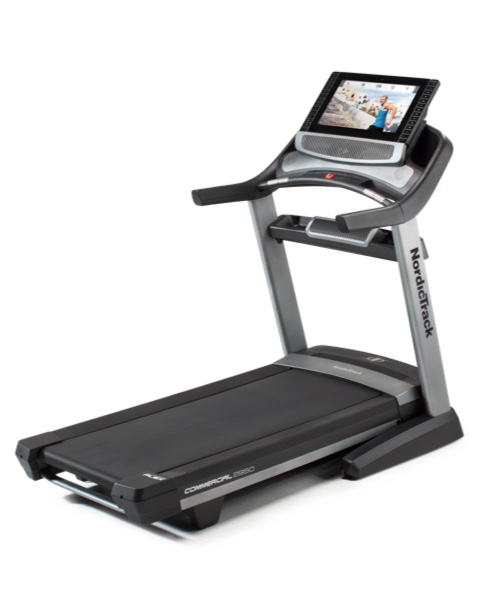 4.25 CHP DurX™ Motor
22" x 60" Tread Belt
0-12 mph 1-Touch™ Speed
-3-15% 1-Touch™ Incline/Decline
Runners Flex Adjustable Cushioning
iFit Technology
22" Web Enabled Touchscreen
Wireless chest strap included
300 lbs User Weight Capacity
Spacesaver Design with Easylift™ Assist
Footprint: 72.25" L x 34" W x 61" H
Warranty: 10 year frame, 2 years parts/electronics, 1 years labor

The Buzz
The NordicTrack Commercial 2950 has received great reviews from customers as well as experts, as it is just packed with every imaginable feature and capability.

It is a nice step up from the 2450 model with a stronger motor, more workouts and larger console.
Users love the new large, bright 22" Smart HD touchscreen, recently introduced,  as it gives them the real health club experience.
The only treadmill on the market besides the NordicTrack Commercial 2950 with a screen of this size is the new X22i Incline Trainer, which is one of the most advanced machines on the market today.
The included iFit technology (subscription required), now on many NordicTrack treadmills including the popular base 1750 model,  opens up a whole slew of customized on-demand and live workouts and the ability to work out anywhere in the world through Google maps while the machine automatically adjusts incline and decline to match your chosen terrain.
There are training videos that provide workouts either on the treadmill while you walk or off, so you can really change up your routine.

The 2950 is powerful and also quiet and the sizable belt can accommodate all users from the casual walker to the serious runner and everyone in between.
Other great features include a wireless heart rate monitoring, a powerful yet quiet 4.25 CHP motor, adjustable cushioning, music port and Triple AutoBreeze fans.
How Does the 2950 Compare to the Other NordicTrack Treadmills?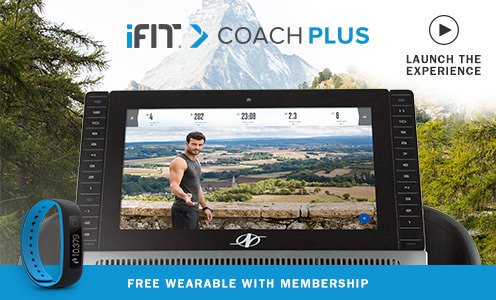 There are currently three different NordicTrack treadmill series: The EXP Series, the Commercial Series and the Incline Trainer Series.  There's something for everybody depending on your budget and your fitness wants and needs.
The EXP Series is the entry level lineup, a bit more affordable than all of the rest of the machines.  You have the EXP 7i and EXP 10i, all with decent motors, cushioned belts, a nice variety of workouts and iFit programming.  
They are perfectly fine and give you plenty of good features, especially the top end EXP 10i.
The Commercial Series is a step up from the EXP Series, with more durable frames, better cushioning, larger running decks, more workouts and stronger motors, among other improvements.  You have the 1750, 2450 and of course, the top-end Commercial 2950.
Let's take a look at all three of them to see how they compare...
Commercial 1750
The base model in the series is one of our favorite treadmills for the home, as it includes just about everything you could possibly want.  
You get a 3.75 CHP motor, up to 15% incline as well as -3% decline capability, a large, well-cushioned 22" x 60" running deck, a 10" Smart HD touch screen and 38 built in workouts on top of the endless library of programs iFit gives you.
Commercial 2450
Another popular choice, the 2450 steps it up even further with a stronger 4.0 CHP motor, 40 built in workouts and an even larger 14" Smart HD touch screen display, in addition to everything else the 1750 has.
Commercial 2950
At the top of the lineup is the NordicTrack Commercial 2950, the most advanced model in the series with a powerful 4.25 CHP motor and a huge 22" Smart HD touch screen, one of the largest displays you will find on a home treadmill.  In addition, you get all of the features and capabilities of the 2450.
Now, you can think of the Incline Trainer Series as basically the Commercial Series with more incline and decline capability.  Built for more serious cardio workouts, calorie burning and muscle toning, the X14i, X22i and X32i give you up to 40% incline and -6% decline, as opposed to 15% and -3% on the Commercial Series.
Other than that, the machines are very similar...strong motors, great cushioning, tons of workouts, iFit program, etc.
Which NordicTrack treadmill should you choose?
We love the Commercial Series here at Treadmill Talk, so you really can't go wrong with any of the three.
The Commercial 1750 has topped many of our Best Buy lists for years, and since it is the most affordable it has become a very popular choice. It has everything you need, so if you want to stay under $2,000 that's a great option for you.
The Commercial 2450 and 2950 are also great, as they are essentially just advanced versions of the 1750.  If you think you need a little more treadmill, better, adjustable cushioning or a larger touch screen, by all means opt for one of those instead.  
The 22" display on the Commercial 2950, also found on the X22i Incline Trainer, is just breathtaking.  However, at around $2,999 it's about $1100 more expensive than the Commercial 1750.  
So decide a) if you have the budget for it and b) if it's worth the higher price tag for you.
NordicTrack Commercial 2950 Review - Bottom Line
For under $3,000 on sale, you really can't beat the NordicTrack Commercial 2950.  
ICON Fitness truly put everything into this one, and you simply can't won't find another treadmill in this price range with all of these features and capabilities.

We really liked the new features, especially the huge bright 22" touch screen which is great for viewing the training videos and Google map running trails...it feels like you are at the movies.
Add to this iFit, incline and decline, a tablet holder and music compatibility and you have every possible need covered, ensuring that your workouts are both productive and entertaining.
If you want to save a little money also consider the base Commercial 1750 and the mid-range 2450, which have most of the same features just smaller touch screens and a few less workout programs.