The Matrix T50 Treadmill - Built Strong & Durable
The Matrix T50 is one of five new residential treadmills recently introduced to the market.  It is the high-end company's first jump into the home market, having dominated the commercial industry for many years.  Now they go head to head with Life Fitness and Precor.
The Machine
The T50 features a strong, commercial-grade motor, a durable steel frame and an advanced cushioning system similar to what you find on their health club models.
Let's look at some of the other important specs...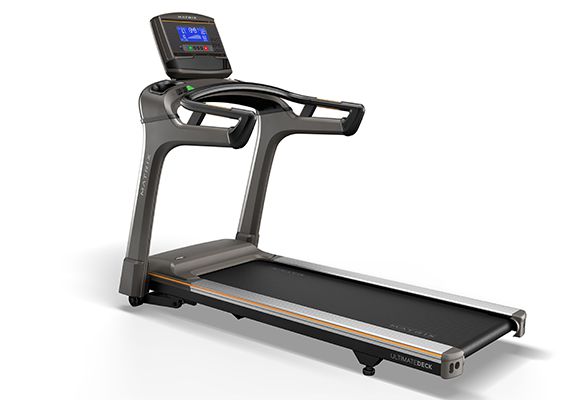 .5 -12.5 mph speed
0-15% incline
20" x 60" deck
3.25 HP industrial motor
2-ply, 2.2mm deck
Ultimate Deck cushioning
Four console choices
77.4" L x 36" W x 60.6" H
400 pound max user weight
Warranty: Lifetime frame, motor and cushioning; 7 years parts, 2 years labor
The Buzz
The Matrix T50 has been very well received, and has garnered great reviews for its quality and craftsmanship.  As we mentioned above, Matrix is one of the leaders in the commercial cardio equipment market, and their treadmills, ellipticals and exercise bikes can be found across the world in high end clubs, universities and rehabilitation centers.
In 2016, they decided to bring that reputation to the home market, with 4 treadmills, 4 elliptical trainers and 4 bikes, all with the same attention to detail and quality that their commercial equipment is known for.
The T50 looks and feels exactly like something you'd use in the gym. It has a strong steel frame, commercial Ultimate Deck cushioning on the belt, and the smooth and refined Johnson Drive system.
It is very similar to the up-level T75 model, the only real difference being the size of the belt.  The T50 has a 20" x 60" belt, while the T75 has a 22" x 60", so it is a bit roomier.
Both the T50 and T75 are non-folding (the TF30 and TF50 fold), and offer 2.4" rollers, up to 12.5 mph, up to a 15% incline and 400 pound maximum user weight.
A lot of user reviews mention the fact that the four console choices are a key bonus that made them decide to go with a Matrix treadmill.  You can go with the base XR, which is an 8.5" LCD.  Stepping up you have the XER, a 10" touch screen with app integration and internet.  At the top you have the XIR and XUR, a 16" HD & 22" HD touchscreen, respectively.
You don't necessarily need the advanced consoles, but they do give you a lot more features.  For example, with the base XR console you get 5 built in workouts and no wifi capability.
The XER, XIR and XUR give you internet and fitness apps, Bluetooth, smartphone compatibility, a USB port and speakers.  So you will be much more entertained with the touch screen consoles, but they do add a bit to the price tag, so you have to decide if it's something you need.
Other great features on the Matrix T50 are heart rate grips, soft touch buttons and water bottle pockets, as well as a very generous warranty.

How Does the T50 Compare to the Other Matrix Treadmills?
There are currently five Matrix treadmills in the residential lineup: the folding TF30 and TF50 and the non-folding T30, T50 and T75.  All are rock solid, all are commercial grade...but they differ as far as what features and capabilities they have.
Let's take a look at all of them to see how they compare to each other.
T30
This is the base model in the series, more compact and lower priced that the other Matrix treadmills.  You have a 20" x 55" deck, 12% incline, 12.5 mph speed, 3.0 CHP motor, a 2-ply 1.6mm deck, workout tracking and a 350 lb. maximum weight capacity.
TF30
The folding version of the T30 has 15% incline and a 3.25 CHP motor, on top of all of the features you get with the T30.
TF50
The TF50 is an improvement upon the TF30, giving you a larger 20" x 60" deck, a thicker 2.2 mm deck, aluminum side rails and a heavier maximum weight capacity of 400 lbs.
T50
The Matrix T50, as you've read about above, is nearly identical to the folding TF50, except it does not fold and is about 30 pounds lighter and more compact in size.
T75
The T75 gives you all of the features of the TF50 and T50, plus the largest deck of the series, 22" x 60" and a unique powerful AC motor that is not found on any of the other Matrix treadmills.

Which Matrix Treadmill Should You Choose?
You can't go wrong with any of the residential Matrix treadmills, as they are all winners.
Assuming that you are leaning towards a non-folding machine, the T50 and the T75 are great for home use.  If it's just you using the machine, or perhaps one other user, then by all means go for the T50 as it has everything you could possibly want.
However, if there are three or more users, or if any one of the users is extremely tall or very heavy, the T75 will be your better bet, with its top of the line motor and extremely roomy deck.
If you want something that folds, and/or if space is limited in your home gym, consider one of the folding models.  The TF50 is going to be very similar to the Matrix T50.  
The T30 and TF30 will be the most affordable choices, but your belt is going to be a little shorter and max user weights will be 350 lbs. vs 400 lbs. on the upper treadmills.
What We Say About the Matrix T50
We've been big fans of Matrix treadmills for quite some time, as our gym has a number of these cardio machines alongside the Life Fitness models. So far from what we've seen they have been able to keep the same quality in the residential models.
The T50 is a great option if you have the budget for it.  It starts at about $2699 on sale with the base console.  You get a strong motor, advanced cushioning, plenty of workouts and a solid frame, so you definitely get what you pay for here.
If you're a very serious runner you may want to look at the T75 as well, as it has a wider deck, or if space is an issue look at the TF30 and TF50 folding models.
Bottom line is Matrix treadmills are a great club-quality option for your home, and you'll be more than happy with your purchase.