The NordicTrack Commercial X11i Incline Trainer Review - Burns Calories 5x Faster
The NordicTrack Commercial X11i Incline Trainer turns a dull treadmill workout into an exercise experience you will look forward to doing.
It offers both incline and decline capability, along with tons of great workouts, a powerful yet quiet motor and wireless heart rate monitoring.
This is the most popular machine in the series, and with all of the great features, we can understand why.
Let's get into our review of this beast of a treadmill to what it's all about...
X11i - The Machine
The 10" Smart HD touch screen console display includes a built-in web browser, powered by Android, so you can surf the web, post to your social pages or watch videos while you work out.
You can easily access exercise stats such as time, speed, distance, calories, etc., with just a finger touch.
The full specs on the NordicTrack X11i Incline Trainer are: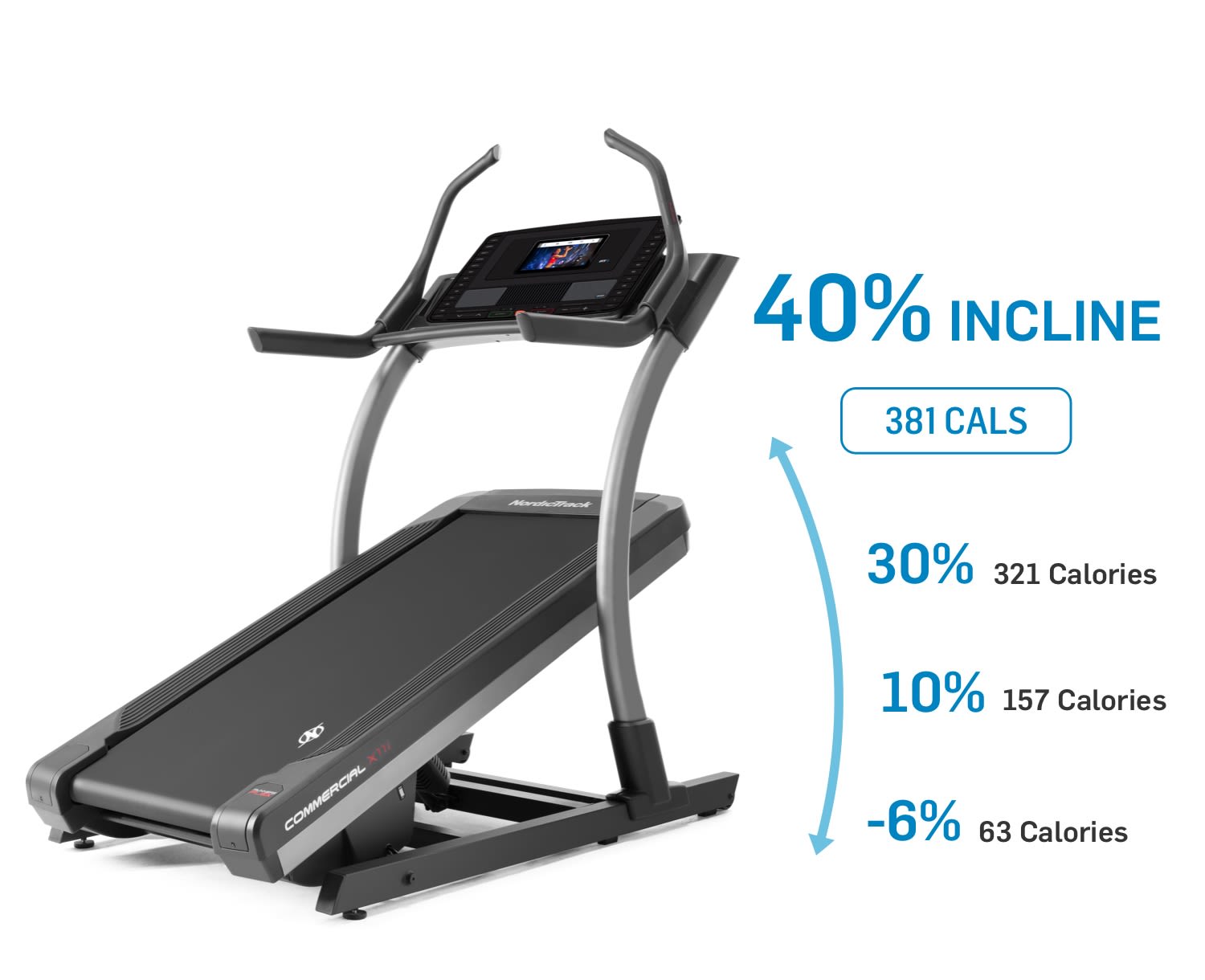 4.25 CHP DurX™ Commercial Pro Motor
22" x 60" Tread Belt
0-12 mph 1-Touch™ Speed
0-40% Incline / 6-0% Decline
44 Built in Workouts
Reflex™ Cushioning
CardioGrip™ Heart Rate Monitor
iFit Bluetooth chest strap included
300 lbs User Weight Capacity
Dual 3 inch Speakers/Music Port
2 AutoBreeze workout fans
Warranty: Lifetime on frame, motor, deck; 6 years parts, electronics; 3 years labor

The Buzz
The X11i was recently redesigned with several upgrades worth noting, and the reviews from users and experts have been very positive thus far.
The mechanical specs on the NordicTrack Commercial X11i Incline Trainer include a heavy duty 4.25 CHP DurX™ Commercial Pro Motor (a big jump up from the former base model X9i's 3.0 motor) and an integrated belt drive system that delivers consistent and reliable power.
You can run at speeds up to 12 mph speed on the generously sized 22" x 60" running belt, one of the roomiest belts you will find on the market.
The advanced Reflex Cushioning under the deck helps to protect your joints by absorbing the impact of your foot strikes.
Other features on the treadmill include the touch screen Smart HD console, 2 workout fans, a wireless chest strap for the heart rate monitoring system and a plug-in for your iPod or MP3 player plus two 3" speakers.
The new iFit Coach technology gives you unlimited personalized workout programs, including those designed by pro trainers around the world.
With the Google Maps™ access, you can do virtual runs on any city street or park trail in the world.  You also get meal plan suggestions, sharing and tracking capability and a free wearable activity tracker with your membership.
But the main attraction of the NordicTrack X11i Incline Trainer is the incredible 0-40% incline/6-0% decline ramp to help you burn calories up to 5x faster than on a traditional treadmill.
To strengthen your legs, you can choose a manual setting, or use one of the iFit Coach programs that incorporate hill climbs and descents.
The programs automatically select incline/decline rates to simulate going up and down terrain – a great way to tone the muscles in the legs and butt, as well as condition the muscles of the heart and lungs.
UPDATE: NordicTrack recently added a new X22i incline trainer to the mix, with an incredible 22" HD display, the largest in the industry.  Take a look at that one as well.
And in 2019, an X32i was added with an even bigger 32" Smart HD touch screen!
How Does the NordicTrack X11i Compare to the Other Incline Trainers?
Currently there are four NordicTrack Incline Trainers: The X11i, X15i, X22i and X32i.
The X11i is the base model incline trainer.  There used to be an X7i and an X9i as well, but those were recently discontinued.
All of the Incline Trainers are great options, and they really don't have any competition as no other company currently offers this combination or incline and decline.
The differences between the four models basically lies in the displays and a few minor details.  Otherwise they are all very similar. 
The X11i as you've learned above has a 10" Smart HD touch screen, a 4.25 CHP motor and 44 built in workouts.
The X15i has a 14" touch screen, a 4.0 CHP motor and 50 built in workouts.

The X22i is nearly identical to the X11i, but with a 22" Smart HD touch screen, the biggest you will find on any home treadmill.
And the top of the line X32i is just like the X22i, except with an even larger 32" touch screen and a longer 65" deck.
All four have 6% decline and 40% incline, wireless heart rate, 300 lb. max weight capacities and 44-50 built in workouts on top of the ones you get via iFit.  
So choosing between the 4 really comes down to budget, as about $2200 separates the X11i from the X32i.
When it comes to the X11i vs X15i, X22i and X32i, our favorite in the series is the NordicTrack X11i as it gives you the stronger motor and the larger touch screen display.  
The 22" and 32" screens on the X22i and X32i are fantastic, don't get us wrong, but it's not necessarily worth an additional $1000-$2200 on top of the X11i's price.
What about the X11i vs the rest of the NordicTrack treadmills?  
It's hard to make a comparison as they are a bit different, but they are most like the Commercial Series (1750, 2450, 2950) in as much as both have strong motors, advanced cushioning and incline as well as decline capability.
You'd choose an Incline Trainer if you want the more extreme levels of incline and decline for enhanced cardio and muscle targeting, as you can walk at those levels and burn a ton of calories.  
If you're not quite sure you want those extremes, you'll be better served with one of the Commercial treadmills, which will also cost less to save you some money.
X11i Incline Trainer Review - Bottom Line
The cool advantage of these new incline trainers over the first models of a few years ago is the longer deck – so you can use it as a flat running treadmill as well as take advantage of the incline and decline features.
Thes newer models also get better reviews as they have worked out all of the kinks to produce a superior machine. The beefed up components plus the advanced touch screen console make it a dream to work out on.
At $2,499 or less on sale, the NordicTrack X11i Incline Trainer will be a great addition to the daily workouts in your home gym.
(If you can find it at $1,999, it's a steal!)
And if you are feeling adventurous, take a look at the new top of the line X22i and X32i, with huge, vibrant Smart HD touch screens that you won't see anywhere else.