ProForm Treadmill Reviews - Affordable and Feature-Packed

ProForm treadmills are the more affordable brand from iFit Health and Fitness, and the second most popular behind NordicTrack. They offer a ton of value, with some really great features that you don't usually find on machines at this price level.
Many of their models have been on our Best Buy lists for several years in a row and the company continues to improve the quality and design that goes into these treadmills.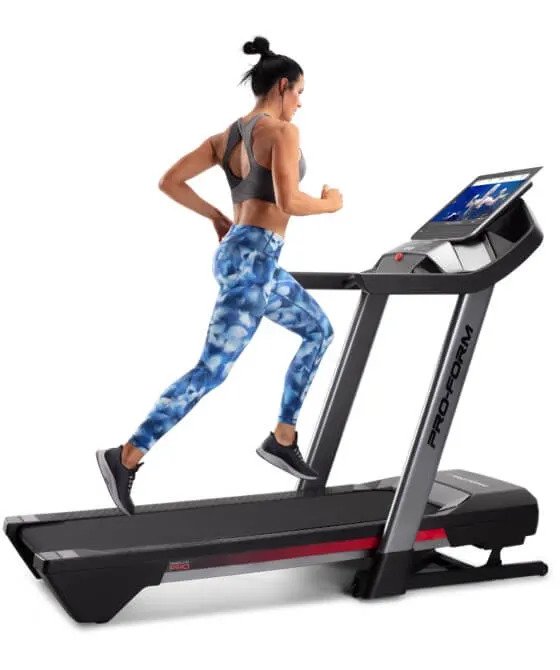 The Current ProForm Treadmill Lineup
Most folks won't realize what improvements ProForm made "under the hood" in recent years, but they can still appreciate the full range of features ("bells and whistles") that these budget machines are loaded with.
No other manufacturer has been able to match ProForm treadmills in terms of the expanded number of programs, heart rate control features, large running area, entertainment, incline and resistance levels, easy folding designs, and so on.
The lineup is quite diverse and changes often, so it's a bit hard to keep up with everything that have to offer.  
Currently, they have the popular Pro Series, Carbon Series and City Series models. The mid-level Carbon Series and entry level City Series are both relatively new, incorporating the latest technology.
Some ProForm treadmills have the SMART designation, which means they come with a FREE one-year iFit subscription.  We're not sure how long this special deal will last.
Let's take a closer look at the most popular 2023 models:
City Series (Entry Level)
This new starter series replaces the previous Performance treadmills, which included the 400i and 600i.  
Currently, there's only one model, the City L6, a compact machine that is ideal for smaller spaces. It has a 1.6 CHP Mach Z motor, 17.5" x 45" belt, speeds up to 8 mph, Bluetooth technology and iFit workouts that you can access on your phone or tablet.
Carbon Series (Mid Level)

This is the newest series in the ProForm treadmill lineup, first introduced in the spring of 2020. You have the Carbon T7, the Carbon T10 and the top of the line Carbon T14, all of which are a step up from the City Series but not as advanced as the Pro Series.
The Carbon T7 has a 7" Smart HD touch screen display, 2.6 CHP Mach Z motor, 20" x 55" running deck, speed up to 10 mph and incline up to 10%.
The Carbon T10 steps it up a bit with a 10" Smart HD touch screen, 2.7 CHP Mach Z motor and incline up to 10%. Otherwise it is very similar to the Carbon T7. It is currently free with a 3 year iFit membership.
The Carbon T14 has all of the features of the Carbon T10, adding a 14" touch screen, ISO Flex advanced cushioning and some additional upgrades not found on the other two models.
Pro Series (Top Level)
These are the top of the line ProForm treadmills, built stronger and more durable for heavier usage (families, athletes, serious runners). 
They include the Pro 2000, Pro 5000 (possibly discontinued), and the top of the line Pro 9000, ranging in price from $1,799 to $1,999 or so when they're on sale.  
These treadmills include up to 15% incline as well as 3% decline (something missing on the City and Carbon models), the largest running decks in the series, up to 4.25 CHP motors and up to 40 built in workout programs.
All of the models come with iFit training, solid cushioning, heart rate monitoring, high weight capacities, solid warranties and tons of extras, so you can't go wrong with any of the ProForm treadmills.
Power Series (Mid Level) - possibly discontinued
You have the Power Series, with the popular 995i as well as the up-level Power 1295i, ranging in price from $899 to $1,299.  
These treadmills include more incline than the Performance Series models, at 15%, plus larger running decks, up to 3.5 CHP motors and tons of additional workout programs.
Which ProForm Treadmill Should You Choose?
Just like with their sister company, NordicTrack, there are a lot of models to choose from and it can get be difficult to decide which one to go with.
Per our latest ProForm treadmill reviews, the most popular model is definitely the Pro 9000.  It is very similar to NordicTrack's Commercial 1750, which is the best seller for that brand.
So if you are looking for a solid all around treadmill for your home, with incline, decline, lots of workouts, tracking, touch screen, internet...the Pro 9000 is a great choice, especially if you can find it on sale for under $2,000.  
You can save a couple hundred with the Pro 2000, but you lose some power and it has a smaller touch screen.
If the Pro Series is a bit too expensive for you, then the Carbon Series is an excellent middle ground. Either the Carbon T7, T10 or T14 will be a solid choice for you.
If you are on a strict budget, take a look at the City Series. Although they lack the power and upgrades of the Pro Series, you still get incline, built in workouts, iFit training and other features.  
So the older ProForm 400i, 600i, 800i and City L6 will be your choices here, all under $1,000.
They do offer a couple of other choices on the site from time to time, including the Pro 1000, the Sport 7.5, the CoachLink T9.0 and the 505 CST, but you are best off with one of the models from either the Pro, Carbon or City Series.

Everything For Walkers and Runners
Although the company is well known for their entry level, light to moderate use treadmills, their recently introduced Pro Series has really gained in popularity.
These are more geared towards runners who need a little more out of their treadmills.  Although they are a bit pricier, they have stronger motors, roomier decks, better cushioning and several other features and capabilities that runners will appreciate.
It's interesting to note that there has been an increase in significantly positive customer reviews on all ProForm models in recent years, and this is likely due to better construction and user-friendly design.
As we mentioned, iFit Health & Fitness (formerly ICON Health) has upgraded the quality of the machines over the past two years but did so without increasing retail prices. They've added better motors and higher quality rollers, and with fewer needed repairs on these expensive parts, iFit is able to offer much longer treadmill warranties.
Even the lower end ProForm treadmills now feature a 10-year frame warranty with at least 1 year on parts and labor, and iFit Fitness has decided to expand coverage on mid-priced treadmills.
With so many great features and capabilities, ProForm treadmills are an affordable choice and definitely worth taking a look at.
Read specific model reviews below to find out more about each ProForm treadmill, including specs, prices, buying tips and additional information.
ProForm Treadmill Model Reviews
Current Models
Pro Series
ProForm Pro 2000  - one of their most popular models, offering great features at a very affordable price.

ProForm Pro 5000  - Another newer model featuring incline and decline, a powerful motor, generous running deck and bluetooth iFit capability.
ProForm Pro 9000 - The Pro 9000 gets a resounding thumbs up from in-home users as well as trainers and athletes; ProForm's most feature-packed treadmill.
Carbon Series
ProForm Carbon T10  - One of the newest treadmills in the lineup featuring a 10" Smart HD touch screen, incline to 10%, iFit workouts and advanced cushioning.
ProForm Carbon T14  - The newest model in the series, joins the Carbon T7 and T10 and adds a larger 14" touch screen display.
Older Models
Power Series

ProForm Power 995i - Big 3.0 CHP commercial pro motor, iFit technology, a touch screen display, and a 20" x 60" belt, all for a sale price of $999? Awesome!
ProForm Power 1295i - Recently introduced with a 7" smart HD display, iFit Coach technology and a generously sized, maintenance-free deck.
Performance Series
ProForm Performance 400i - Ideal for seniors or casual walkers who want easy access to daily walking exercise without having to go outdoors; a ton of features for $599!
ProForm Performance 600i - Above average scores in reviews; a decent budget machine for walkers with advanced features that are normally seen on more expensive models.
ProForm Performance 800i - Newest treadmill in the lineup introduced for 2019, with decline and incline capability, 50 built in workouts and a 14" Smart HD touch display.
ProForm Pro 1000 - one of the newer models in the series, at just under $1,000 a good buy given all of the features and capabilities.

ProForm 505 CST - one of the best sellers for the company despite the fact that it's an older model with iFit Coach, incline, easy folding and lots of workouts.
Sport 7.5 - this is one of the older treadmills that finds its way onto the company site from time to time at special prices.  It's a solid machine, and may or may not be available by the time you're reading this ProForm treadmill review.

---