Xterra Treadmill Reviews - Bargain Priced Machines

If you're looking in the sub-$1000 range, an Xterra treadmill could be just what you are looking for.  
Although not as popular as brands like NordicTrack and ProForm, the company does give you some nice features and capabilities in their new line-up.
A Well-Regarded Company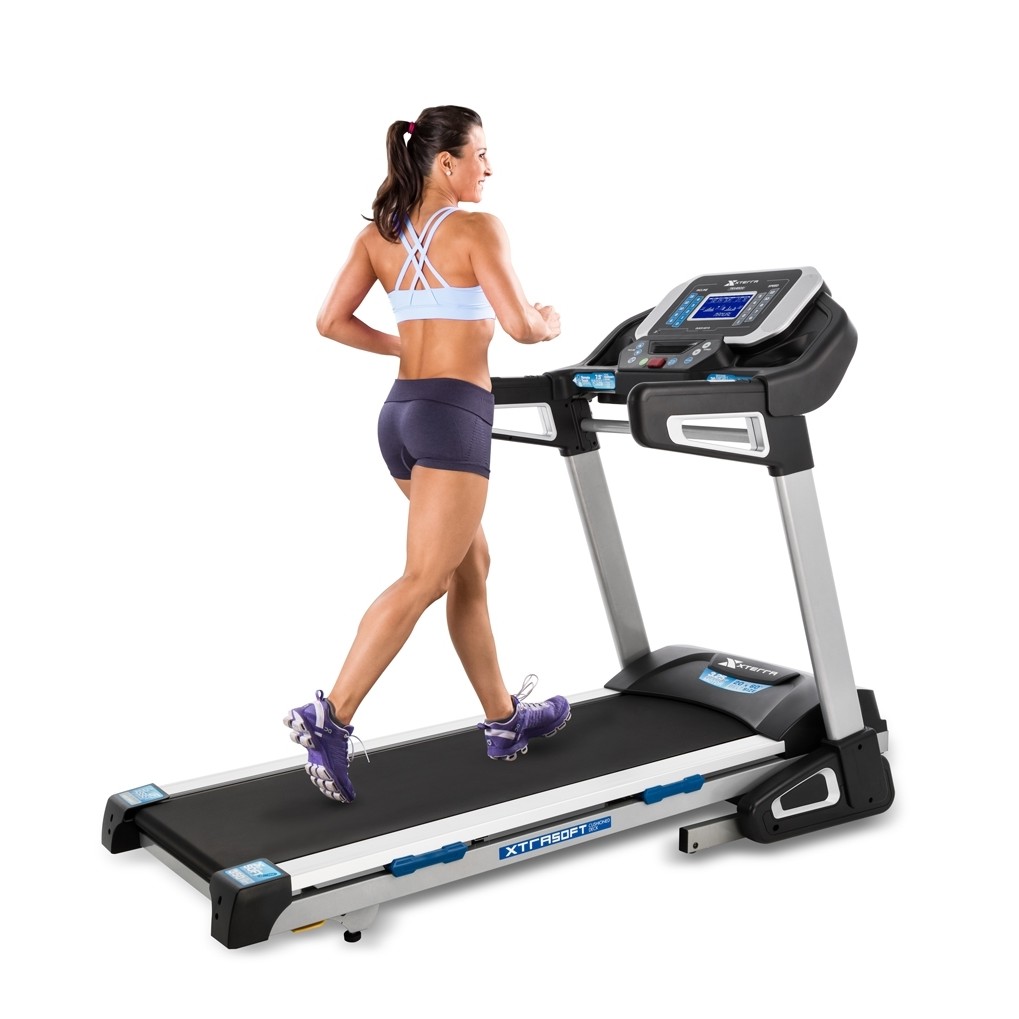 Xterra is the lower end brand of international corporation Dyaco, a company that also manufacturers Spirit, Club Fit and the popular Sole line of treadmills.  With a focus on providing high quality at an affordable price, Xterra offers elliptical machines, bikes, rowers and accessories in addition to their entry-level treadmills.
The Current Xterra Treadmill Lineup
Xterra introduced a brand new lineup for the 2018 model year, hoping to compete directly with some of the lower priced models from NordicTrack, ProForm and Horizon.
There are three different models to choose from, all with the XTRA Soft cushioned deck, heavy duty steel frame and easy folding capability, among other interesting features.
TRX2500
The TRX2500 is the base model with a 2.25 HP motor, a 20" x 55" deck, up to 10% incline, 24 built in workouts, a 5.5" LCD display and 300 lb. max weight capacity.  
You get a lifetime frame and motor warranty and 1 year on the deck, parts and in-home labor.
TRX3500
The mid-range model is the TRX3500, which gives you a more powerful 3.0 HP motor, larger 20" x 60" deck, up to 12% incline, 30 workouts, 6.5" LCD display and a 350 lb. max weight capacity.  
The warranty improves to 2 year's worth of coverage on the deck and parts.
TRX4500
The top-end TRX4500 has the strongest motor of all (3.25HP), same deck size as the TRX3500, up to 15% incline, 30 workouts, 7.5" LCD display and also a 350 lb. max weight capacity.  
The warranty improves to 5 years on the deck.
Note that you also get Bluetooth wireless access to the Xterra Fitness App on the two higher end models to keep track of your workouts and share your results with family and friends.


Which Xterra Treadmill Should You Choose?
There's only 3 options when it comes to Xterra treadmills, so choosing one over the other is a bit easier than it is with other brands like NordicTrack and ProForm, which offer up to a dozen different options at one point or another.
The base TRX2500 costs $799; the mid-level TRX3500 costs $899; the top of the line TRX4500 costs $999, so there really isn't too much difference in the price.
If you are just using the treadmill for light workouts, walking and perhaps some light jogging, the TRX2500 will be perfectly fine.  You get some incline, a nice array of built in workouts, music capability and a decent display.
If you think you might be doing some running also, or if there are additional users at varying weights, you should consider one of the higher level Xterra treadmills.
The TRX3500 gives you a larger deck so you can really spread out, as well as a stronger motor to accommodate more intense workouts.  You also have a larger assortment of workout programs to choose from which is always a good thing, and a bit more incline for increased cardio and leg muscle targeting.
The TRX4500 will give you even more incline and workout programs, and an even more powerful motor, but you don't necessarily need that so the TRX3500 will be a perfectly good choice.  The TRX4500 does however have the strongest warranty and the largest display, two things that certainly justify the additional $100.
So unless you are using it alone and doing very light workouts, we would recommend the XR3500 or XR4500, as they also give you the tracking capability not found on the entry level XR2500 Xterra treadmill.
The Pros
Our Xterra reviews showed a lot of things to like about this new lineup.  For starters, the price is right.  So all of the treadmills are under $1000, which makes them very affordable.
You also get a lot of nice features, in spite of the price.  All models come with decent motors, incline capability for ramping up your workouts, a large amount of built in programs and very solid warranties, a company hallmark.
You also get easy speed and incline controls right on the handlebars, the unique Xtra Soft Cushioning system, and easy folding capability.
So Xterra treadmills really pack it in, and typically you'd have to be at $1500 or more to get all of these features.
The Cons
There's not too much to not like here.  However, they do have some very stiff competition in the category.  For example, if you compare the $799 TRX2500 with the similarly priced NordicTrack C700, you can quickly see how the latter model might be the better choice.
The C700 comes with a more powerful motor, a much more elaborate display and iFit Coach capability.
Moving up in the lineup, especially at the $999 level, models from NordicTrack and ProForm have touch screens with internet access, a big step up from the LCD displays on all of the Xterra treadmills.
Still, they do compare favorably in some categories and are certainly worth considering.
You can read more in-depth reviews of the Xterra treadmills below to find out more about each model, including specs, pricing, buying tips and other helpful info to help you make a more informed decision.
Xterra Treadmill Model Reviews
Xterra TRX3500 - the most popular of the three models with a powerful motor, large deck, 30 built in workouts and easy folding capability.

---