NordicTrack Treadmills are the Best Selling Machines on the Market

NordicTrack treadmills are by far the most popular cardio machines on the market today, and for good reason.  They are packed with features and capabilities typically found only on high-end commercial models, yet are priced very competitively.
With strong motors, advanced cushioning, incline/decline capability, web-enabled touch screens and a large variety of workouts, they simply can't be beat.
Well-Priced and Packed With Extras
NordicTrack treadmills range in price anywhere from $799 to $2999. There's a lot of choice within the lineup, but the differences aren't in construction or performance so much as in the extras on the individual models. What sets them apart is the fact that they are targeted to everyone from the casual user to the serious athlete, so everyone's individual needs can be met.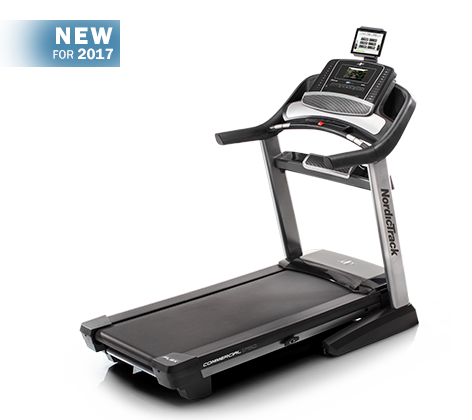 Most of the thought and effort of NordicTrack has gone into making each treadmill model more engaging than the last. Web enabled touch screens, iFit technology, music compatibility are all meant to help keep you motivated, and that is a good thing for those who find it difficult to stick to a workout routine.
But along with the entertainment features, the company also focuses on the workout itself, with impact-reducing cushioning, large durable belts, incline as well as decline capability and strong, yet quiet motors that are built to last.
The current lineup consists of the entry-level C-Series, in the $799 to $1299 range, the popular Commercial Series, in the $1,599 to $2,299 range, and the Incline Trainer series in the $1,799 to $2,999 range.

See all of the latest NordicTrack treadmills on sale now!
You also have some new 2017 models that have been introduced including the X22i Incline Trainer, and the recently introduced C700, C990 and C1650 models, as well as updated versions of the Commercial 1750, 2450 and 2950.
Giving You All of the Essentials
What NordicTrack treadmills excel at providing everything you need for a solid workout.  Even the base machines, although they are priced quite low, still give you solid motors, decks and features.
So if your budget is under $1500 you can still get a very good model that will have a lot more to offer than similarly priced ones from other brands.
Improved Warranties Inspire Confidence
The good news is that NordicTrack recently upgraded its warranties. They now offer better coverage on all models, which is considerably better than their old 90 day warranty (standard for ICON). 
The overall mechanics have improved recently as well. In fact, a leading consumer magazine considered one of NordicTrack's high end models excellent in two of four categories. If you are willing to pay for their higher end models, these treadmills are very good.
ICON seems to be improving the brand all the time, and have really taken NordicTrack treadmills up to the next level. Let's hope they continue to do so for years to come!
Get complete model info and special sale pricing here!
NordicTrack Treadmill Model Reviews
Most Popular Models
Commercial Series
NordicTrack Commercial 1750 - The #1 selling treadmill for several years running and our top overall machine for 2017.
NordicTrack Commercial 2450 - Plenty of extras users want for in-home use in a machine with a surprisingly low price tag for commercial quality core features.
NordicTrack Commercial 2950 - A step up from the 2450 model with a more powerful motor and a new 22" web-enabled touchscreen console make this one a real winner.
Incline Trainers
NordicTrack X7i Incline Trainer - Great for walkers who like steep uphill courses. Strengthens the cardiovascular system, burns fat fast; used by contestants on The Biggest Loser.

NordicTrack X9i Incline Trainer - Get in the best shape of your life with an incline that adjusts up to 40% and declines to 6%. 

NordicTrack X11i Incline Trainer - Helps you burn calories up to 5x faster than on a traditional treadmill; beefed up components make it a dream to work out on.
NordicTrack X22i Incline Trainer - All new for 2017, this one comes with a huge 22" HD Smart display, iFit Coach Plus and two adjustable dumbbells for a full body workout.
Entry Level C Series
NordicTrack C700 - An entry level machine redesigned with iFit Bluetooth and a new calorie burn reader for users who like a few extra features that keep boredom at bay with a variety of workouts.

NordicTrack C 990- A new 2016 model with a 7" touch display, strong motor, iFit enabled, incline and adjustable cushioning.  A great value.
NordicTrack C1650 - The top of the C Series with a 10" web-enabled display, incline capability, iFit technology and other great features.
Treadmill Desk

NordicTrack Treadmill Desk Platinum- new for 2016 with power incline and iFit Bluetooth, this is a well-priced desk treadmill to work while you work out.
---