The Sole TT8 Treadmill Review – Still a Bargain for a Light Commercial Model
Designed for commercial or residential use, the Sole TT8 treadmill is a leader both in the home and in small gym settings.  
If you're a serious runner, but don't want to spend over $3000, this one is definitely worth a look.
Let's take a look at this premium machine from one of the most trusted names in the business.
Sole TT8 - The Machine
This is one of Sole's top of the line models, sporting a strong yet quiet motor, industry leading running deck and incline as well as decline capability.
It includes a 400 pound max user weight capacity and 3" rollers designed to take a beating without losing the fluid feel of the running surface.
The large LCD console and a variable warranty (depending on whether it's for commercial or in-home use) round out its best features.
The specs for the Sole TT8 treadmill are: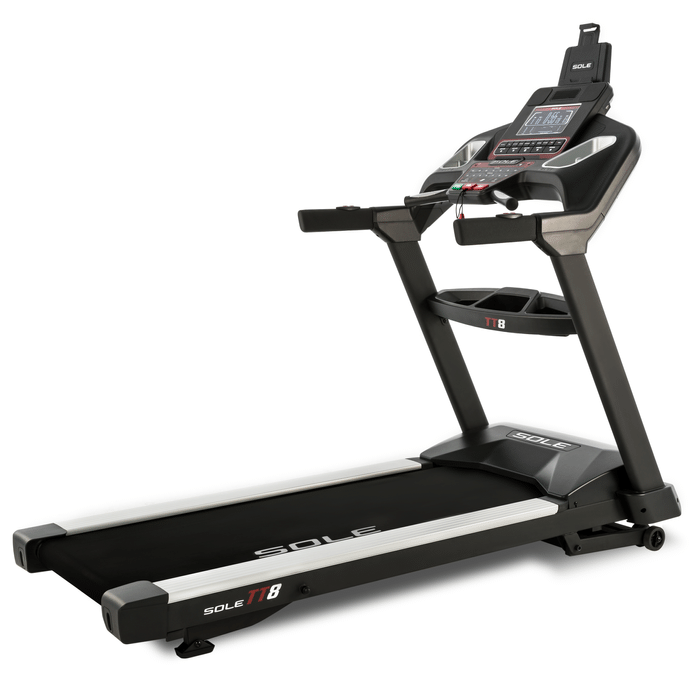 4.0 CHP motor
Speed: 0.5 to 12 mph
Incline: 0-15%
Decline: 0-6%
Running surface: 22" x 60"
2 ply, 4 layer belt
10 programs
Pulse grips for monitoring heart rate; compatible with chest strap
MP3 compatible sound system
Two cooling fans
10.1" TFT LCD console display
Weight capacity: 400 pounds
Overall dimensions: 58"x 36"x 82"
Residential warranty: Lifetime on frame, motor and deck; 5 years on electronics, 2 years on labor
Commercial warranty: Lifetime on frame, 5 years motor and deck; 3 years on electronics, 1 year on labor

The Buzz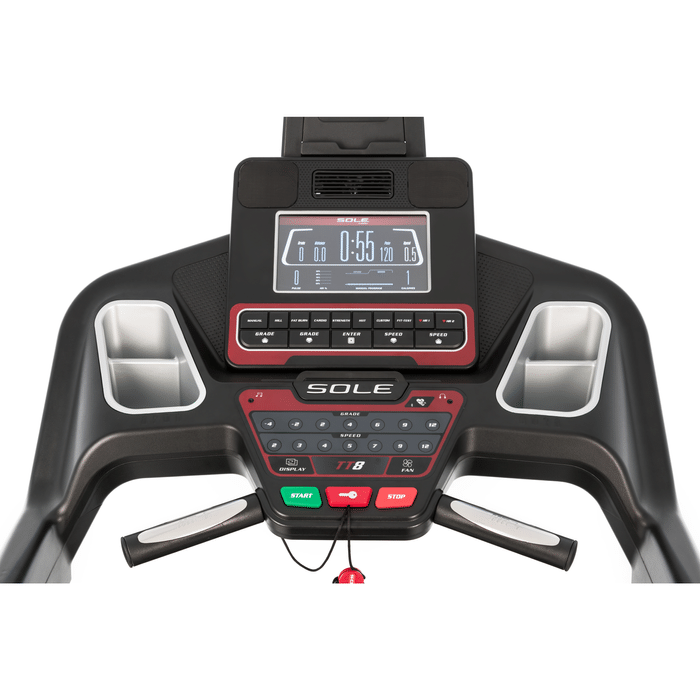 The Sole TT8 treadmill is the company's most popular model for commercial use, although it also sells briskly to in-home users who are looking for a rugged machine that will last for years.
The warranty on this model says it all - buyers love that the lifetime coverage extends beyond the frame to the deck and even the motor.
This one is definitely a step up from the Sole F85 and S77 models, both great machines in their own right.
One feature that does bother some more serious users is that it still takes some time for speed changes, but most reviewers take into account that this is most likely to save wear on the motor, which is powerful and built to last for years. 
Both gym owners and at-home users have mentioned the relatively simple set-up in their reviews. Most can successfully assemble the machine in under an hour. Words like "sturdy, quiet and smooth" pepper the reviews of users.
The Sole TT8 treadmill features a generously sized 60" x 22" deck, which is as big as you'll find even on more expensive models.  There is nice cushioning to minimize impact on the joints.
The new display is a nice upgrade, giving you a 10" viewing area that is much larger and clearer than it was on previous versions of the TT8.
Another nice addition recently was Bluetooth capability, which allows you to track your workouts through the Sole app or via a few other popular fitness programs such as Fitbit and Apple Health.
All in all the Sole TT8 is a great commercial-grade treadmill built for heavy use and requiring little to no maintenance.
How Does the TT8 Compare to the Other Sole Treadmills?
Although all of the Sole treadmills are extremely well designed and constructed of top notch materials, the TT8 and the new TT9 are even more club quality than the others, more like the cardio machines you find at high-end gyms.
The S77, TT8 and TT9 are the three models that don't fold, so if you need something that folds up after a workout take a look at the F Series treadmills.
Also, the Sole TT8 and TT9 are the only machines that give you decline capability on top of the 15% incline that they all have. 
So if decline is something that appeals to you the TT8 or the TT9 are the ones for you.
As you move up in the Sole lineup, a lot remains the same, but you'll notice that the motors, the width of the deck and the console sizes improve, as do the warranties.
The base model Sole F63 treadmill has a 20" x 60" deck...all others have the wider 22" surface. 
It also has a 3.0 CHP motor, and that improves to 4.0 CHP on the upper end models. 
Lastly, the base model has a 6.5" LCD, and that increases in size up to the 10.1" TFT LCD on the Sole TT8 treadmill and a brand new touch screen on the top of the line TT9.
Who is the Sole TT8 Ideal For?
The Sole TT8 is one of very few treadmills on the market that are commercial quality but don't cost over $3000. 
You usually need to spend at least that amount to get this level of construction, not to mention the additional features and capabilities that the Sole TT8 treadmill offers.
It's the perfect machine for very serious runners on a budget, who will make use of the incline as well as the decline capability, something that is quite rare. 
You do find decline elsewhere, for example on the NordicTrack Commercial series, but those machines don't offer nearly the same build quality.
If you added up all of what the TT8 has to offer, you'd be looking at at least a $4500 treadmill.  And you get it for about $2500 when it's on sale, which is a complete bargain.
So if you are a very serious runner, and want a strong machine that can stand up to very heavy use without missing a beat, the Sole TT8 treadmill is a great choice for you.
Sole TT8 Review - Bottom Line
It's hard to argue with a machine that is, for all intents and purposes, guaranteed for life.
The Flex Whisper deck gives even those with joint problems a cushioned running surface and the wide running deck means less worry about where you're positioned while running.
If you're preparing for a marathon, the slow shift between speeds may be annoying at times, but for anyone else it's barely noticeable.  And the decline capability is something you just don't find.
The sticker price of $4,499 is a bit steeper than that of other models, but the Sole TT8 treadmill is still a bargain for a light commercial model, particularly when the price drops to $2,500 or less on sale.
If you catch it at $2,499 or lower, definitely snap it up before the price jumps back up.