The Lifespan TR4000i Folding Treadmill – Solid, Powerful, Quiet
The Lifespan TR4000i folding treadmill is a runner's model that sports a hefty motor, a big running deck, and several weight loss, healthy living, sports training, and heart rate control programs.
The Machine
A blue backlit 6" LCD display shows readouts plus the exercise profile. Workout programs of the Lifespan TR4000i folding treadmill include 5 weight loss, 5 healthy living (Pyramid Climb, Plateau Climb, Ladder, Uphill Interval), 7 sports training, 2 Custom User, and 2 MyZone Heart Rate Control workouts. Each program can be used at 3 different intensity levels.
The features and specs of the TR4000i are:
3.25 HP Continuous Duty DC Motor
20" x 60" Tread Belt
15 levels of Incline
0.5 - 12 mph Speed
21 Workouts
USB Port + storage device
MP3 Plug-in + speakers
Grip pulses with receiver + chest strap
Handlebar controls for speed/incline
350 lb. Max User Weight Capacity
EZ Drop Folding System
Weight / Dimensions: 226 lbs / 56"H x 32"W x 74.5"L
Warranty: Lifetime on frame & motor, 5 years parts, 2 years labor
Check out the Popular LifeSpan TR4000i Treadmill On Sale Now!
The Buzz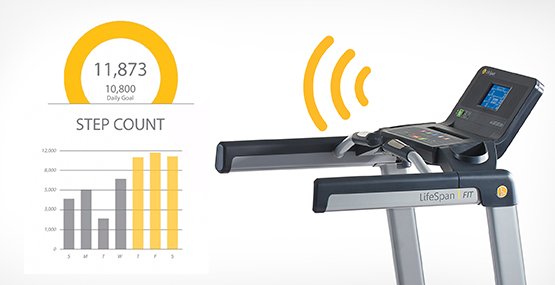 The mechanical features on the Lifespan TR4000i folding treadmill include a 3.25 HP Continuous Duty DC motor, an 800-lb central mount incline motor, 2.5" front rollers, and 2" rear rollers. The running surface is a 1" thick reversible commercial grade deck, a 2.8mm thick orthopedic belt, and deck suspension with 8 variable density elastomers.
Along with 21 workouts, the TR4000i folding treadmill has Lifespan's Intelli-key feature that prompts the user on the sequence of buttons to press to continue operations. It also has the IntelliStep™ technology which counts each step that strikes the deck and gives you a Step Count on the console, and an optional Bluetooth receiver to sync your workout results with your SmartPhone.
A USB stick is included to interact with the online LifeSpan Fitness Club. You must first log in using your PC and set up your personal account (it's free), then download your profile to the USB device and plug the stick into the treadmill console. The storage device will then record time, distance, steps, calories burned, heart rate, and watts. Take the USB stick back to your PC, and upload the workout, where you can print out detailed reports plus have access to more exercise programs.
The Lifespan TR4000i folding treadmill has won numerous awards in treadmill reviews from Treadmill Doctor, Health Magazine, and Runner's magazine. It is touted for its solid and secure frame, and the space saving, fold-up design.
Consumers who bought the TR4000i are more critical. They say the user interface on the website leaves a lot to be desired and needs to be updated to be fully user-friendly and functional. It isn't necessary to use it if you just plan to get on the treadmill and run, however, the console seems to require the USB device in order to set up time/date, and user age/weight to get these readouts on the screen.

What We Say About the TR4000i
The Lifespan TR4000i treadmill was redesigned for 2016, which is a good thing because the one complaint we had about the machine was the way that it looked.  It had a very dreary appearance and the console and interface were a bit complicated and difficult to interact with.
The new TR4000i has all the tools — a big motor and deck, runner's programs, incline capability and the ability to sync your workouts so you can monitor and track your progress. For only $1499, the Lifespan TR4000i folding treadmill is a very solid, powerful, and quiet machine, and a great option in the price category.  
Also look at the top of the line TR5500i treadmill, which has decline capability, more workouts and a sturdier frame for only a few hundred dollars more.
Show me other Lifespan Treadmills