The NordicTrack Commercial 2450 Treadmill Review - Jam Packed With Features
The NordicTrack Commercial 2450 treadmill has plenty of the extras users want for in-home use in a machine with a surprisingly low price tag considering the commercial-quality features and capabilities.
It's a step up from the very popular 1750, with a stronger motor and more built in workouts, among other enhanced touches.
Let's jump into our review to see what this runner's machine is all about...
Commercial 2450 - The Machine
With a ton of workouts, a new 22" tilt & pivot HD touch screen and specialized heart rate training, you're getting a lot of unique features you simply won't find anywhere else.
The treadmill itself is well designed and well constructed, with a large running area and advanced cushioning to reduce impact.

The specs for the NordicTrack Commercial 2450 treadmill are: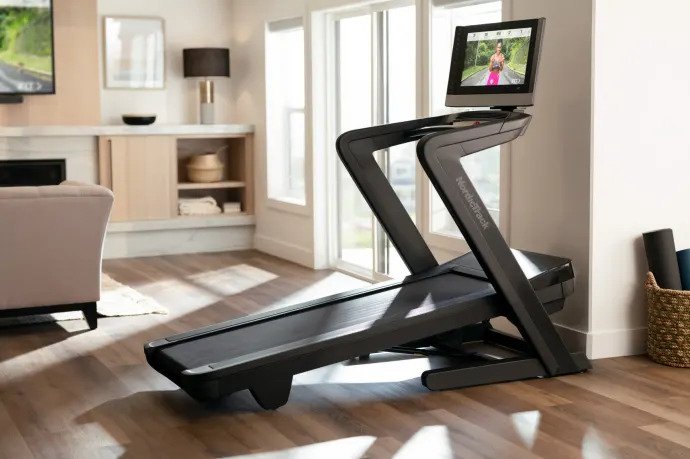 3.6 CHP DurX™ Commercial Plus Motor
22" x 60" Tread Belt
0-12 mph 1-Touch™ Speed
0-15% 1-Touch™ Incline
0 to -3% 1-Touch™ Decline
Runners Flex™ Cushioning
iFit Enabled
22" Smart HD touch screen
Triple Autobreeze Fan
2.5" machined, balanced rollers
ActivePulse Heart Rate technology
Spacesaver Design with EasyLift™ Assist
Footprint: 81" x 39" x 59"
Warranty: 10 years on motor & frame, 2 years parts, 1 year labor

The Buzz
The most exciting features on the all new NordicTrack Commercial 2450 include the 22" tilt & pivot Smart HD touch screen, faster incline and decline response and the ActivePulse technology, which automatically adjusts the treadmill's speed and incline to keep you in your ideal heart rate zone.
You also get a very powerful 3.6 CHP DurX Commercial motor(a big step up from the 3.0 CHP on the base Commercial 1250 treadmill) and tons of on-demand and live workouts through iFit, which also gives you tracking and sharing capabilities as well as Google maps to choose any destination world-wide to run in virtually.
The 2450 also gives you incline as well as decline, which is great for targeting different muscle groups. You don't find decline on many treadmills, especially in this price range, so it's a great added touch.
You can adjust the cushioning to fit your needs, either softening it to reduce impact on your knees and joints, or setting it to replicate the feel of running outside on the road.
Other great features include the generously sized runner's belt, Bluetooth heart rate monitoring for more accuracy, sound system for your music and SpaceSaver design which makes it easy to fold and store.
The 2450 is very similar to the mid-range 1750 model, except the latter has a stronger 4.25 CHP motor.
How Does the Commercial 2450 Compare to the Other NordicTrack Treadmills?
There are currently three different NordicTrack treadmill series on the market today: the entry level EXP Series, the Commercial Series and the Incline Trainer Series.  
There are also two desk treadmills, but those are a bit different.
The EXP Series is the most most affordable of all of them, starting at about $1199 for the base model and moving up to $1499 for the most advanced ones.  
You get a nice array of workout programs, iFit, incline levels and hand grip heart rate monitoring.
Moving up you have the Commercial Series, consisting of the base Commercial 1250, Commercial 1750, and the top of the line Commercial 2450. They range in price from $1999 to $2999.
These treadmills have more powerful motors, stronger build, better cushioning and more incline as well as decline capability, and include even more built in workout programs and higher max weight capacities than the EXP Series models.
Let's take a look at the three treadmills so you can compare them...
Commercial 1250
This is the newest member of the series, first introduced in early 2023. You get a 3.0 CHP motor, a 10" Smart HD touch screen, up to 12 mph speed, up to 12% incline and -3% decline and a 20" x 60" deck.
Commercial 1750
The 1750, one of our top picks and perhaps the most popular of all of the NordicTrack treadmills, gives you a strong 3.5 CHP motor, a 14" Smart HD touch screen, up to 15% incline and -3% decline and a larger 22" x 60" deck.
Commercial 2450
The step-up model, as you read about above, gives you a 3.6 CHP motor, more advanced Runner's Flex cushioning, bigger 22" Smart HD touch screen in addition to all of the other features found on the Commercial 1750.
The company recently discontinued their top of the line 2950 model. Here are the specs in case you come across one.
Commercial 2950 (recently discontinued)
The top model in the series gives you all of the features of the Commercial 2450 plus a 22" Smart HD display (also found on the Incline Trainer X22i) and the strongest motor in the series: 4.25 CHP.
All of the Commercial treadmills come with iFit technology, adjustable tablet holders, AutoBreeze workout fans, SpaceSaver folding design and a solid 10 year frame and motor warranty.
So as you can see the NordicTrack Commercial 2450 gives you a bit more than the already feature-packed 1750, with more power and larger touch screen.
You can think of the Incline Trainers as Commercial treadmills with more incline and more decline.  They are built specifically for those who want even steeper angles for more intense cardio training, calorie burning and leg muscle targeting.  
The X22i and X32i incline up to 40% and decline up to -6%, as opposed to 15% and -3% on the Commercial 2450 and others.  
So that's the main difference between those two series...the Incline Trainers are also the most expensive of all of the NordicTrack treadmills.
So which NordicTrack treadmill should you choose?
You really can't go wrong with any of the NordicTrack Commercial Series treadmills, and they have all been on Best Treadmill lists in various categories for years.
That said, the Commercial 1750 has absolutely everything you need, so it is our favorite choice of the three, as well as the least expensive.  
However, the stronger motor and adjustable cushioning on the Commercial 2450 might appeal to you if you can swing the extra $400.
If you want to save a little bit take a look at the new Commercial 1250 as well.
NordicTrack Commercial 2450 Review - Bottom Line
NordicTrack took the feedback of serious athletes and improved the power of the motor in this commercial grade treadmill.
They also did away with the old QuadFlex™ deck cushioning and added their Runners Flex™ cushioning system, which can be switched off to give a more realistic road feel for those who want to more closely mimic an outdoor feel.
When engaged, it minimizes jarring of the joints so that anyone can use it regardless of their fitness level.

With the improved core features the NordicTrack Commercial 2450 treadmill may just be the machine that can be everything to everybody.
While listed at $2,999, you can sometimes get it for less during sales, which makes it one of the best treadmills available in that price range.
At this price point, it's worth every penny, particularly with the improved warranty on parts and labor.
If you want to save a little bit of money, look at the base Commercial 1250 as well as the mid-range  Commercial 1750 as well, which gives you almost everything the 2450 has.