The New Horizon 7.8 AT Treadmill – Built For Performance
The Horizon 7.8 AT is one of the newest models in the company's treadmill lineup, designed with serious interval trainers in mind. It's part of the Studio Series that bridges the gap between the entry level GO Series and the top of the line Elite Series.
Although it has a little steeper price tag than the other Studio Series models, it's still surprisingly affordable. It includes a few features unique to this model that are designed to make interval training more comfortable.
With that in mind, let's see exactly what the 7.8 AT is all about...

The 7.8 AT
Like all of Horizon's treadmills, the 7.8 AT has a durable build and convenient controls, with a generous sized running deck and a sturdy motor.  
Here are some of the most important specs...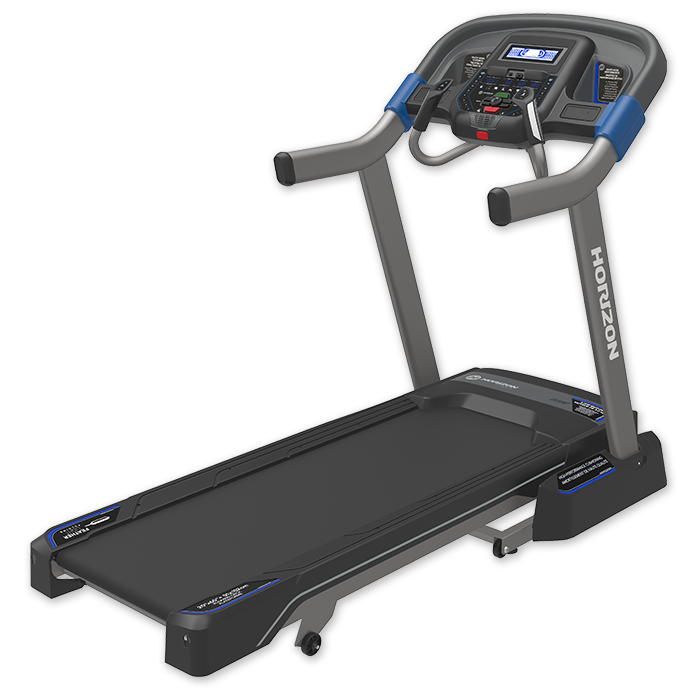 4.0 CHP Motor
0-12 mph Speed
0-15% Incline
22" x 60" Running Space
3-Zone Variable Cushioning
10 Built in Workouts
Bluetooth Connectivity
Built In Speakers
Free Workout App
Coolfit™ Workout Fan
350 lbs User Weight Capacity
FeatherLIGHT™ folding lift system
Dimensions: 76"L x 37"W x 64"H/330 lbs.
Warranty: Lifetime frame & motor, 5-year parts & 2 years labor

The Buzz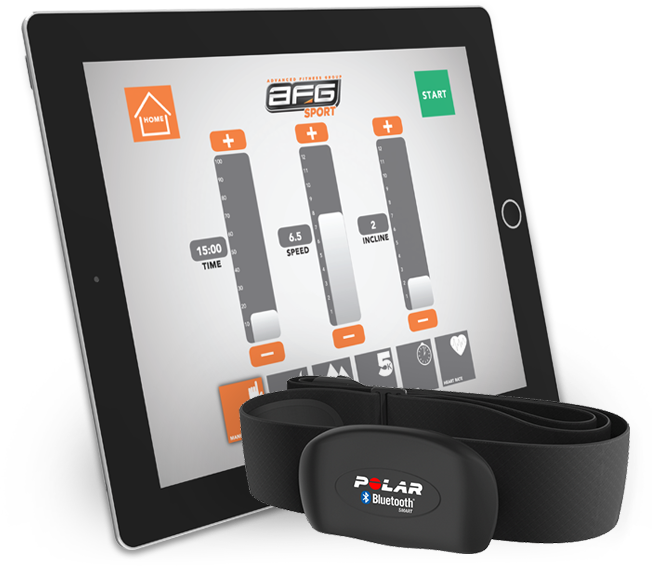 The Horizon 7.8 AT is getting a lot of positive feedback, especially from customers who are in serious training for full or half marathons and 5K's, but it is equally attractive to beginners or those who just want a good, solid addition to their home gym.
Like all of the offerings from Horizon Fitness, the 7.8 AT is competitively priced while offering similar quality and features to other brands. It is well built and designed with comfort and control in mind to help you get the most out of your workout.
The 7.8 AT improves upon the mid-level 7.4 treadmill by including a couple of features that are unique to this model. At the same time it offers a max user weight of 350 lbs., speeds up to 12 mph and an extra large 22" x 60" runner's deck and 10 built in workout programs.
Where it stands apart is the QuickDial precision controls that allow for faster, smoother transitions between intervals. Two easy to use dials let you quickly and easily change speed and incline without breaking stride. You can also use the 60 second countdown timer and view all of your metrics on the dual full color LCD and LED displays.
Despite all of its incredible features, the Horizon 7.8 AT is priced at a surprisingly affordable $1,699 or so when on sale, which is amazing when you consider that similar treadmills from other brands can be well above this price mark.
What makes the 7.8 AT even more attractive is the fact that with its built in Bluetooth capability, found on all treadmills in the series including the base 7.0 AT model,  you can use many of the top streaming fitness apps, including Studio, Peloton and AFG, at just a fraction of the cost.
As with all of the Horizon treadmills, you also get great 3 zone cushioning that helps reduce impact and joint pain, a USB charging port and a very generous warranty.  Plus the 7.8 AT comes with 10 built-in workouts including Distance, Fat Burn and Hill Climb.
The 7.8 AT doesn't lack for power either.  With a 4.0 continuous-duty horsepower motor and 500 lb. thrust incline motor, you'll have all the drive you need to get through even the most challenging interval program with ease.
When you compare the 7.8 AT treadmill to similar models from NordicTrack and ProForm, you'll see why we think it's definitely worth considering.

How Does the 7.8 AT Compare to the Rest of the Horizon Treadmills?
The entire lineup of Horizon treadmills is rock solid, so you can't go wrong with any of them. They are all well-designed and built to last, with a lot of great features and capabilities...
Let's take a look at all of them to see how they compare...
GO Series
T101
With a 20" x 55" runner's deck, 10 mph speed, capable 2.5 CHP motor, 10 levels of incline capability and  a maximum user weight of 300 lbs. the T101 is Horizon's basic model and also one of its most popular models.  Despite its affordable price tag it gives you plenty of capability so there's a lot to like.

T202

The T202 treadmill is the next level up.  It offers a larger 20" x 60" runner's deck, 12 mph speed capability, stronger 2.75 CHP motor, 12 levels of incline and a maximum weight capacity of 325 lbs. for a slightly more advanced workout experience.  
T303
Horizon moves into interval training with the T303, which includes many of the same specs as the T202 but also adds a free phone/table Pro App as well as Hill Climb, My First 5K and Heart Rate programs to expand your workout options even more along with an expanded 3 year warranty on parts.
Adventure Series
Adventure 3
As a hybrid of the T101 and T202, the Adventure 3 treadmill offers a unique workout experience.  It combines the motor, max user weight capacity and running deck size of the T101 with the speed and incline capability of the T202 model. It doesn't have Bluetooth capability, but it does give you ViaFit workout tracking and Passport HD video capability, two features exclusive to the Horizon Fitness brand.
Studio Series
7.0 AT
The Studio Series is the next level up and the 7.0 AT is the base model for this series.  It has some of the same features as the T202, including Bluetooth capability and a free workout app but has more capability and functionality, making it a step above the other models, including the Adventure 3.
7.4 AT
The Horizon 7.4 AT combines all of the features of the 7.0 with a RapidSync Drive System that allows for smooth transitioning and makes it ideal for interval training.  With built in Bluetooth capability and a free Sprint 8 high-intensity interval training workout program at a competitive price, you can get a serious interval training workout without breaking your budget.
7.8 AT
As mentioned above, 7.8 AT is interval training at its best, with exclusive QuickDial controls and one-touch Interval Keys that keep serious interval trainers in mind.  The 7.8 AT combines the features of the 7.0 and 7.4, including a spacious and comfortable deck space and Bluetooth capability with its unique features for the ultimate workout experience.
Elite Series
The top of the line Horizon models are more like commercial machines that you'd find in your local gym, which makes them capable of handling even the toughest workout.  They're more durable, heavier and loaded with sturdy features that help them stand up to regular use.
The Elite Series includes the Elite T5, T7 and T9, each of which has maximum user weights of 350 lbs., incline capability to 15%, running decks up to 22" x 60", motors up to 3.25 CHP, strong warranties and up to 42 built in workout programs.  They're everything you expect in a home treadmill and more.
So the 7.8 AT is the most expensive of the mid-level Studio Series treadmills, a step up from the GO Series but not quite as durable or pricey as the Elite Series.
Horizon 7.8 AT Review - Bottom Line
We love the new Horizon 7.8 AT here at Treadmill Talk. The Bluetooth capability and free workout app that allows you to control your machine and track all of your results are impressive features.
What really stands out with this model are the QuickDial controls and 60 second countdown timer that are unique to the 7.8 AT.  They help to improve response time, making for a smoother and more precise interval training experience.
Whether you're a casual exerciser or a serious runner, with plenty of features and an affordable price tag the 7.8 AT is a great choice for your home gym.