Precor Treadmills May Have Smoothest Ride

Precor Treadmill Reviews
Precor treadmills have received rave reviews from trainers, fitness experts and consumers alike. No wonder, Precor has been a leader in fitness equipment for twenty years by investing tons of money into research and development to bring you equipment, "Engineered to move the way you move."
Patented Responsiveness
Precor treadmills are designed to follow and respond to the natural ergonomics of the body as well as the natural stride of each individual step during any type of stride from walking to full-out running. Their patented Footplant Technology takes into account the acceleration and deceleration of the foot during each stride and adjusts the motor speed up to 100 times per second to accommodate the changes.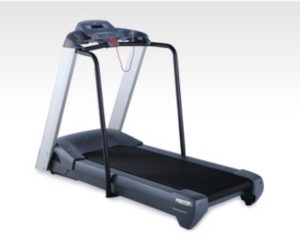 Precor machines also have a patented suspension system that improves the deck's responsiveness to your body pressure, weight and stride. Because Precor is continually innovating and improving, it almost always has a few features on their treadmills that are exclusive to them because they are patent-protected.
Thoughtful Design
The engineering of these treadmills is just plain well-thought-out. Standard features on every Precor model are an oversized deck, a powerful motor, quality electronics and a reversible belt. Essentially this gives you a more comfortable running area, better flow to your stride (no jerkiness), reliable read-outs on the console and double the treadmill belt life. It's a great combo package in terms of fewer repairs and more reliability.
Precor Treadmills - Factory Direct
Marketing Savvy
Precor sells their equipment only through authorized dealers. It guarantees a few things – no one is buying a knock-off, and they have full control over warranties and repairs. Fortunately, they have very good customer service, so it works both ways. It's good for Precor and good for the consumer, unless you don't have a dealer near you. Also a good deal – the ten year warranty on treadmill parts, although the one year labor coverage is a bit skimpy when you consider you're paying $3,500 or more for a Precor treadmill. Others in this price range routinely offer at least two years on labor.
Compare Prices at Amazon
There's also a certain undeniable appeal to owning a Precor. After all, some of the best health clubs in the world use Precor commercial treadmills. Some people quibble over the price of a Precor, but we consider that a budget issue. While this brand may not be the best value, they are arguably the best treadmills. If you're really serious about your workout and want a machine that can take anything you can give it, Precor treadmills are worth every dime.
Click here to write your own review!
Model Reviews
Precor 9.23 - Outstanding power, a smooth and quiet operation, advanced cushioning, first-rate parts warranty of 10 years; best value-priced Precor home model
Precor 9.27 - Streamlined model with a smaller footprint; multi-zone suspension system absorbs shock and lessens impact on the user's joints.
Precor 9.31 - With Integrated Foot Plant Technology and Ground Effects Impact control suspension. Low-noise steel-crowned drive keeps the belt centered and running smoothly
Precor 9.33 - a high performance model that will give you years of reliable use; unique suspension system cushions your every step.
Precor 9.35 - a well-built machine with power, quiet operation, advanced foot strike technology, superior cushioning, challenging programs, quality components and a solid warranty.
Precor C956 - Save $1000s and enjoy years of punishing use by buying a remanufactured club treadmill.
Precor C962 - A commercial-quality remanufactured machine for the home gym.
Precor C964 - This remanufactured model is a steal at $2700!
Precor 966i - Own a Precor C966i commercial treadmill without breaking the bank.
---
Return from Precor Treadmills to the Treadmill Reviews Home Page