The New Sole F80 Treadmill Review - #1 Top Overall Pick For Home
The Sole F80 folding treadmill was originally designed as a dependable, folding treadmill for hotels that could take a beating and still run smoothly and quietly.
Fast forward to today, and it's become one of the most popular home treadmills on the market.
The latest model continues to outperform other machines at similar price points, with numerous upgrades and enhanced features that make it one of our Best Buys in the price category.
Sole F80 - The Machine
The new Sole F80 has an increased running surface of 22" x 60" and the powerful 3.5 horsepower motor which is unheard of in a treadmill selling for under $1800.
Sole also improved the LCD console display by upsizing it to a generous 9.0 inches, making it easier to read without eye strain.

They've also included quick adjust controls for speed and incline mounted on the hand rails, and Bluetooth wireless capability for easy tracking of all of your workouts.
Let's look at some of the best features on the Sole F80...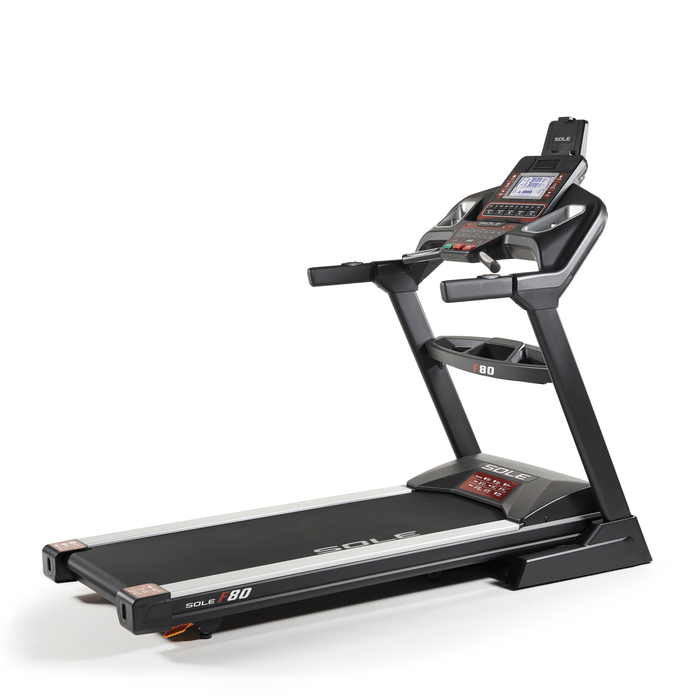 3.5 CHP motor
Speed: 0.5 to 12 mph
Incline: 0-15%
Running surface: 22" x 60"
2.5" rollers
2 ply, 4 layer belt
10 programs
Pulse grips for monitoring heart rate; compatible with chest strap
MP3 compatible sound system
Two cooling fans
9.0" LCD console display
Weight capacity: 375 pounds
Overall dimensions: 57"x 37"x 82"
Warranty: Lifetime on frame, motor and deck; 5 years on electronics and parts, 2 years on labor

The Buzz
Users absolutely love the new Sole F80 treadmill and all of the positive reviews reflect this. The additional few inches on the running surface are appreciated, particularly by taller users. Since the weight limit for users is a hefty 375 pounds, the additional inches can be a game changer.
Note that the max weight capacity on the similar NordicTrack Commercial 1750 is only 300 lbs., so if you are on the heavier side, this one might be a better option for you.
The Pros
The 3.5 horsepower motor and ten programs (including two custom options) can give you great workouts similar what you'd find in a professional gym without having to pay a membership fee or venture out in the cold.  Although you might find more workout programs on other treadmills, these are diverse enough to help you reach your fitness goals.
The new Bluetooth wireless technology, first introduced on several models a few years ago, gives you the ability to track your workouts via the Sole Studio app and sync your results with any of your favorite fitness apps (Fitbit, Apple Health, etc.).  You'll find this capability on more and more treadmills these days, and it's definitely a feature that more users are asking for.
The new Sole F80 is a nice step up from the entry level F63 and the mid-range F65 model, with a more powerful motor, larger console and better warranty.  It has everything you need and can accommodate users of all sizes and fitness levels.  
In addition the large deck, you get Sole's patented Cushion Flex Whisper Deck, which can reduce impact on your joints up to 50%, in addition to providing smooth, quite workouts.
It features Easy Assist folding capability, which allows you to easily fold and unfold the treadmill with a simple release.  The Message Board scrolls instructions for any of the F80's functionality, so you don't need to constantly check the manual to figure out how to do something.
You can run up to 12 mph, and incline up to 15 different levels to ramp up your workouts.  Measure your heart rate either via the grips or wirelessly, as the machine is compatible with any wireless chest strap.
If you think you need an even stronger motor for more serious workouts, check out the top of the line folding model, the F85, as well.  But the F80 is just perfect for most home gyms, and gives you plenty of functionality in a well-built, smartly designed treadmill that will provide years of use no matter how hard you train.
All in all, the new Sole F80 treadmill is an excellent choice, especially if you can find it at around $1700 on sale.  
The Cons
The only drawback, since we always like to mention something, is that the display, although an improvement, is still a basic LCD display interface.  Some other treadmills, including the similar NordicTrack Commercial 1750, give you a touch screen display with internet.
Still, when you compare the F80 vs the 1750, there are a lot of checks in the Sole column, so it definitely makes sense for many users to lean towards the F80.
How Does the F80 Compare to the Rest of the Sole Treadmills?
There are currently six machines in the Sole treadmill lineup, and the F80 has been one of the top sellers for the company for several years now.
It has the perfect combination of features and price, although that can really be said about most of the Sole treadmills.  
Let's take a look at all of them so you can see how the F80 compares to the rest...
Sole F63
The base model in the series is the entry-level F63, which gives you an incredible amount of features given its sub-$1000 price tag.  
You have a comfortable, 20" x 60" well-cushioned deck, 6.5" LCD display, up to 15 levels of incline, Bluetooth workout tracking, wireless heart rate monitoring, 10 built in workouts, a 3.0 CHP motor and a 325 lb. max weight capacity.
Sole F65
Stepping up you have the F65, with all of the features of the F63 plus a wider 22" x 60" deck, a larger 7.5" display, a stronger 3.25 CHP motor and a 350 lb. max weight capacity.
Sole F80
The F80 gives you everything the F65 has, but gives you one of the largest displays at 9.0", a stronger 3.5 CHP motor and an even higher 375 lb. max weight capacity.  
You also get a stronger warranty than on the F63 and F65, with lifetime on the frame, motor and deck in addition to 5 years parts and electronics and 2 years labor.
Sole F85
The top folding model in the series, the F85 jumps up to a 10.1" TFT LCD display and a 4.0 CHP and a 400 lb. max weight capacity, along with all of the features of the F80.
You then have the two non-folding models:  the S77 is a non-folding version of the F85, and the TT8 is a light commercial model with incline as well as decline.
So as you can see the Sole F80 is more advanced than the F63 and F65, giving you a very high max weight capacity, a larger display and also a stronger warranty.  The F85 is the only folding Sole treadmill that is more advanced, as are the non-folding S77 and TT8.
Which Sole Treadmill Should You Choose?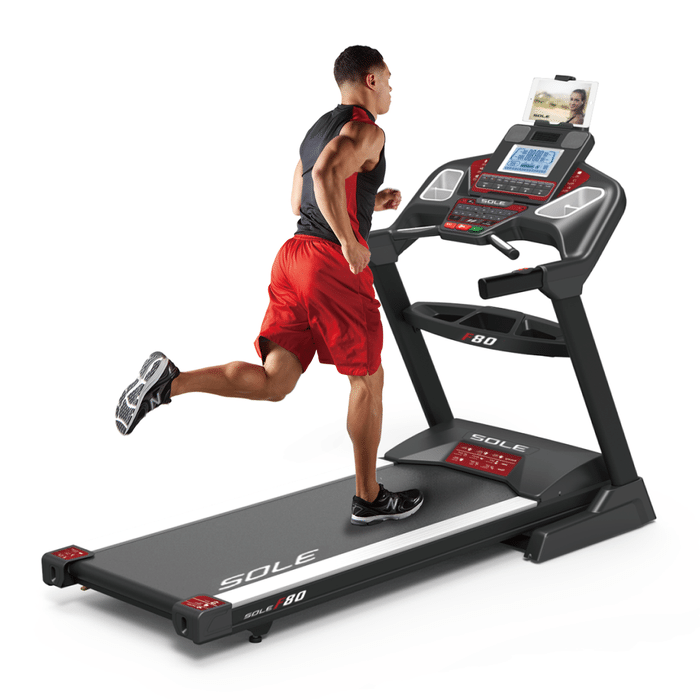 Let me start off by saying that you can't go wrong with any of the Sole treadmills.  As you can see from the specs on the F63 above, even the entry level model is just packed with features normally found on  machines twice the price.
That said, we recommend the F80 as our top choice for home use, because it can accommodate heavier use than the entry level models with a higher max weight capacity, and gives you more room to stretch out with the wider belt.  It also has a souped up motor which is strong, but quiet and a strong warranty to back it all up.
Now, if your budget is around $1000, then by all means go for the F63, as you won't find more anywhere at that price level.  It's one of the best entry level treadmills on the market.
You don't necessarily need to bump up to the F85 unless there are a lot of users hitting the treadmill pretty hard every day, and one or more of them is on the heavier side.  The Sole F80 can handle everything you throw at it.
As far as the S77, if you don't want a folding treadmill then you can consider it...again it is just like the F85, but about 40 lbs. lighter and 1 inch shorter.  And the TT8 is an absolute beast, but at $1000 over the price of the F80, it might be out of range for most people. But the decline capability is pretty cool.
Sole F80 Review - Bottom Line
As usual, Sole Fitness has improved on what was already a really great treadmill for in-home users. The steel frame is rugged enough to last a lifetime while the Cushion Flex deck minimizes impact to your hips and knees.  
The company has always focused on the quality of their machines and the quality of the workouts you get on those machines.  And that's really what it is all about at the end of the day.
The best upgrade on the Sole F80 folding treadmill? Besides the larger, easier to read console it's definitely the Bluetooth capability.  Tracking and sharing workout results is becoming more and more popular, and it's nice to be able to do so on a Sole treadmill now.
Compared to the other Sole models, we believe this is your best overall choice for home use, and that's why it tops our list of Best Buys again this year.  If you want to save a little money, take a look at the F63. It's just around $1000 on sale.  And if you want even more power, look at the F85.
All three are strong, durable, folding treadmills that are sure to last for years with very little maintenance required.  Sole continues to provide affordable quality with all of their cardio machines, which is something you just don't find very often.