The New Horizon 7.0 AT Treadmill – Our In-Depth Review
The Horizon 7.0 AT is one of the newest models in the company's treadmill lineup, part of the Advanced Series that bridges the gap between the entry level models and the top of the line Elite Series.
It's a nice step up for those looking for something a bit more substantial that can handle heavier workouts, with more features and capabilities found on the less expensive models.
Let's get into our review to see what the 7.0 AT is all about...
The 7.0 AT
The 7.0 AT has a strong build and convenient controls, with a generous sized running deck and a durable motor.  
Let's take a look at some of the most important specs...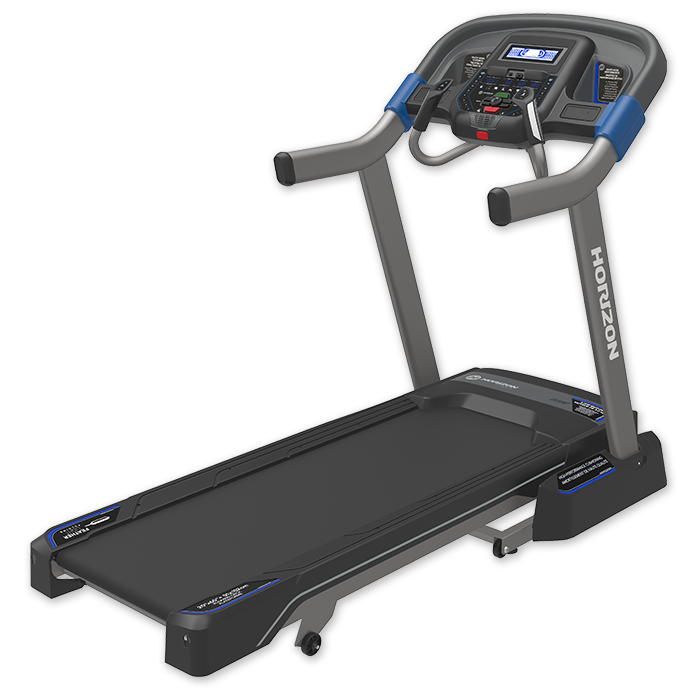 3.0 CHP Motor
0-12 mph Speed
0-15% Incline
20" x 60" Running Space
3-Zone Variable Cushioning
6 Built in Workouts
Bluetooth Connectivity
Built In Speakers
Free Workout App
Coolfit™ Workout Fan
325 lbs User Weight Capacity
FeatherLIGHT™ folding lift system
Dimensions: 76.5"L x 36"W x 59"H/253 lbs.
Warranty: Lifetime frame & motor, 3-year parts & labor
The Buzz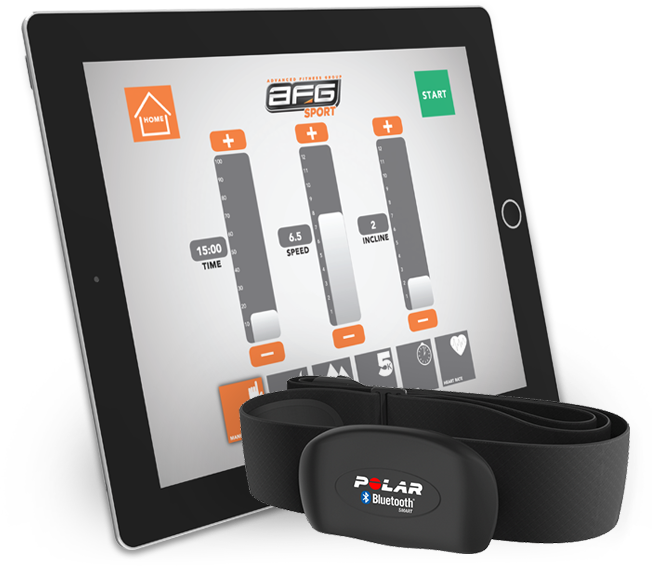 The Horizon 7.0 AT has received very positive reviews from customers, especially those who have been looking for a mid-range choice...not quite a beginner model but not a top of the line pricey model.
The great thing about Horizon Fitness is that all of their treadmills are very competitively priced, yet they don't skip on quality and features like some other brands do.  They make sure all of the machines in their lineup are well built and intuitively designed, making for a very enjoyable workout.
The 7.0 AT improves upon the relatively new T202 treadmill, with a bit more of everything.  It shares a max user weight of 325 lbs., speeds up to 12 mph and a large 20" x 60" runner's deck, but adds a stronger 3.0 CHP motor, more incline capability, more advanced display and more built in workout programs.
So whereas the Starter Series is more for beginners, walkers and joggers, the Advanced Series caters to runners and those who are going to use the machine more often for more serious workouts.
The amazing part is that as of the writing of this review the Horizon 7.0 AT was priced at only $899, which is incredible for all of the features and capabilities that you are getting.  A similar treadmill elsewhere would definitely be north of $1000.
One of the newest introductions is the free training app, which you can access via Bluetooth on your tablet or smart phone.  You can control all of your workouts via the interface and also track and share all of your performance data by syncing with your favorite fitness apps such as Run Social.
You also get great 3 zone cushioning that helps reduce impact and joint pain, five diverse workout programs built into the machine, USB charging port and a very generous warranty.
Interestingly, the 7.0 AT actually has a stronger motor and larger running deck than the base Elite T5 treadmill, even though it is a few hundred dollars cheaper.  So it's a really good choice, especially if you are on a a budget.
All in all, we really like the 7.0 AT treadmill and it's definitely worth considering.  Compare it to similar models from NordicTrack and ProForm and see what you think.
There is also a new 7.4 AT and 7.8 AT in the works, so definitely check back with us to read our reviews on those new treadmills.
How Does the 7.0 AT Compare to the Rest of the Horizon Treadmills?
You can't go wrong with any of the Horizon treadmills as they are all well built and give you a lot of value for the money.  So it's really just a matter of determining if you want an entry level, mid level or top of the line model.
Let's take a look at all of them to see how they compare...
Starter Series
T101
The T101 is probably the most popular model that Horizon offers, as it is very competitively priced yet gives you a lot of capability.
There's a 20" x 55" runner's deck, 10 mph speed, capable 2.5 CHP motor and 10 levels of incline capability. It has a maximum user weight of 300 lbs.

T202
Stepping up there's the T202 treadmill. You get a larger 20" x 60" runner's deck, 12 mph speed capability, stronger 2.75 CHP motor and 12 levels of incline to choose from.  There's a higher maximum weight capacity as well...up to 325 lbs.
Adventure 3
The Adventure 3 is sort of a hybrid of the T101 and T202 treadmills.  It shares the motor, max user weight capacity and running deck size of the T101 but has the speed and incline capability of the T202 model.  
However, it doesn't have Bluetooth capability, but gives you ViaFit workout tracking and Passport HD video capability, two exclusive Horizon Fitness features.
Advanced Series
7.0 AT
As you read about above, the Horizon 7.0 AT is a step up from the Adventure 3, and the first model in the Advanced Series.  
You get the Bluetooth capability and free workout app that the T202 has, with more capability and functionality.
The 7.4 AT and 7.8 AT aren't out yet, but look for those soon.
Elite Series
These are considered the top of the line models, closer to what you might find at the health club...more durable, heavier, more capable of handling intense workouts.
There's the Elite T5, T7 and T9, with maximum user weights of 350 lbs., incline capability to 15%, running decks up to 22" x 60", motors up to 3.25 CHP, the strongest warranties and up to 42 built in workout programs.
So the 7.0 AT is going to be your least expensive Advanced Series treadmill, better than what the Starter Series has to offer but not quite as durable as the Elite Series.
Horizon 7.0 AT Review - Bottom Line
We love the new Horizon 7.0 AT here at Treadmill Talk.  We like the Bluetooth capability and the free workout app that allows you to control your machine and track all of your results.
We especially like the competitive price, which is hundreds less than similar models elsewhere.  You get good incline, solid cushioning, diverse workouts and lots of extra features.
We're excited to see what the new 7.4 AT and 7.8 AT have to offer, but for now this one is a very good choice for your home gym.