For the Best Incline Treadmill Look at NordicTrack's Lineup
If you're looking for the best incline treadmill, NordicTrack currently leads the pack, with three well-priced models to choose from.
By providing an incline of up to 40%, the new base X14i, as well as the newly redesigned X22i and X32i give you a better leg muscle workout and a much more challenging cardio workout than you get on a regular treadmill.  Plus, you also get decline capability...a huge bonus that you don't find anywhere else!
The Machines
We rank the NordicTracks as the best treadmills for walking on an incline for several reasons, and not just because they have the steepest incline versus other brands. That alone makes it interesting, but it wouldn't be great unless other features were high quality and could back up the innovation of the steep incline.
Here are all of the important specs...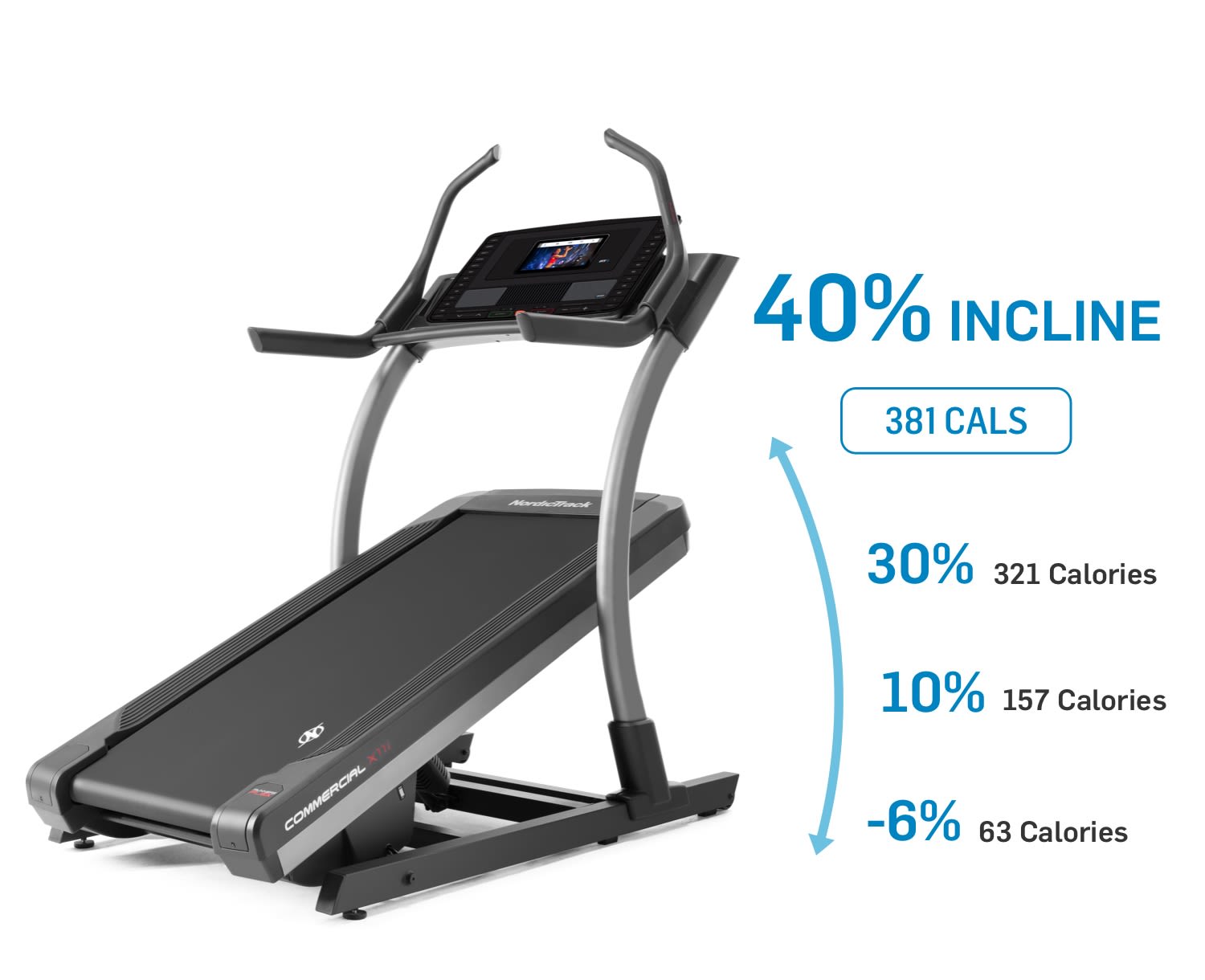 0-12 mph speed
-6-40% decline/incline
22" x 60" running area
Wireless heart monitor
14"-32" Smart HD touchscreens
iFit enabled
Reflex cushioned deck
Endless iFit workout programs
3.0-4.25 CHP continuous duty motor
300-350 lbs. user weight capacity
Folding capability
10 year frame, motor, deck warranty; 6 year parts; 2-3 year labor

The Buzz
UPDATE:  As of 2020 the base X9i and mid-level X11i are no longer available, but there's a new X14i and the X22i and X32i have been updated with great new features and capabilities!
Check out those three machines if you're looking for a great incline treadmill.
There is a lot of talk about the great workout you get with NordicTrack's Incline Trainers because of the ability to set such a steep incline – up to an impressive 40%. In fact, for a price of around $1,999 on sale for the base X11i model, you're getting plenty of features.

Trainers and fitness buffs love the versatility of the NordicTrack Incline Trainers. They consider it the best incline treadmill because it not only has a wide range of incline settings, but also because it has decline capability that you don't find elsewhere,
It also has the popular iFit Coach technology for tracking, an endless library of fitness trainer designed workouts and the ability to run all around the world with Google maps while the machine automatically adjusts the ramp levels.
Most of the people who purchase these NordicTrack treadmills feel that it's a very good investment, and are impressed with the versatility and the number of features and capabilities, as well as the free wireless chest strap that is included with each model for more accurate heart rate readings.
The original base model, the X7i, with a 2.75 CHP motor and 7" backlit display was discontinued in 2017. There also used to be a X15i Incline Trainer,  which boasted a powerful 4.5 CHP motor and a 15 inch high-def TV....but that one was discontinued for some reason.
The Current Incline Trainer Lineup
All of the current Incline Trainers were recently redesigned, and there are three models remaining in the series.
Current Models

NordicTrack X14i - Base Model

The newest treadmill in the lineup is the X14i, with a 14" Smart HD touch screen, expanded iFit offerings, new quiet drive technology and other enhancements. It's the most affordable of all of the Incline Trainers, and a great option for those looking for something beyond the typical treadmill.
NordicTrack X22i - Mid-Level Model

Taking a step up you have the advanced X22i model, also upgraded for the new year.  This one features an impressive 22" touch display and more powerful motor than the X14i.
NordicTrack X32i - Top of the Line Model

Another relatively new model in the lineup is the NordicTrack X32i.  This one has all of the specs of the X22i, just with a 32" HD touch screen instead of the 22" one.
Prices tend to jump around, but the basic range is about $1999-$3999, depending on which model you choose. 
Older Models
NordicTrack X9i - Base Model (Discontinued in 2019)
The base model is the X9i treadmill which has 3.0 CHP motor, 7" web-enabled touchscreen, incline up to 40% and decline down to -6%.  You get a large, well cushioned 22" x 60" deck, 44 built in workout programs, a 300 lb. max weight capacity and up to 12 mph speed.
NordicTrack X11i - Base Model

Moving up you have the X11i treadmill, which has all of the features of the X9i, plus a more powerful 4.25 CHP motor,  a 10" web-enabled touchscreen and a better warranty.
NordicTrack X15i - Mid-Level Model (seasonal availability)

Moving up again you have the advanced X15i model, which was recently redesigned.  This one features a 14" touch display and iFit Coach technology, as well as 50 built in workout programs to choose from.
Which Incline Treadmill Should You Choose?
Currently the X14i, X22i and X32i are looking like the best deals with their powerful motors, large touch screen and endless library of great trainer-led workouts.
The only real difference between those Incline Trainers is the size of the touch screens: 14" vs. 22" vs 32". Everything else about the workouts is essentially the same.
Are there other incline treadmills on the market? Currently, no. Almost every $500+ treadmill will incline to some extent, but even the most expensive ones top out at around 15%.  
Freemotion, made by the same company that manufacturers NordicTrack, ICON Fitness, has one model...an i11.9 Incline Trainer that maxes out at 30% incline and -3% decline, falling short of the NordicTrack lineup.
No other company makes a treadmill specifically for incline/decline like NordicTrack does, which is why they have been so successful over the years.
What We Say About the Top Incline Models
Based on how many additional features you get, and how much these models have improved over the years, the NordicTrack Incline Trainers are still the best incline treadmill available, and essentially the only ones.
They offer steep incline and decline capability, iFit Coach technology and up to 44 built in workout programs, giving you plenty of variety and challenge to help you reach your fitness goals.
If incline training is something you are interested in, NordicTrack definitely has you covered with three of the best treadmills on the market today.
Again, our favorites are the X14i, X22i and X32i with their upgraded motor and large touch screens.  
If money is no object, consider the top of the line X32i with its amazing 32" Smart HD touch screen console.