Bowflex Treadmills - Out With the Old in With the TreadClimbers

Bowflex Treadmill Reviews
The Nautilus Company actually makes Bowflex treadmills, so there is thirty years of experience behind the name. While Bowflex is famous for their home gyms, they do make some very respectable treadmills as well. In fact, Bowflex treadmill reviews usually give these machines pretty decent marks, but always end with a few caveats.
A Good Warranty Helps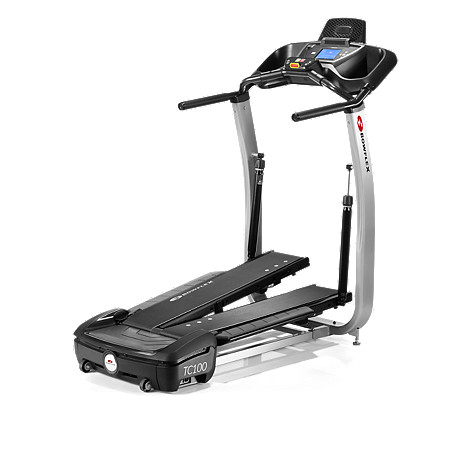 All of the Bowflex treadmills fall in the mid-priced market, so you do want a good warranty, and you'll get one. With lifetime coverage on the frame and ten years on the motor, you should get pretty good performance.
Granted, there are some high-end companies that offer longer motor warranties, but Bowflex's is far better than most store labels at the same price point.
UPDATE:  Bowflex has phased out their traditional treadmill line in favor of the popular TreadClimber series.  Check out the new TC100 and TC200 to compare specs and features.
Parts and Displays
Other features that are standard for the price are heart rate monitors and decent motors, but some of the parts are less than ideal.
For some reason, Bowflex opted for plastic parts where most other companies use metal, particularly in the area of the treadmill gears. This can lead to rattling over time and more sound in general than you'd like.
The display consoles aren't as up-to-date as they could be, which is interesting because the overall look of Bowflex treadmills is high tech. These are attractive, streamlined machines.
What Bowflex has invested in looks, however, has possibly been funneled away from other areas like cushioning. There's enough padding on any model they make, but no more than is necessary. If you're looking for cloud-like comfort, you'll need more cushioning than Bowflex models offer.

New Product May Turn Things Around
There may be a change on the horizon with the new Bowflex® TreadClimber®, a new exercise machine that's a hybrid of a treadmill, elliptical and stair stepper that is generating lots of interest. If it takes off as the next answer to elliptical machines, it could help Bowflex make a name for itself as an innovator outside of the home gym arena.
Bowflex treadmills are good performers with a nice warranty. You could say these are the middle class citizens of the marketplace – respectable, but nothing outstanding or unexpected. For the price, you're getting what you need but nothing more.
Check out the latest TreadClimbers on special sale now!
Consumer Reviews
Bowflex TreadClimber User Reviews - Comments we have received from consumers who bought one of these machines.
TreadClimber Reviews
Popular Models
Bowflex TreadClimber TC100- brand new for 2016, completely redesigned with interactive display, workout tracking and media shelf with USB charging station.
Bowflex TreadClimber TC200- also new for 2016, this enhanced model features the TreadClimber App, 5 built-in workouts and a Heart Rate Zone bar for maximizing your results.

Older Models
Bowflex TreadClimber TC5 - The fact that the Bowflex TC5 offers 3 modes – as a  stairclimber, an elliptical, and a treadmill – is somewhat deceptive in that it doesn't do any one of the three well.
Bowflex TreadClimber TC10 - The TC10 is over-rated and poorly designed. You can get a great treadmill for that amount of money so we recommend you forget the hype on these machines.
Bowflex TreadClimber TC20 - An update of an older model that adds longer foot treadles among other things.
Bowflex TreadClimber TC1000 - Is this machine a good deal?
Bowflex TreadClimber TC3000 - Short hydraulics warranty worrisome.
Bowflex TreadClimber TC5000 - Great workout, bad design.
Bowflex TreadClimber TC5500 - Dinky motor, no labor warranty.
Treadmill Reviews
All Discontinued
Bowflex 3-Series - A basic, entry-level machine.
Bowflex 5-Series - A model for serious runners.
Bowflex 7-Series - Top Bowflex model for dedicated runners.
---