Horizon Treadmills – Peak Performance for Maximum Value

Horizon Treadmill Reviews
Horizon treadmills are the obvious choice if you are looking for a reasonably priced machine that offers a lot of features. With a strong line-up of durable treadmills that range in price from $649 to $1899, nearly every home exerciser will find the perfect model that fits their fitness needs.
Horizon Fitness is owned by Johnson Health Tech, the fourth largest maker of exercise equipment in the world. Johnson also makes the Matrix, AFG, and Vision brands. The company is a leading manufacturer of treadmills, ellipticals, and recumbent bikes. 
Doing it Right from Start to Finish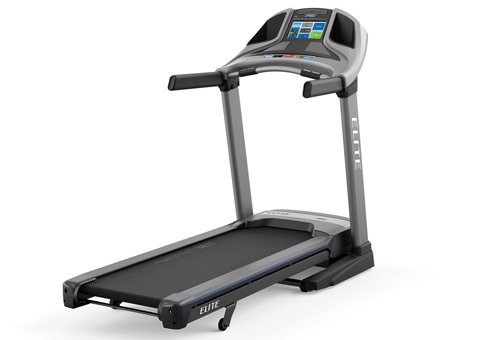 Their product development, differentiation, and innovation are a challenge for competitors to match. They have undertaken a re-organization and have hit the ground (or tread belt!) running.
As a result, they control all aspects of treadmill design, production, and direct-to-consumer sales. Horizon's state-of-the-art manufacturing assembles parts that work seamlessly together to create an exceptional exercise experience for the user.
With fully automated factories and strict quality control, there is little chance for flawed components being put into your machine. If you do have a question for customer service, you will be speaking with a representative located in the U.S. Horizon Fitness is headquartered in Cottage Groove, Wisconsin.
Their website has full details of the latest treadmill models, an e-store, information about the company, and customer service contact information. Horizon Fitness also provides you with downloads for treadmill owner's manuals, parts diagrams, spec sheets, and archives.


A Whole New Way to Get Fit
Johnson Health has simplified the Horizon treadmill lineup over the years to make it easier for you to choose the right treadmill for your needs.  Currently there are only 6 models to choose from, including the very popular Quick Start Horizon T101, the Adventure Series 3 and 5, and the high end Elite T5, T7 and T9.
The Elite Series was recently redesigned with more of a focus on performance and results.
As you move up the line you will find more workout and entertainment features, so it's a matter of figuring out your budget and deciding what exactly you want/need from your treadmill.
These machines are engineered for quiet performance, reliable operation, and long life. You will find that Horizon treadmills have landed on many Best Buy lists, including ours, and in leading consumer journals and fitness publications.
Horizon has been manufacturing fitness machines for 25 years and will be around for many more years. If you have made a lifelong commitment to fitness, as Horizon has, you can count on them being there when you need them.
Horizon Treadmill Model Reviews
Horizon T101 - One of the best treadmills on the market in the under-$700 category with great features for the price.

Horizon Adventure 3 - A step up from the T101 with a stronger motor and Passport and ViaFit entertainment features to motivate you to work out longer.
Horizon Adventure 5 - Adding a longer running surface and more workouts, this one might just be a better buy than the Adventure 3 model.
Horizon Elite T5 - The newest model in the series, an affordable treadmill with advanced performance features.

Horizon Elite T7 - This upper end treadmill offers the Infinity Deck, ViaFit workout tracking and Passport connectivity, syncing with your TV to show high definition locations across the world while you work out.
Horizon Elite T9 - The top of the Elite series with additional workout, Polar heart rate monitor and a 10" touchscreen with Virtual Active integrated.

---