The ProForm Performance 400i Treadmill Review – Ideal for Light Usage
The ProForm Performance 400i treadmill packs a ton of features and a lot of cardio workouts for just $599 plus free shipping.  
Recently updated, it now has iFit Bluetooth technology, allowing you to use all of the exciting iFit features on your smart phone or tablet.
If you're looking for an entry level machine that doesn't skimp on features or capability, look no further than the 400i.
Performance 400i - The Machine
The new Watts LED display shows your power output to determine whether you are in the Endurance, Tempo or Peak Zone. There is also a new interval training system with Work and Recovery modes.
The ProForm Performance 400i treadmill has 18 built-in workout apps including 5 calorie-burn, 5 timed and 5 distance workouts. A Workout Intensity Control lets you step up or step down the workout to adjust to your desired pace.
Here are the important specs on this machine...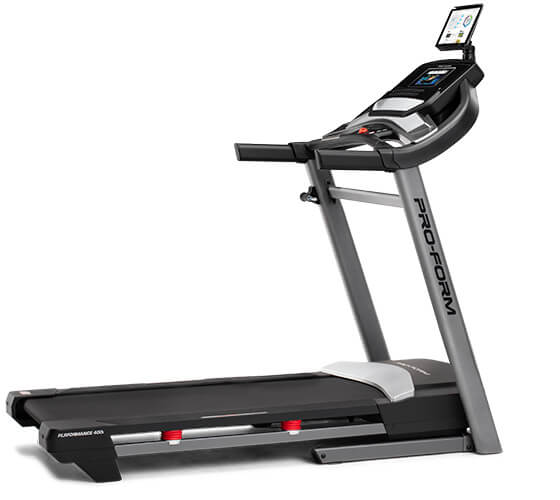 2.5 CHP Mach Z™ Motor
0-10 mph QuickSpeed™
0-10% Quick™ Incline
20" x 55" Tread Belt
ProShox™ Lite Cushioning
iFit® Bluetooth Enabled
Round Watts LED display
Intermix Acoustics™ 2.0 Sound System
Integrated tablet holder
CoolAire™ Workout Fan
300 lbs User Weight Capacity
SpaceSaver® Design with EasyLift™ Assist
Dimensions: 73.25"L x 35.5"W x 59.75"H
Warranty: Lifetime frame, 25 yrs motor, 1-year parts & labor

The Buzz
The ProForm Performance 400i treadmill allows access to a number of programs online via the iFit Coach program, although it isn't necessary to use this feature if you don't have a computer or the internet in your home.
It is a nice option to download workouts powered by Google Maps™, or training with audio provided by Jillian Michaels of The Biggest Loser TV show fame.
The ProForm Performance 400i also has a feature that lets you connect your iPod player to the treadmill and listen to your favorite tunes while you run.
If you don't want to bother with any of those fancy features listed above, you've still got a decent walker's treadmill that offers a solid 2.5 CHP motor, ProShox™ Cushioning for shock absorption on the deck, and a 20" x 55" belt (note the up-level 600i has a wider deck).
You also get a workout fan on the console, 10% power incline, pre-set programs plus manual control, and a fold-up deck design.
The large console is simple to operate, and the LED windows showing time, speed, heart rate, etc., are easier to read than LCD windows found on other treadmills.
It also includes the new Round Watts Display that shows your power output, keeping you in your ideal target zone.
How Does the Performance 400i Compare to the Other ProForm Treadmills?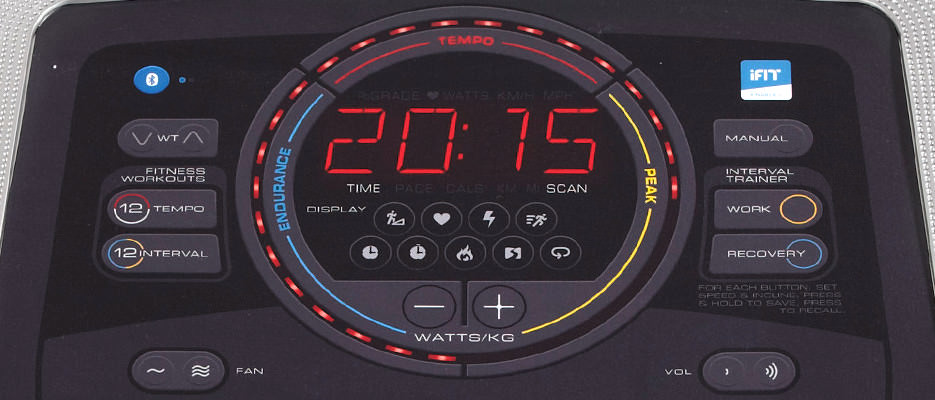 There are currently three different ProForm treadmill series: the entry level Performance Series, the mid-range Power Series and the top of the line Pro Series. As you move from one series to the next you get more features and capabilities.
Let's take a closer look at all of the models to see how they compare...
The Performance Series consists of the base 400i and the up-level 600i.  
The Performance 400i is the most compact treadmill in the lineup, with a 20" x 55" belt, up to 10% incline, 2.5 CHP motor, SpaceSaver folding design, iFit Coach technology, up to 10 mph speed, ProShox cushioning, pulse heart rate, 18 workout programs and a 300 lb. max weight capacity.
The Performance 600i is longer and wider than the 400i, with a larger 20" x 60" deck, up to 12% incline, 2.75 CHP motor, up to 12 mph speed, 22 workout programs and a 325 lb. max weight capacity.  It also adds a workout fan.
The Power Series is more advanced than the Performance Series and consists of the base 995i and the up-level 1295i.  You get stronger motors, higher speeds, more workouts and more incline levels.
The Power 995i has a 20" x 60" deck, up to 15% incline, 3.0 CHP motor, up to 12 mph speed, 30 workout programs and a 300 lb. max weight capacity.
The Power 1295i adds a 7" Smart HD touch screen display, a more powerful 3.5 CHP motor, 34 workout programs and a 350 lb. max weight capacity.
The Pro Series is the more commercial grade series, adding higher level components, decline capability, wider decks and even stronger motors.  Here you have the Pro 2000, 5000 and 9000.
The Pro 2000 has a 22" x 60" deck, up to 15% incline and -3% decline, 3.5 CHP commercial Mach Z motor, up to 12 mph speed, 32 workout programs and a 300 lb. max weight capacity.  It also adds a workout fan.
The Pro 5000 adds a 7" Smart HD touch screen like the Power 1295i has, plus a 4.0 CHP motor and 38 built in workouts.
The Pro 9000 adds a 10" Smart HD touch screen plus 40 built in workouts.

Which ProForm Treadmill Should You Choose?
Now that you know a little bit more about each treadmill, it should be a little easier to select the right model for your home gym.
The ProForm Performance 400i and 600i are going to be ideal for light workouts:  walking, some jogging, rehab, etc.  They have plenty of features and capabilities, but they are not built for very heavy usage.
In this case we like the 400i as it is more compact and is the least expensive model, but the 600i definitely gives you a lot more to work with:  longer deck, more programs, more incline, a stronger motor and a fan.
If you think you are going to be doing more than just walking, or there will be multiple users of various sizes, you might be better served with one of the ProForm Power treadmills.  Here we prefer the Power 1295i as it gives you that nice touch screen display and more powerful motor.
Lastly, if there will be a lot of users banging away on a regular basis, or if you are interested in more serious running/training, you're probably going to want one of the Pro Series treadmills.
The ProForm Pro 5000 is one of the top sellers for the company, and you get the touch screen as well as incline and decline capability, something you really don't find often.  Plus you get a very strong motor and a large array of workouts.  The Pro 9000 is great as well, but you don't necessarily need to spend the additional money for a larger touch screen.
So to sum up, for beginners/light users, the Performance 400i and 600i are good...for jogging/running, definitely look at the Power series...for serious runners, training purposes, a lot of different users, the Pro Series is going to be your best bet.
ProForm 400i Review - Bottom Line
The latest reviews on this treadmill are very encouraging. It isn't a runner's treadmill, nor should it be used by multiple-user households, but it would be ideal for seniors or casual walkers who want easy access to daily walking exercise without having to go outdoors.
ProForm excels at packing a lot of value into its budget line of machines, and the new ProForm Performance 400i treadmill has been a big seller for them, especially given the amazing price.
Also take a look at the up-level Performance 600i which has a stronger motor, more speed, more workouts and a larger deck.
If you are interested in more running and training, you'll want to upgrade to at least the Power Series, if not the top of the line Pro treadmills.