Sole Treadmills – Incredible Value/Unmatched Quality
Several years ago Sole treadmills were virtually unknown; then Hilton and Omni Hotels began putting them in their rooms for guests, and the name quickly became synonymous with high quality treadmills. Today they are one of the most popular brands in the mid-price range, competing head to head with NordicTrack and Horizon.

Superior Design and Construction
Sole's treadmills for in-home use are basically the same models that they have put in thousands of hotels, so you know they can take some punishment.
Think about how a hotel treadmill is used – being shoved from room to room, used carelessly and stopped and started by a variety of different users for years and years. If these treadmills can stand up to that, they can take whatever you put them through in your home gym.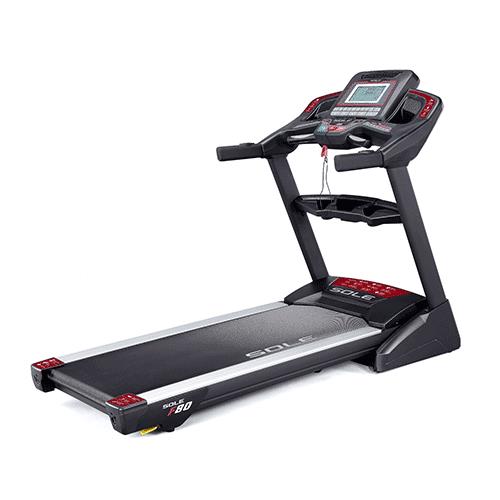 Sole treadmills come in several different models ranging from $999 to $2,499 and owners will tell you that they are worth every penny. These are some of the strongest, most stable treadmills on the market, rivaling others at twice the price.
The current lineup consists of the base F63, the F65, the F80, the F85, the S77 and the top of the line TT8 light commercial model.

Patented Features and Technology
Sole is owned by the international conglomerate Dyaco, so there's been plenty of research and development money available to perfect the proprietary features of their treadmills.
A 2-ply, 4-layer belt has less slippage and is quieter than any other belt currently on the market. They are so sure of the lasting quality of it that Sole will replace the treadmill belt free for life if it ever wears out.

Sole's folding treadmills feature safety lock decks, easy assist folding and a unique horseshoe support that means they are as stable as, if not more stable than, most stationary treadmills.
Other patented features include the Whisper Deck (also replaced free of charge if it ever wears out) and various assembly features.
They have also recently introduced Bluetooth capability for tracking your workouts and setting goals for yourself, something that truly hekps to motivate you.
Sole continues to innovate, bringing distinctive functions to the consoles and improving ease of use across all models. It's a safe bet that with so many current patents and more innovations on the way, Sole will soon steal a significant chunk of the treadmill market away from some of the more entrenched brands.
Some Good Things are Free
We can't talk about Sole treadmills without mentioning the warranty (lifetime on the motor and frame, 3 years to lifetime on the deck, 3 years on electronics with 1 year for labor) and the pricing.
The warranty ranks among the best in the industry. Sole's pricing is actually even better than it seems at first glance because shipping is free. If you consider that shipping a treadmill can cost between $200 and $300, that's a considerable savings, so keep this in mind when comparing costs.
We believe that if you decide to buy one of the Sole treadmills, you'll be impressed all the way around. This is a company that's rising fast, so take them seriously if you're looking in the $1000 - $2,000 price range.
Sole Treadmill Model Reviews
DID YOU KNOW?

Sole offers FREE SHIPPING in the continental United States. Your treadmill will arrive within 10 to 14 working days.
You pay ZERO SALES TAX!
(UT, CA excluded)
Popular Models
Sole F63 Folding Treadmill - The new Sole F63 improves upon the popular earlier version with a few upgrades while keeping the durability and quiet performance that it's always been famous for.
Sole F65 Folding Treadmill - The new F65 improves upon the F63 by increasing the power of the motor, increasing the deck size and adding a more generous 7.5 inch LCD console display.
Sole F80 Folding Treadmill - Originally designed as a dependable, folding treadmill for hotels that could take a beating and still run smoothly and quietly. The new model continues to outperform other machines at similar price points.
Sole F85 Folding Treadmill - Quite simply the best foldable treadmill on the market. Upgrades to the belt, weight limit and motor improve an already outstanding performance.
Sole S77 Non-Folding Treadmill - The new version of the Sole S77 includes a beefy 4.0 hp motor, an increased weight limit and an improved warranty that reflects the company's confidence in their products.
Sole TT8 Non-Folding Treadmill - Sole's impressive entry into the light commercial arena. A powerful 4.0 horsepower motor and the company's widest running deck are both notable features.

---