Our Treadmill Articles
Interesting Articles Written by our Editor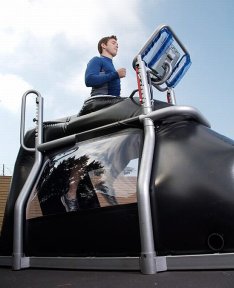 The Treadmill Desk - For those who can walk and type at the same time! Woodway desk treadmills and the Steelcase walkstation bring fitness to the office cubicle.
The Office Treadmill – The Perfect Way to Multi-Task - The office treadmill desk is a good choice to help you stay fit while getting more done; a rather unconventional route of exercising and working at the same time!
The Treadmill for Swimmers – Endless Pool Review - The treadmill for swimmers is convenient, affordable, and fits almost anywhere. Why own a Jacuzzi or hot tub when you can get more use out of the Endless Pool?
The Treadmill Bike: Dare to Destroy Your Dignity - The treadmill bike, another weird contraption from Bicycle Forest, maker of the 4-passenger quadricycle, the rowing bike, and the couch bike popular with the granola crowds.
Underwater Treadmills: A Variety of Useful Designs - Personal aquatic and canine underwater treadmills, compact, portable units for use in a home spa.
Split-Belt Treadmills: Rehabilitating Stroke Victims - Split-belt treadmills are the latest in innovative technology to help rehab patients re-wire their brains to command their legs to move.
Zero Gravity and Vertical Treadmills Make Indoor Climbing Fun - Vertical treadmills (TreadWalls) are used by more than fit rock climbers: wall treadmills provide total body workouts. Zero Gravity Locomotion Simulators for astronauts.
Anti-Gravity Treadmills - The G-Trainer from Woodway: experience the high of space age training. Medical rehabilitation treadmill helps amputees learn to walk again.
How a Treadmill Stress Test Can Save Your Life - Why the American Heart Association (AHA) recommends a cardiac stress test, also known as an ECG treadmill test, for patients who appear to be at medium risk for developing coronary artery disease.
Is Your Pooch Fat? A Dog Treadmill Will Get Him in Shape - The dog treadmill gives your furry friend much-needed exercise without you having to leave the couch! Motorized canine treadmills with manual incline and paw-friendly easy-grip surface.
---