Bowflex Treadmill Reviews - Are They Worth Buying?

The Nautilus Company makes Bowflex treadmills, so there is over thirty five years of experience behind the name. These machines have become some of the most popular home cardio equipment on the market today, and the newest models are better than ever.
But are these cardio machines worth buying? Are they better than other traditional treadmills out there?  Our experts take a closer look to help you make a more informed decision.
The Current Bowflex Treadmill Lineup is Better Than Ever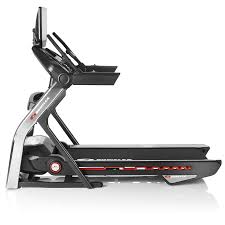 In 2021 Bowflex introduced two brand new advanced treadmills to replace both the BXT116 & BXT216, called the Bowflex Treadmill 10 and Bowflex Treadmill 22.
The previous treadmills did not catch on as well as the company thought they would, so they went back to the drawing board to create two new models. So far it looks like they got it right this time.
Here's a brief overview of the two treadmills...
Bowflex Treadmill 10

The base model has a 10" HD touch screen, a 22" x 60" running deck, incline up to 15% and decline down to 5%. It features easy to fold design, up to 12 mph speed, max user weight of 400 lbs. and on-demand JRNY workouts as well as streaming capability.
Bowflex Treadmill 22

The up-level model has everything that the Treadmill 10 offers, except it has a larger 22" HD touch screen, up to 20% incline capability and extended handlebar grips. Otherwise the two machines are nearly identical.

With their advanced features they compete head to head with NordicTrack, Peloton and other providers of higher end, touch screen treadmills with interactive live and on-demand workouts.
NordicTrack has iFit, Peloton has its app and Bowflex has JRNY...subscription based programs built into the machines that let you access thousands of trainer led programs on and off the treadmill.
Check out the brand new treadmill lineup here
The Bowflex Treadmill 10 is currently listed at around $1999 on sale, and the Bowflex Treadmill 22 at $2,699...both pricy, but they have a lot more to offer than most home treadmills.
For those who may be looking at some of the older Bowflex treadmills, here's some info on those models...
Bowflex BXT116 (recently discontinued) - has a 3.75 CHP motor, with up to 15% incline, 9 workout programs, 4 user profiles, 3-cell Comfort Tech cushioning, heart rate monitoring and a large running deck.  It costs around $1,499 on sale.

Bowflex BXT216 (recently discontinued) - has a 4.0 CHP motor, 15% incline, 11 workout programs, 5-cell Comfort Tech running deck, heart rate monitoring and enhanced display and max user weight limit.  it costs around $1,799 on sale.

What Happened To the TreadClimbers?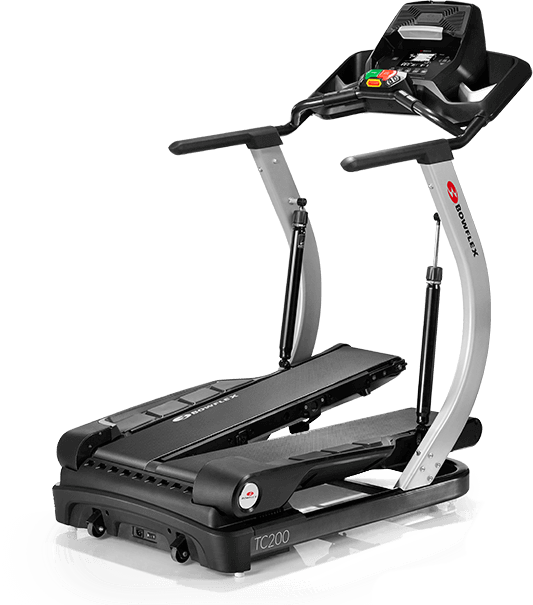 UPDATE: As of Summer 2021 Bowflex has discontinued both TreadClimber models in favor of their all new treadmills. But you can read more about the TreadClimbers below if you're considering buying one used.

The TreadClimbers offered a unique workout experience, similar to the company's equally popular Max Trainers. 
As you can see in the image, there are two separate belts called treadles that move independently.  It kind of looks like someone took a saw and cut a traditional treadmill right down the middle.
But don't let the appearance fool you..it was one of the best ways to burn calories and tone up without having to jog or run.  The company purports you can actually burn up to 2.5x more calories per minute than you would on a traditional treadmill at the same exact speed.  So it's a great way to get a workout in if you are pressed for time, or you just don't like to be on the machine for an extended period of time.
The reason the TreadClimbers are so effective is that they are actually three machines in one: a treadmill, a stepper and an elliptical.  So you get all of those specific motions in one workout, allowing you to target all different muscle groups and get a more complete workout than you would on a single machine.
The 2021 lineup included two advanced TreadClimber models: the TC100 and the TC200, both recently redesigned with enhanced features, and a new traditional Bowflex treadmill: the Bowflex Treadmill 10.
Here is a brief overview of the TreadClimber models...you can read our in-depth reviews of each to find out more.
Bowflex TreadClimbers - 3 machines in 1
TreadClimber TC100 - offers speeds from .5 to 4 mph, a fully backlit LCD display showing calories, time, distance and speed, grip heart rate monitoring, water bottle holder, tablet holder and a two year warranty.

TreadClimber TC200 - offers everything the TC100 model does, plus 5 different built in workout programs, speeds up to 4.5 mph, wireless heart rate monitor, Bluetooth app syncing and a three year warranty.
The base model will cost you about $1,999 on sale, while the up-level model will cost around $2,999 on sale.  The company offers special discounts throughout the year.
The Bowflex TreadClimbers were a bit more expensive than their traditional treadmills, especially the TC200, but they offer a very specific workout that you can't get on regular treadmills and that's where the appeal lies.

It offers an extremely low impact workout that is very easy on the knees and joints, and you can literally just walk on the machine and burn up a lot more calories than you normally would.
The base TC100 will be just fine for most users, but if you want the ability to sync up your workouts with My Fitness Pal, Apple Health, Google Fit and other popular fitness apps, only the TC200 has that capability currently.
You also get the free wireless chest strap for more accurate heart rate monitoring and built in workouts that the TC100 does not have.
The TreadClimbers are certainly different than the Bowflex treadmills, and all four models look and feel much better than previous incarnations.  If you want to walk your way to fitness, these are great options for you.
The Bottom Line on Bowflex Treadmills
With the new Treadmill 10 and Treadmill 22, Bowflex is hoping to take some market share away from NordicTrack and Peloton, as well as some of the other players in the home treadmill market.
With their touch screens, on-demand workouts, streaming capability and incline/decline and heart rate monitoring, the treadmills have everything they need to do just that.
However, they are on the pricier side as many of the Bowflex machines are, so that might prevent them from making a serious dent. The base 10 model is currently just under $2,000 and the up-level 22 model is just under $2,700. Similar models from NordicTrack are a few hundred less.
Time will tell if the new Bowflex treadmills will catch on. For now they look pretty solid, and if you have the budget it for it they may be a great choice for your home gym.
Bowflex Treadmill Reviews
Bowflex Treadmill 10 (REVIEW COMING SOON)
Bowflex Treadmill 22 (REVIEW COMING SOON)

Older Models
Bowflex BXT116 - recently introduced with advanced cushioning, 15% incline, large deck and Bluetooth tracking.
Bowflex BXT216 - a step-up model with better cushioning, larger display, more workouts and higher max weight limit.

---