Life Fitness Treadmill Reviews – A Reputation for Excellence

Best known for their excellent commercial units, Life Fitness treadmills designed for the residential market offer an exceptional value.
They are a dream machine among treadmills; big horsepower, comfortable ride, built for performance, and styled with a sophisticated console and striking profile.

Like any good treadmill nut, you want to know which makers are the best in the biz and why.
For high end, club-quality models, the brands you should know are: Matrix, Precor, Landice —and this brand, Life Fitness treadmills.
Life Fitness has a reputation for excellence with its treadmills, ellipticals, and the Lifecycle Stationary Bike which you may have seen in numerous health clubs.
The great thing about the new marketing strategy of the company is that consumers don't have to pay up to $8,000 for an elite Life Fitness model.
Their lower end treadmill models (starting at $2,499) are also up to the task of supporting indoor runners who put in a lot of miles every week.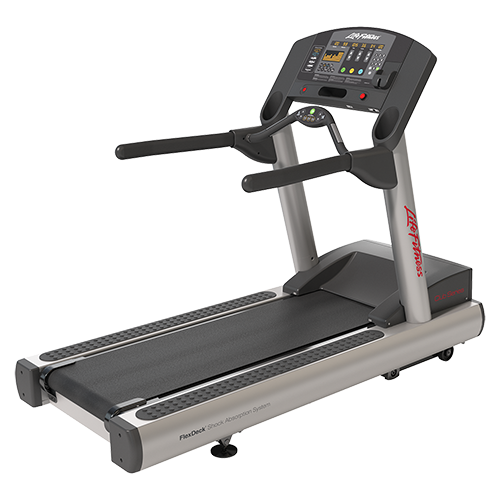 Same Outstanding Quality; Lower Prices
These are premium treadmills which look expensive, but the good news here is that Life Fitness dropped prices dramatically a few years ago to be more competitive.
Whichever price level of treadmill you choose, you are getting full value — especially in the touch screen.
Now that Life Fitness models are more affordable, take a look at what you get: a powerful continuous-duty motor that's paired with a custom motor controller board and is kept in top running condition thanks to an advanced cooling system. 
This motor system comes with a lifetime warranty which you may not have need of — the treadmill is low maintenance and well-designed with big rollers and the proper belt type and size to help alleviate strain on the motor.
A Look at the Current Life Fitness Treadmills
The current 2021 lineup features the affordable F3 folding treadmill, the T3, T5 and Run CX non-folding models, and the upper end Life Fitness Club Series + and Platinum Club Series.  
Prices span from just over $2,400 for the entry level F3 to just under $10,500 for the Platinum Club model.
Folding Models
Life Fitness F3

The base F3 model offers a max speed of 10 mph and 12% incline capability. It has a 55" x 20" running deck and offers two console choices: Go and Track Connect, as well as a tablet rack, a 3.0 HP motor and 350 lb. max weight capacity.
Non-Folding Models
Life Fitness T3
Very similar to the F3, except the T3 has a longer 20" x 60" running deck, incline to 15% and speeds up to 12 mph.  Otherwise it is basically the same machine, besides the fact that it does not fold.
Life Fitness T5
A step up from the T3 the mid-level T5 has FlexDeck Select cushioning, workout recall, an even roomier 22" x 60" deck and a 400 lb. max weight capacity.
Run CX
The newest member of the treadmill lineup, the Run CX combines the best features of the lower and upper end models. You get up to 12 mph speed, 15% incline, a 60" x 22" deck, 3HP motor and a 400 lb. max weight capacity. A great option for those looking for a rock solid machine at an affordable price.

Club Series +
Another one of the newer Life Fitness treadmill on the market, the Club Series Plus is a modern, sleek version of the regular Club, with an intuitive touch screen console, up to 15% incline, 22" x 60" deck and a nice array of built in workouts.  Definitely the best model they currently offer.
Platinum Club Series
This is the cream of the crop. The Platinum Club Series has 4 frame color choices and 3 console options, along with specialized workout programs, 22" x 60" deck, wireless heart rate monitoring and top of the line construction and cushioning.
As you move up in the lineup, you get more durable design and additional features, such as touch screens, larger decks and more workout programs.
Which Life Fitness Treadmill Should You Choose?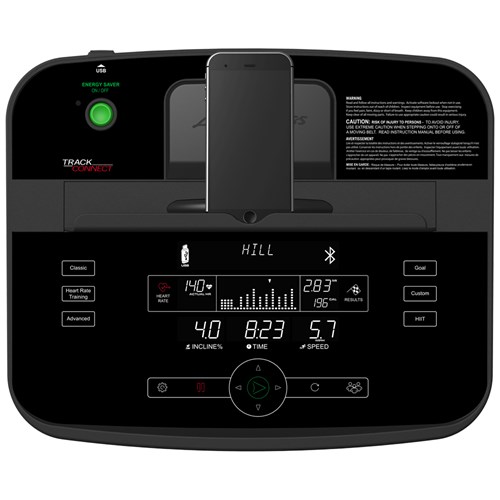 All of the Life Fitness treadmills are great, so at the end of the day you really can't go wrong with any of them.  
They do run the gamut as far as price, from $2400 up to $10000+ as we mentioned above, so it makes sense to figure out what your budget is first.
If you need a folding model, it's much easier to narrow down as there is only one option now that the former entry level F1 Smart is no longer available. 
The F3 is great because it has the upgraded touch screen console which gives you more workouts, additional user profiles and the ability to track your results and sync with your favorite fitness apps.
Of the non-folding options, we like the T5 and Run CX with the larger running deck and step-up cushioning, but the T3 is great as well and is quite similar to the F3 folding treadmill.  Either is a good choice.
However, our favorite treadmill in the lineup is definitely the Life Fitness Club Series +, as it's the only modern, sleek-looking treadmill in the entire lineup, and has the best features of all of the models.
If that one is a bit out of your budget then the new Run CX is going to be your best option.
The Club Series + is everything we love about their commercial models combined with everything we love about their residential treadmills.
The regular Club Series is great, but it's kind of seen its day, and the Platinum Club Series is fantastic, it's just really expensive, at over $10000 with the most advanced console offering.
So to sum up, if money is no object, go with the Club Series +, and if you want something more affordable, go with the Run CX.
Are They Worth Buying?
Life Fitness treadmills are listed on many of our Best Buy categories and have won numerous awards.
Reviewers find the line of models to rate well in terms of a quiet ride, with reliability, power, cushioning, programming, long warranties, and exceptional value for the price.
When you compare high end models, it may be hard to choose a Matrix over a Precor, or a True over one of these Life Fitness treadmills.
We can't say one is better than another; they are just different and thus it becomes a matter of taste and preference.
But Life Fitness has chosen to make things more interesting and more competitive by knocking a few hundred dollars off the price.

Life Fitness Treadmill Model Reviews
Folding Models
Life Fitness F3- Just a really nice, solid machine with some of the best programming ever installed. This one leads the pack in stability and reliability for a foldable model.
Non-Folding Models
Life Fitness T3 - Feels solid and it's well-built, but a bit pricey.  Longer running deck than the F3.
Life Fitness T5 - Rates well in reviews but despite the quality of components, experts still question the high price.  Also has a higher max weight capacity than other models.
Life Fitness Run CX - One of the newest treadmills in the lineup, with commercial grade features like a 400 lb. max weight capacity and large 60" x 22" deck.
Life Fitness Club Series Plus - The newest treadmill in the series featuring the large deck of the Platinum Series, a touch screen display and workout tracking capability.

Life Fitness Platinum Club Series - The ultimate gym-quality treadmill with multiple console options as well as internet connectivity, app syncing and a built-in TV.
Older Models
Life Fitness Club Series - Rated near perfect for power, cushioning, warranty, reliability, programs, comfort, and overall quality. A 'Best Buy' winner for many years.
Life Fitness F1 Smart- The entry level treadmill with solid cushioning, heart rate monitoring and FlexDeck cushioning.


Enter SAVE10 for an additional 10% off (Treadmill Talk exclusive!)
---