Horizon Treadmill Reviews – Peak Performance for Maximum Value
Horizon treadmills are the obvious choice if you are looking for a reasonably priced machine that offers a lot of features.
With a strong line-up of durable treadmills that range in price from $599 to $1899, nearly every home exerciser will find the perfect model that fits their fitness needs.

Horizon Fitness is owned by Johnson Health Tech, the fourth largest maker of exercise equipment in the world. Johnson also makes the Matrix, AFG, and Vision brands. The company is a leading manufacturer of treadmills, ellipticals, and recumbent bikes. 
Doing it Right from Start to Finish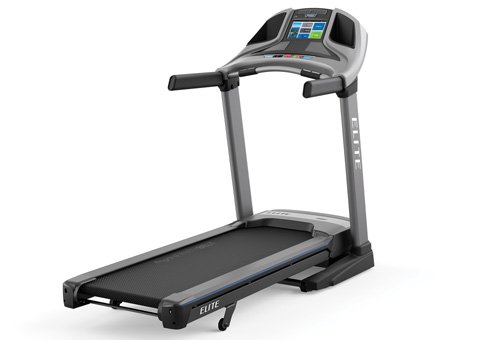 Their product development, differentiation, and innovation are a challenge for competitors to match. They have undertaken a re-organization and have hit the ground (or tread belt!) running.
As a result, they control all aspects of treadmill design, production, and direct-to-consumer sales. Horizon's state-of-the-art manufacturing assembles parts that work seamlessly together to create an exceptional exercise experience for the user.
With fully automated factories and strict quality control, there is little chance for flawed components being put into your machine. If you do have a question for customer service, you will be speaking with a representative located in the U.S. Horizon Fitness is headquartered in Cottage Groove, Wisconsin.
Their website has full details of the latest treadmill models, an e-store, information about the company, and customer service contact information. Horizon Fitness also provides you with downloads for treadmill owner's manuals, parts diagrams, spec sheets, and archives.


A Look at the Current Horizon Treadmill Lineup
Johnson Health has simplified the Horizon treadmill lineup over the years to make it easier for you to choose the right treadmill for your needs.  
Currently there are only 7 models to choose from, including the very popular entry level Horizon T101, T202, Adventure Series 3, 7.0 AT, and the high end Elite T5, T7 and T9.
The Elite Series was recently redesigned with more of a focus on performance and results.
GO SERIES
Horizon T101
The T101 by far the company's most popular model, and is one of the best treadmills you'll find on the market under $700.  
You get a 20" x 55" deck, a 2.5 CHP motor, up to 10 mph speed, 10% incline, 3 zone cushioning, FeatherLight folding and 5 workout programs.
The T101 has a 300 lb. max user weight capacity.
Horizon T202
One of the newest treadmills in the lineup, the T202 improves upon several specs, with a larger 20" x 60" running deck, 2.75 CHP motor, up to 12 mph speed and 12% incline.
It bumps up to a 325 lb. max weight capacity and also adds a free training app.
Horizon T303
A late 2019/early 2020 addition to the Go Series, this one improves upon the T202 with a stronger 3.0 CHP motor, incline up to 15%, longer parts warranty of 3 years and additional built in workout programs to choose from.
ADVENTURE SERIES

Horizon Adventure 3
This one combines the features of the T101 and T202, and adds ViaFit workout tracking and Passport HD videos.
STUDIO SERIES

Horizon 7.0 AT
Another new treadmill like the T202, the 7.0 AT improves on that model with a stronger 3.0 CHP motor, 15% incline capability and an additional workout program.
Word on the street is that there are going to be two new AT treadmills, including the 7.4AT and 7.8AT.  Stay tuned for our reviews of these new cardio machines. UPDATE:  They have arrived! :)
ELITE SERIES

Horizon Elite T5
Replacing the discontinued Adventure 5, the Elite T5 is one of the newer models and ups the motor to 2.75 CHP, gives you 15% incline, a larger console and jumps up to 38 built in workout programs from the 5-6 on the lower end models, in addition to everything else found on the Adventure 3.
Horizon Elite T7
Recently upgraded, the Elite T7 adds a longer deck, 60" as opposed to 55" on the other models, a 3.0 CHP motor and 42 workout programs, along with all of the features found on the Elite T5.
Horizon Elite T9

The top of the line model in the series, The Elite T9 gives you the largest running deck (22" x 60"), the strongest motor (3.25 CHP), aluminum side rails and 40 built in programs. It also offers the strongest warranty of all of the Horizon treadmills.
As you can see, as you move up in the line you will find more workout and entertainment features, so it's a matter of figuring out your budget and deciding what exactly you want/need from your treadmill.
These machines are engineered for quiet performance, reliable operation, and long life. You will find that Horizon treadmills have landed on many Best Buy lists, including ours, and in leading consumer journals and fitness publications.
Horizon has been manufacturing fitness machines for 25 years and will be around for many more years. If you have made a lifelong commitment to fitness, as Horizon has, you can count on them being there when you need them.
Which Horizon Treadmill Should You Choose?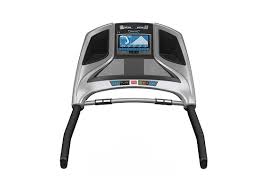 The Horizon lineup is not as extensive as some of its competitors like NordicTrack, ProForm and Sole, and as such it is a little easier to select a treadmill that suits your needs.
As we mentioned, the Horizon T101 is their most popular treadmill.  If you are looking for an entry-level machine for walking and perhaps some light jogging, then this might be the best choice for you.  
The T101 is under $600 on sale so it's a great deal.
If you're looking for something a little more substantial, look at the new T202 or T303 and the Studio Series treadmills as they include many more features, additional workouts and larger decks.
Finally, if you want more of a runner's treadmill, the Elite T7 and T9 are your best bets, as those are the most durable, feature-packed models.
All of the treadmills fold easily...they all have very good cushioning and strong warranties.  
So your best bet is decide what kind of usage you have in mind: light, medium or heavy, then consider your budget, and choose the Horizon treadmill that makes the most sense for you.
Below you will find all of the current model reviews, so you can find out more about each one in-depth.  This will help you if you need additional information to make your decision.
Horizon Treadmill Model Reviews
Entry Level
Horizon T101 - One of the best treadmills on the market in the under-$700 category with great features for the price.
Horizon T202 - A step up from the T101 and one of the newest models in the lineup.  Gives you a bit more of everything at a very affordable price.
Horizon Adventure 3 - A step up from the T101 with a stronger motor and Passport and ViaFit entertainment features to motivate you to work out longer.
Mid-Level
Horizon 7.0 AT - The base model in the new Advanced Series, this one has Bluetooth capability and the free workout app like the T202, plus more features and capabilities.

High-Level
Horizon Elite T5 - The newest model in the series, an affordable treadmill with advanced performance features.

Horizon Elite T7 - This upper end treadmill offers the Infinity Deck, ViaFit workout tracking and Passport connectivity, syncing with your TV to show high definition locations across the world while you work out.
Horizon Elite T9 - The top of the Elite series with additional workouts, Polar heart rate monitor, large runner's deck and a powerful motor.

---