iFit Treadmill Workouts – Get Excited Doing Your Daily Cardio
If you are up for a fun challenge, iFit treadmill workouts are worth your while to check out. Owners of NordicTrack, ProForm, Reebok, Freemotion and now Smooth treadmills can stream a variety of workouts from the internet including fat blasting sessions with Jillian Michaels.
The iFit Challenge
The iFit technology works exclusively with machines made by ICON Fitness. iFit treadmill workouts are integrated with the treadmill's console or your tablet or phone; first, as an audio tool where an instructor coaches you through the workout and offers motivation, and second as the technology takes command of the machine changing the speed, resistance, and incline during the session, much like a pre-set program loaded onto the treadmill.
2016 UPDATE:  The iFit technology is ever-changing, and it is getting much easier to use than in the past.  The latest treadmills are either iFit enabled or iFit compatible.
iFit enabled means that you do not have to purchase a separate console to access the workouts.  They either integrate with the console or you can access them via Bluetooth on your smart phone or tablet.
For iFit enabled machines, you need to purchase a subscription/membership to use it, roughly $99 per year and well worth it.
iFit compatible means you have to purchase a separate module to be able to use iFit technology.
For iFit compatible machines, the separate module comes with one year free subscription.
In general, the more expensive NordicTracks, ProForms and other ICON machines will come iFit enabled, whereas the less expensive models may be iFit compatible.
What You Get
A chip that plugs into the treadmill's console contains 24 different workouts. You can start anywhere or begin at the beginning and progress in small steps but moving quickly into cardio and fat burning routines.
Anytime you feel the workout is too hard, you can easily override the commands and slow down the treadmill or lower the incline.
If you work out every day, or just three or four days a week, you will see and feel results in a very short amount of time.
The iFit Live Online Workouts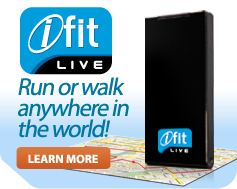 This includes a variety of workouts, plans for a lifestyle makeover, and much more. All you do is connect the iFit Live module into your treadmill's console, and then to the internet via your computer using your home's wireless network.
You will have access to the iFit diet program, which includes the ability to record your daily meals. Once you enter in your meal description, you will automatically see the calorie count and nutritional value. Since the choice of foods affects your training, you'll get tips on how to make the best choices for snacks and meals to meet your goals and work towards optimum wellness.
The online iFit treadmill workouts also allow you to run trails all over the world via Google Maps. This unique program gives you the virtual feel of running anywhere in the world – from the streets of Paris to being in the middle of the pack of the Boston Marathon – right in your own home. Google Maps provides terrain data that adjusts your treadmill incline and decline to mimic the topography of the trail or city street you've selected.
The online system is also there for you to provide support, store stats for your fitness progress, and give you two-way access to your social network on Facebook, as well as get trainer tips for encouragement and specialized goals.
Working Out with America's Toughest Trainer
Another cool feature of these iFit treadmill workouts is doing fat shredding workouts with Jillian Michaels, the celebrity trainer of TV's The Biggest Loser. You can download a customized fitness plan from Jillian and her trainers every single day.
The incline and speed are controlled for you while you concentrate on breathing, posture, and form. You'll be alerted when a transition is coming up. But best of all, you'll hear Jillian's voice coaching you and motivating you through each step. These are some amazing treadmill workouts to help you reach your goals.
Inspired Treadmill Training
If you've been reluctant to get started with exercising, or you've been at it awhile but have lost your motivation, the iFit treadmill workouts will get you excited about doing your daily cardio.
As the world's first fully integrated fitness program, you no longer have to worry about working out alone – there's a team of professionals right at your fingertips taking you through every step.