Image Treadmills Give You Budget Bang

Image Treadmill Reviews
We hate to sound like broken records, but Image treadmills are (like so many others) manufactured by that old stand-by, ICON Fitness. The Image line covers a wide range of prices for almost any budget, which is unusual coming from ICON. Most of their other brands fit very particular niches and price points. You can get Image brand treadmills for anywhere from $400 to $2,000, which is an impressive price swing.
Image Budget Models are Best Bets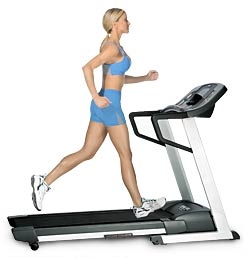 Interestingly, the higher you get on price point, the less we like the Image brand. Part of this is because the warranty doesn't improve with any price increases. No matter which model you get, Image treadmills have a 90 day warranty, which is not what you should get on any machine over $1,000. The higher priced ones also lose out to other brands in the same price range when it comes to comfort and features.
If you're looking for a decent treadmill to use at home so that you can keep walking in bad weather, however, consider a budget model. Lower end Image models aren't a bad deal. Sure, you'll still have repair issues (for $400-$500 repairs are a given), but you'll get decent performance and a stronger than usual motor for the price. Image machines also come standard with wider belts, making your treadmill workout more comfortable and less prone to possible injury.
UPDATE:  Due to its lack of popularity, ICON Fitness is no longer making Image treadmills.  Take a look at NordicTrack, the company's most popular brand, for similar treadmills.
The lower-end Image models also have features you don't usually find on budget treadmills, such as pulse grip heart monitors and iFit compatibility. You'll have a tough time finding these features for under a grand from most other companies.
ICON's Unknown Brand
Image treadmills aren't household names. In fact, the Image brand is the least recognized of all ICON brands. For some reason this seems to have contributed an illusory something to the product line. We don't know if it's the fact that they've had to really make the budget treadmills as good as possible in order to sell them (since name recognition won't), or that they're coming to realize that "budget" doesn't have to mean "shoddy."
Whatever the reason, the Image treadmills that are under $1,000 are decent little machines for the individual looking for a light workout.
Click here to write your own review!
Image Treadmill Model Reviews
Image 15.0R - - A quality low end model.
Image 16.0Q - Budget model for beginners.
Image 17.5S - Rated average buy.
The Image 19.0R - Good value for the price.
The Image Advanced 1400 keeps your workouts interesting.
The Image Advanced 3000 with upper body workout.
---