The Image 17.5S Treadmill – Rated Average Buy
The budget model Image 17.5S treadmill is from the product line of Icon Health and Fitness. At $699, it's a basic machine that offers a folding design, an incline, pulse monitoring in the handle grips, and a "walking speed only" motor.
The Machine
The Image 17.5S treadmill includes a MyTracks™ Step Counter to rack up the number of steps you take in your quest for weight loss. In addition, there are two distance programs (5 and 10 Kilometers), a blue tint LCD display to show your speed, time, distance, calories burned, pulse, heart rate, incline and pace, and a ¼ mile oval track graphic to track progress.
Other specs on the Image 17.5S include: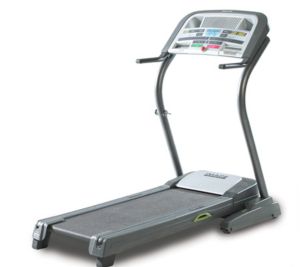 2.75 HP Motor
0-10 mph speed
0-10% incline
18" x 52" treadbelt
6 workout programs
Grip Pulse Monitor
AirSoft Plus™ cushioning
Workout fan
275 lbs. max. user weight
Folding design
5 year warranty on motor; 90 days parts, labor
The Buzz
UPDATE:  Due to its lack of popularity, ICON Fitness is no longer making Image treadmills.  Take a look at NordicTrack, the company's most popular brand, for similar treadmills.
Trainers feel this is a decent little treadmill for walkers (it's not recommended for runners) and offers some decent console features. On the other hand, the Image 17.5S treadmill comes up "short" in mechanical and design areas.
The cons are that the 18" x 52" treadbelt is both narrow and short, the 90 day warranty on the Image 17.5S is not reassuring (read: short), the motor is rated for peak duty not continuous duty (meaning it's not as powerful as you might think), and the treadmill's internal components are not the best in quality.
Consumers who walk on home budget treadmills have come away pleased with the Image machines which don't get much notice in the industry. The Image 17.5S comes with an incline control which owners consider a plus.
An incline allows you to target a greater range of muscles and get your heart pumping harder. The Step Counter is also a bonus, but the biggest advantage to this beginner's treadmill is the price.
What We Say
This model, if used moderately, should carry you through your walking exercises about 5 to 8 hours a week. With proper care, the Image 17.5S could last for a couple of years.
Just don't make the mistake of comparing cheaper home treadmills like this to high performance club models, which have to withstand punishment up to 14 hours every day.
At an MSRP of $699, this model rates no more than an "average" buy. When comparing treadmills in the $500 to $1000 range, the Image 17.5S treadmill could be in your top five for consideration, but we're still sticking with the Smooth 5.25.
Show me other Image Treadmills