The Image 16.0 Q Treadmill - Budget Model for Beginners
Other Image treadmills seem to use low quality parts and the Image 16.0 Q treadmill doesn't seem to yield any improvement.
The Machine
Sleek and modern, the Image 16.0 Q folding treadmill certainly offers a fair amount of features for the average user: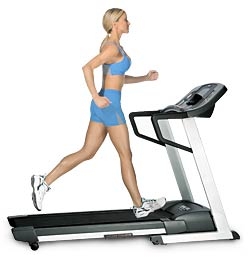 2.5 hp motor
19" x 54" Quiet Treadbelt
Precision Response™ Grip Pulse Sensors
Precision Response™ Console
SpaceSaver® design
0-10 MPH Speed Control
1.5-10% power incline
Five workout programs
90-day warranty
The Buzz
UPDATE:  Due to their lack of popularity, ICON Fitness is no longer making Image treadmills.  Take a look at NordicTrack, the company's most popular brand, for similar treadmills.
The trick with finding a good treadmill you can afford is that sometimes price doesn't relate to quality. There are treadmills that are affordable as well as are quality made. However, the Image 16.0 Q seems to be constructed of lower quality materials, leaving you with high repair bills should anything go wrong – and without an extensive warranty, this can start to add up.
Fitness pros concede that the Image 16.0 Q's 2.5 hp motor is sufficient, but it's not designed for the advanced runner or walker. Beginners to using a treadmill find this model right at their speed, though as they advance in fitness level, they can outgrow the Image 16.0 Q treadmill's power. As with other Image treadmills, the 19" X 54" Quiet Treadbelt is gentle on the ears.
The Image 16.0 Q's overall design does give the user a larger width to walk or run on, though many testers found the treadmill deck a little too shaky for a faster run. The other features included offer some help with monitoring fitness goals, but testers found that the pulse sensors were slightly difficult to use, giving inaccurate readings for some.
Consumers who use the Image 16.0 Q find the SpaceSaver design quite helpful to pack the treadmill away after a workout. Users with a smaller home gym find this feature handy. The Image 16.0 Q treadmill is also not that difficult to maneuver from one position to another, which is not something all treadmill manufacturers have figured out.
What We Say
For $599, you get what you pay for with the Image 16.0 Q. This treadmill doesn't have a lot of power or features, but it will work for someone who isn't going to use it heavily. If you're a walker and you just want an option for those rainy days, this is a good treadmill to start off with. But if you're looking to train for an endurance challenge, you might find that the Image 16.0 Q treadmill is much better suited for storing your workout clothes, rather than improving your fitness.
Show me other Image Treadmills