The Image 15.0R Treadmill - A Quality Low End Model
You may have not heard of the Image 15.0R treadmill. This is because many of the newer Image treadmills are simply that – newer and still trying to make a name for themselves.
However, as an ingenious way to bolster their brand, the folks at Icon Fitness decided to make their lower end models high quality and yet still keep their low prices – and word is getting around.
The Machine
For $500, an Image 15.0R treadmill is a fantastic assembly of high quality ideas, with just enough to keep the average exerciser interested in their exercise routine without complicating the treadmill workout. The motor runs smoothly and the impact absorption system supports your joints through each stride. Features of the Image 15.0R include: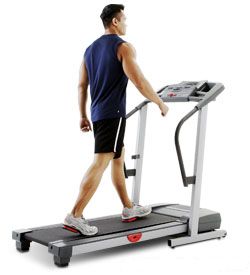 2.5 THP motor
17" x 50"treadbelt
1.5-10% incline
0-10 mph max. speed
Space saving design
Impact absorption
Step counter
Heart rate monitor
Workout fan
275-lb. user weight
3-year motor warranty
90 days parts and labor warranty
The long term warranty on the treadmill motor is an indication of its reliability. The Image 15.0R's parts and labor warranty is a little less than adequate, but most repairs are minor and customary on many Image treadmills.
The Buzz
UPDATE:  Due to its lack of popularity, ICON Fitness is no longer making Image treadmills.  Take a look at NordicTrack, the company's most popular brand, for similar treadmills.
The slightly smaller running surface on the Image 15.0R treadmill left testers a little wary of looking anywhere but at their feet – making some of them feel a bit off balance. But the impact absorption system was certainly liked by all.
Other users found the ever present incline to work them harder than they'd like at the lowest levels, but this only means that exercisers will see results sooner rather than later.
Of all of the Image treadmills, the Image 15.0R is an average machine for an average price, including some of the things you've come to expect from a treadmill, but most experts wished that the parts and labor warranty was a bit longer.
What We Say
For the price, the Image 15.0R is a great steal for someone who wants to try out a treadmill in their workout routine. This is a solidly built model with plenty to offer the home gym exerciser.
While we'd like to see a longer parts and labor warranty, the Image 15.0R treadmill is certainly a treadmill worth checking out – especially if your budget needs to shrink along with your waistline.
Show me other Image Treadmills