The Spirit ET-2 Folding Treadmill – Basic Machine for Walking
Sporting a design that has been around for several years, the Spirit ET-2 folding treadmill is an entry level machine that is over-priced and over-matched in the $1000 range, but looks at least somewhat of a good choice when on sale for a lot less.
The Machine
The blue backlit display on the Spirit ET-2 folding treadmill has readouts for distance, speed, incline, and more. Among the eight workout programs, you get two heart-rate controlled workouts which can be used with the pulse grip sensors on the handlebars or an optional telemetry chest belt.
The full specs are: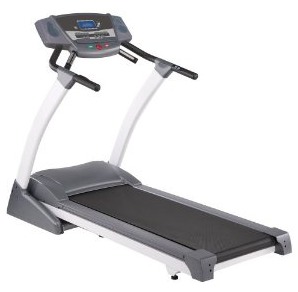 2.0 HP continuous duty Motor
Speed: 0.5 - 10 mph
Incline: 0 – 10%
20" x 50" Walking Area
8 Workout Programs
Hand Rail Controls for speed/incline
Hand Grip Heart Rate Sensors
Polar Chest Strap Compatible
250 lbs User Weight Capacity
Machine Wt/Dimensions: 210 lbs / 66" x 38" x 66"(LxWxH)
Soft-Drop Folding Design
Warranty: 20 years motor, 5 yrs deck, 2 yrs parts, 1-yr labor
The Buzz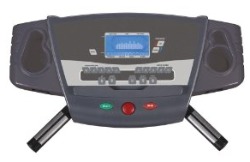 UPDATE:  The Spirit ET-2 has been discontinued and is no longer available for sale.
Compare Popular Spirit Treadmills at Amazon
The Spirit ET-2 has 2.5-inch rear rollers, a 1.5 ply textured duraweave belt, 2 HP continuous duty motor, and an incline motor with a 1000-pound thrust rate. The speed range is 0.5 to 10 mph in 0.1 mph increments, and it has an incline up to 10 percent elevation (with 1 percent incremental changes).
Other features of the Spirit ET-2 folding treadmill include a ¾" pre-waxed phenolic deck with variable durometer elastomer cushioning, a 20 by 50-inch walking surface, handy controls for speed and incline built into the handrails, and a commercial grade steel frame.
The folding mechanism has a "Soft Drop" feature to smoothly lower the deck from its vertical storage position.
The reviews on the Spirit ET-2 by the public are generally favorable with a few comments noting that it is noisy. Treadmill pros have spotted that this folding model is a rebranding of the old Spirit Z8 treadmill with a different paint job and a different back light color on the console (going from green to blue!).
Like the Z8, this is a walker's machine that does the job, but there are treadmills out there with longer decks, better cushioning, and entertainment options that you should look at if you want more than just a basic machine.
What We Say
With an MSRP of $1,299, you need to wait until the Esprit Spirit ET-2 folding treadmill gets marked down to under $800 or $900 to get value for your money, otherwise, it doesn't match up well against better quality folding treadmills in the $1000 to $1300 range made by Sole and Yowza.
Show me other Spirit Treadmills