The Spirit Z8 Folding Treadmill - A Compact Machine for Basic Workouts
The Spirit Z8 folding treadmill is a low priced offering by Spirit, which is making some very good machines these days. Spirit is now owned by Dyaco and has recently begun upgrading their treadmills from the earlier models of the 1980s, which were sturdy but clunky and oversized.
The Machine
The Spirit Z8 folding treadmill is a good machine if you're looking for a basic model, and it will hold up well for a number of years. Its features include: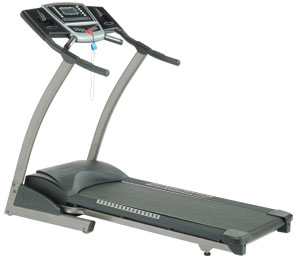 2.0 HP continuous duty motor
18" x 50" running deck
Hand grip pulse monitor
Green back-lit LCD display
Folding capability
10 mph maximum speed
0-11% incline
2.5" rollers
5 pre-set programs
10 Quick-Set setting buttons
275 lbs. user weight capacity
Warranty: Lifetime frame; 15 yrs. motor; 2 yrs. parts & electronics; 1 yr. labor
The Buzz
UPDATE:  The Spirit Z8 folding treadmill has been discontinued and is no longer available for sale.  You can compare the latest models here to decide which one is right for you.
Even the pros can't agree on Spirit treadmills, although most do say that if you want one, the Spirit Z8 folding model is a bit too basic.
Most fitness experts say that these treadmills are strong contenders that can stack up against Sole (also made by Dyaco) any day, while others nitpick about slight differences in the electronic console displays.
People who own the Spirit Z8 are pleased with it for its compact size (it's one of the smaller folding treadmills on the market) and its quiet ride. They also like the solid, weighty feel.
What We Say
What this folding treadmill has in new-found style and durability it lacks in features. The Spirit Z8 is a basic, stripped-down model. For the price of $1,000 you should get a bit more in the way of options, such as more programming, perhaps a chest strap wireless heart monitor and a motor that is at least 2.25 HP rather than 2.0.
We do give the Spirit Z8 folding treadmill high marks, however, for having an engine that runs very cool for such a small size. It also has oversized (2.5") rollers that will prolong belt and bearing life. With a respectable 15 year warranty on the motor with two years on all treadmill parts, you can assume that the Spirit Z8 will perform well for years.
If you want just the basics and having a relatively small, folding treadmill is important to you, the Spirit Z8 folding treadmill may be a good choice for you. It's very quiet and Spirit's recent dedication to improved service and quality parts makes this a contender.
Show me other Spirit Treadmills