Yowza Treadmill Reviews -Standing Out from the Rest


If you expect the new line of Yowza treadmills to be also-rans in this competitive market, you would be wrong.
Actually, Yowza Fitness was launched by the genius behind Smooth treadmills and he's brought his best stuff to his new company.
Their cardio machines are unique, well-built and packed with unique features you just don't find on any of their competitor's treadmills.
Let's take a closer look at this innovative company...
What is Yowza Fitness?
Leao Wang is the brains behind two companies: Greenmaster, which makes commercial fitness products, and Yowza, for the home market.
Wang is one of the most important names in the fitness equipment industry as he owns hundreds of patents, more than any other inventor in the business.
Together with his partner, Joe Alter, the Yowza treadmills brand is backed by a combined 50 years in the business.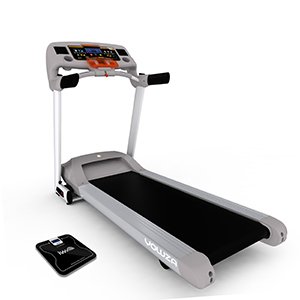 UPDATE: As of 2018 it looks like Yowza may be out of business. Take a look at our Best Treadmills section to find a comparable machine for your home.
Wang and Alter have based Yowza in Bonita Springs, Fl, and placed the R & D headquarters in Fort Lauderdale.
The equipment is made in Taiwan in Yowza-owned factories, which ensures that quality control is held to strict standards. Furthermore, Yowza treadmills are sold online direct to consumers and are shipped from a centrally located warehouse in the US.
According to our latest reviews there are currently three folding models in the line: the affordable Lido ($799), the Osprey ($899) and the Sebring ($999), amazing space-saving machines with a unique folding frame.
The non-folding lineup offers a lot more choices: four versions of the Delray (base, Plus, Grande and Elite), the Daytona, the Boca and the Daytona Plus.  Prices on the non-folding swing arm treadmills ranges from $899 all the way up to $2199.
Built to Last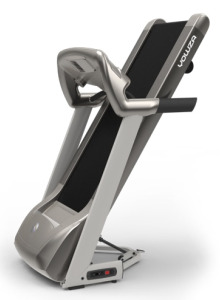 In addition to attractive styling, these treadmills feature an array of impressive components: steel rollers containing Japanese-made sealed bearings that are designed to last forever, hefty motors with precision balanced flywheels, decks made of solid hardwood (not composite) and covered with a triple-laminated phenolic resin coating, Yowza's Floating Deck shock absorption technology for superior comfort, and nylon polyester weave belts that last for thousands of hours of use.
On the attractive consoles are easy to use control buttons with quick access to the outstanding selection of programs found on all Yowza Fitness treadmills.
There are also little niceties such as 3-speed fans and iPod docking ports – the designers have thought of everything that consumers want in a quality machine.
Great Warranty and Pricing
The treadmills are backed by Yowza's no-questions-asked lifetime warranty on the motor and frame, 5 years on all wearable parts and electronics, and 2 years on in-home labor. No other brand offers such an extensive warranty for mid-priced treadmills that sell for under $2,000.
For club quality performance at an affordable price, Yowza treadmills are among the best-designed and manufactured machines for home use in the US. Wang and his staff have focused their energies on making their specialty equipment feature-rich, but not excessive, and have the quality and workmanship to make the brand stand out from the rest.
Click here to write your own review!
Yowza Treadmill Model Reviews - Folding
Most Popular
Yowza Sebring - The top of the folding line with Intelligent Weight Management (IWM) is an amazing space-saving machine ready to transform your body into a whole new you.
Yowza Osprey - The Osprey Transformer treadmill has a folding, spacesaving design yet is built to feel and perform like a non-folding treadmill.
Yowza Lido - The new Yowza Lido folds into an amazingly compact upright position that practically hugs the wall; it's ideal for those with limited space. No assembly required!
Older Models
Yowza Biscayne - Slimmest folding design of any treadmill on the market; no other machine folds up to near vertical like the Biscayne.
Yowza Treadmill Model Reviews - Non-Folding
Most Popular
Yowza Boca - An upper level model with IWM weight management, myLiveLight workout tracking and swing arm cushioning.
Yowza Delray - The entry level non-folding models including the base, Plus, Grande and Elite treadmills.  Introduced in 2015 with all new features.  A good value in the price category.

Yowza Daytona - Lose weight with the Yowza Daytona. Ships with a free IWM™ wireless weight scale that downloads your weight and BMI to the treadmill's computer.
Yowza Daytona Plus - The top of the line model in the series, this one has Bluetooth wireless capability to sync to the myLiveLight app for workout tracking and sharing.  Also a powerful motor and 15 levels of incline.
Older Models
Yowza Smyrna - One of the better buying experiences for treadmill shoppers; reviews by pros and home users rate it as one of the best mid-priced machines they have ever stepped on.
Yowza Juno - A solid choice for home users; a heavy-duty yet attractive treadmill created by the same designers who made the line of Smooth treadmills so outstanding.
Editor's Note: As our latest Yowza reviews revealed that the company may no longer be in business, be careful if you find one of these models for sale.
You may have no recourse if something goes wrong down the road.  You're better off looking at another brand like NordicTrack, Sole or Horizon in this price category.
---