The ProForm SMART Pro 5000 Treadmill Review - A Best Buy Pick
The SMART Pro 5000 from ProForm is a new, foldable treadmill with a nice suite of features including a high-quality motor, fully cushioned running deck, incline and decline training and a large number of workout programs.
It has just about everything you could ask for in a home treadmill, and as such is one of our top picks overall.  The best part is, it has the features and capabilities of a high-end club quality machine at about half the price...as such it is an incredible value.
SMART Pro 5000 - The Machine
The Pro 5000 has a web-enabled console with a 10" Smart HD touchscreen display. It shows your workout stats in rich, bright colors and also allows you to connect to the web.

The machine comes with 50 built-in workout programs designed by professional fitness trainers. It inclines up to 15%, declines down to 3%, and has a top speed of 12 MPH.
The specs for this treadmill are:
Running surface: 22" x 60"
3.75 CHP commercial grade motor
Speed: 0 to 12 mph
Incline/Decline: -3° to 15°
2 ply, 4 layer belt
50 workouts built in
Pro Shox cushioning
Quick speed control
iFit Coach enabled
10" Full Color Touch Screen
Weight capacity: 300 pounds
Warranty: 10 years on frame and motor; 2 years on parts, 1 year on labor
The Buzz
UPDATE: As of early 2021 it looks like the mid-level Pro 5000 might have been discontinued. Take a look at the Pro 2000 and Pro 9000, both are very similar except for the size of the touch screen and a few other features.
The SMART Pro 5000 features a large, commercial-grade 3.75 CHP motor, which packs enough horsepower to support the most intense, grueling training sessions with ease.
The 22" x 60" belt is wider than the running surface you will find on most other treadmills and offers plenty of room for your upper body. It is fully cushioned and is designed to lessen the strain on your joints while you train.
The machine offers you a lot of choices in terms of training programs. It has 50 workout apps built into the console. Also, it is iFit enabled.
You can access your iFit account right from the treadmill with the incredible 10" Smart HD touch screen, which is just like the ones you find at high end health clubs.  
Not that the entry level Pro 2000 model has a 7" touch screen, so that model is worth considering as well.
The iFit technology allows you to simulate real-life runs to make your training sessions more interesting. You can pick any route using Google Maps and the machine will adjust the incline automatically to simulate the running surface. Your iFit account also lets you track your fitness progress closely and interact and compete with the members of the iFit community.
The Pro 5000 has 15 incline levels and 3 decline levels. Incline/decline training allows you to burn more calories, build your cardio, and tone your muscles. It also helps you prepare for hiking, trekking, and cross-country runs.

The machine is very easy to use. The Quick Incline and Quick Speed controls allow you to change the incline and speed instantly any time you want.
The SpaceSaver design also allows you to fold up the treadmill after you are done with your workout.
The ProForm SMART Pro 5000 is a well-made machine with an excellent set of features.
However, it faces stiff competition from another machine with a similar suite of features – ProForm Pro 9000. So, you might want to take a look at that as well before making a decision.
How Does the SMART Pro 5000 Compare to the Rest of the ProForm Treadmills?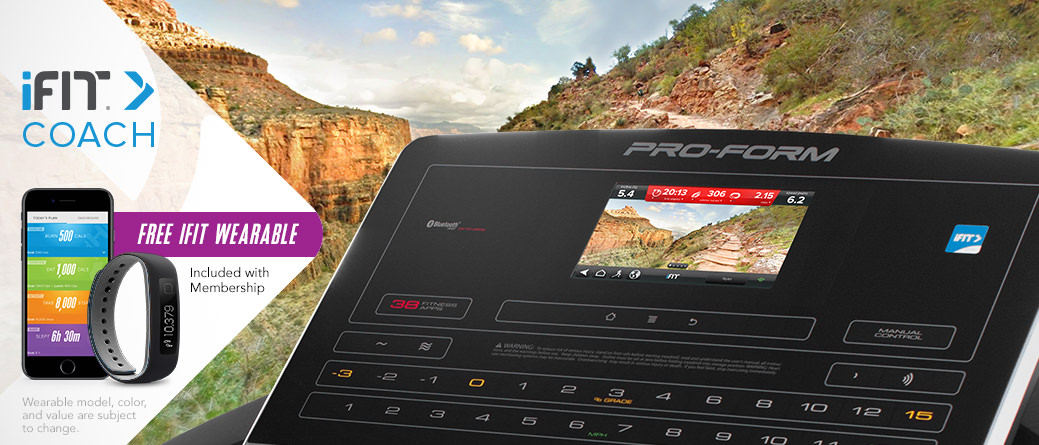 When it comes to ProForm treadmills, the Pro Series is as good as it gets, as it is the company's most advanced series with more features and functionality than all of the rest.  It is very similar to sister company NordicTrack's Commercial Series, also quite popular for home use.
The base Pro 2000 has a 7" touch display, 32 built in workouts, grip heart rate monitoring, a 3.5 CHP motor, 22" x 60" deck, 15% incline and 3% decline and ProShox cushioning.
The mid-level Pro 5000 has all of the features of the Pro 2000 plus a 10" Smart HD touch screen, 50 workouts and a stronger 3.75 CHP motor.
The top of the line Pro 9000 has all of the features of the Pro 5000 plus wireless heart rate monitoring, adjustable tablet holder and a stronger 4.0 CHP motor.
So as you move up in the lineup you get a more advanced display, stronger motor and additional workouts to choose from.
There are two other series in the ProForm lineup: the Performance Series and the Power Series.
The Performance Series is the entry level line, consisting of the 400i and 600i.  These are built for very light use, with the weakest motors, less incline and lower grade cushioning.
The Power Series (recently discontinued) sits right in the middle of the Performance and Pro lines, with the 995i and 1295i giving you more features and capabilities than the Power treadmills, but not quite as advanced as the Pro treadmills.
Which ProForm treadmill should you choose?
If you are on this page, you are probably leaning towards the Pro Series, which we strongly recommend.  You're getting a much better treadmill, one that can handle any kind of workout you give it and packed with great features including decline training which is quite unique.
Of the three, the ProForm SMART Pro 5000 is our favorite, because it gives you a stronger motor than the Pro 2000, as well as a touch screen which is always a great thing to have.  For only $200 more, it's well worth it in our opinion.
The Pro 9000 is great as well, but it might be a little too pricey just to get a 10" touch screen instead of a 7".  But if you have the budget for it, that's a great pick as well.
We only recommend one of the Performance Series models for beginners and those on a tighter budget, so if you want to save a little bit of money opt for one of the Power Series treadmills. The Power 1295i is closer to a Pro model than the 995i is.
SMART Pro 5000 Treadmill Review - Bottom Line
The ProForm Pro 5000 is neatly designed, packs a lot of power, and comes with an excellent warranty.
It has a large number of built-in workout programs as well as incline, decline, and heart rate training options to help you achieve high levels of fitness.
It also has a music port, tablet holder, web-enabled touch screen console, and iFit connectivity to add a lot of excitement to your workouts. 

It lists for $2,999 but if you can sometimes find it on sale for under $1,999, which is a fantastic price for all that you are getting.

On the whole, the Pro 5000 is a winner, with just about everything you need for a great workout, without the hefty price tag.  
If you want to save a little money consider the base Pro 2000 model, but it's lacking the touch screen display and a few other features.
The Pro 9000 is a good choice as well, but it's a bit more expensive and all you're getting is a larger touch screen display...so we would stick with the Pro 5000.