The ProForm Pro 2000 Treadmill Review – One of the Best Models Offered
With a strong motor and great warranty, the ProForm Pro 2000 treadmill ranks near the top of any Best Buy list when you can find it on sale for under $1,500.  
The latest model has an enhanced touch screen console, the newest iFit Coach technology and many other great features and capabilities that the previous model did not have.
If you're in the market for a solid treadmill with a strong motor, incline and decline training and loads of built in workout programs, the Pro 2000 is very hard to beat.
Pro 2000 - The Machine
The 10" color Smart HD touch screen display tracks speed, time, distance, pulse, incline, decline, and calories burned.
The console features a workout fan, built-in sound system, iFit compatibility, and pre-programmed workouts that automatically adjust incline, decline and speed.
Here are the most appealing specs...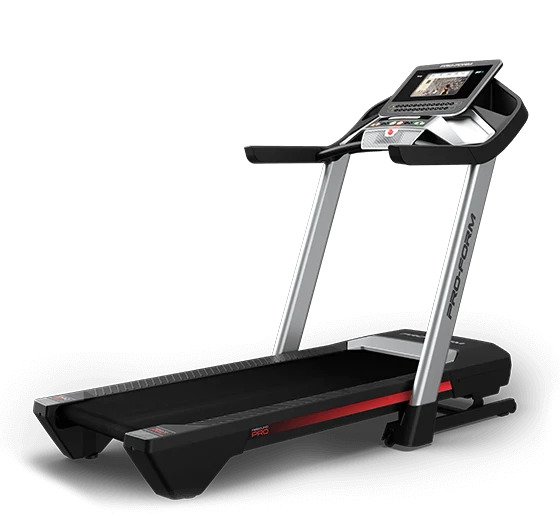 3.5 CHP Mach Z™ Motor
0-12 mph Quick Speed®
0-12% Quick Incline™
-3% Quick Decline™
22" x 60" 1-Ply Commercial Tread Belt
ProShox Cushioning
iFit® Coach Ready
Compatible Music Port
Dual Grip EKG™ Heart Rate Monitor
CoolAire® Workout Fan
300 lbs User Weight Capacity
SpaceSaver® Folding Design
Warranty: 10 years motor & frame, 2 years parts, 1 year labor

The Buzz
The new ProForm Pro 2000 treadmill has been highly anticipated, as it improves upon an already great cardio machine with just about everything you need.
The most notable upgrades include the brand new 10" Smart HD touch screen, a huge improvement on the basic LED display on the previous model.  
There are also even more workouts than before, with a wide range of built in programs ranging from calorie burn to high intensity training to incline to speed. You can literally choose a different workout every time you use your treadmill.
Beyond that, there are some design modifications and a new adjustable console, but everything else remains the same.  And that's definitely a good thing.
You have the strong yet quiet 3.5 continuous horsepower commercial pro motor which is spin-balanced and tested for superior performance.
Other features on the ProForm Pro 2000 treadmill include a large 22" x 60" 1-ply belt, a new full surface suspension system with cushioning to reduce impact on your joints, speed up to 12 mph, and the deck has a folding, SpaceSaver design with an EasyLift™ Assist and self-locking latch for added safety.
The ProForm Pro 2000 comes with incline as well as decline capability,  that raises up to 15% or lowers to -3% to simulate hill work during programmed workouts.  Decline is very rare these days, especially on an affordable treadmill like this one.
You can do your daily treadmill walk/run to sounds coming from the built-in sound system that has 3" high excursion drivers in the speakers, and a plug-in port for an MP3 player.
Also available is iFit Coach with additional workouts designed by professional trainers which you can watch right on the new touch screen. The feature works with Google Maps™ so you can run virtual trails, and you can keep track of your fitness progress with your own online profile.
iFit also includes meal plans, tailored workouts and tons of other helpful features for you.
Note that if you see the designation SMART that means you get one free year of iFit Coach included with your purchase...a very nice perk.
With the new upgrades, the Pro 2000 is now holding its own against the Pro 5000 and even the higher end Pro 9000, as it is really only the size of the touch screen and stronger motor that separates them.
You can learn more about how they compare below...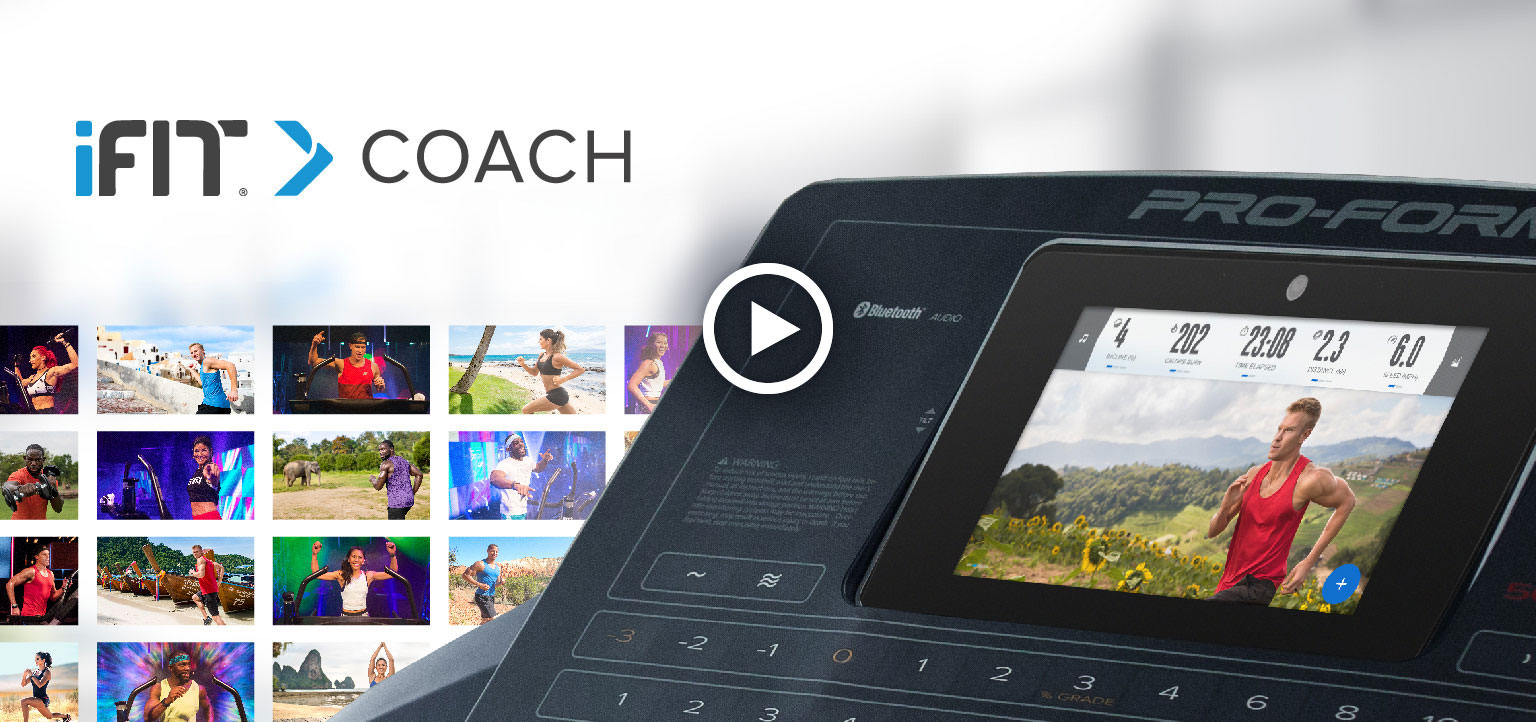 How Does the Pro 2000 Compare to the Other ProForm Treadmills?
The Pro Series is the top of the line offering from ProForm, and also the most popular due to the fact that you get so much functionality for such a competitive price.  
Besides its sister company NordicTrack, you'd be hard pressed to find as many features and capabilities anywhere else.
The ProForm Pro 2000 is the most affordable model in the series, at around $1,499 when it's on sale at various points throughout the year.  As you've read above, it's packed with just about everything you need.
When it comes to the Pro 2000 vs the Pro 5000 and top of the line Pro 9000, you simply get a little bit more as you move up the line.
The Pro 5000 adds a 10" Smart HD touch screen as opposed to the 7" touch screen on the Pro 2000.  It also has a stronger 3.75 CHP motor.
The Pro 9000 improves upon the Pro 5000 with a 22" touch screen and a 4.0 CHP motor.
Other than the motors, displays and heart rate monitoring capability, all three of the ProForm Pro treadmills are very similar, with incline/decline, iFit Coach, large running decks, ProShox cushioning and SpaceSaver design.
About $700 separates the Pro 2000 and the Pro 9000, so your decision will likely be based on budget.  
Our favorite in the series is the Pro 9000, as it adds larger touch screen, but the 7" one on the Pro 2000 is ample enough.
What about the ProForm Pro 2000 vs the rest of the ProForm treadmills?
You can't really compare the Pro series directly to the Power and Performance series treadmills.  But generally, the Pro Series is much more advanced than the rest of the lineup, so only look at that if you have a tighter budget.
You don't get the touch screens or the decline capability, and the max weight capacities and warranties are less impressive.  So if you can swing it, definitely opt for the ProForm Pro 2000 or one of the other Pro treadmills.
ProForm Pro 2000 vs NordicTrack Commercial 1750
Many people ask about the ProForm Pro 2000 vs the NordicTrack Commercial 1750, as the two treadmills are made by the same company, ICON Health, and compete head to head.
Both are very good choices, and the NordicTrack 1750 has been one of our top choices for years, so you really can't go wrong with either.  There's another option from Sole Fitness called the F80 that is very similar in many ways as well.
Both the Pro 2000 and Commercial 1750 have 22" x 60" decks, incline and decline capability, easy folding capability and iFit Coach technology.  
The 1750 has a larger touch screen display, i.e. 10" like the Pro 5000 and 9000, a stronger motor and more advanced Runners Flex cushioning.  As such it is definitely worth considering if you're looking at the Pro 2000.
The Sole F80 does not have decline capability or a touch screen, and of course it does not have iFit Coach technology.  It does however have more advanced cushioning and the highest max weight capacity of the three treadmills, at 375 lbs. vs 300 lbs., a pretty significant difference.
Our top choice of the three is probably the NordicTrack Commercial 1750, as it just gives you more functionality than the other two.  However, all three are highly recommended, so certainly consider the Pro 2000 and Sole F80.
ProForm Pro 2000 Treadmill Review - Bottom Line
The ProForm Pro 2000 treadmill is one of the best machines the company has put out recently as they continue to improve in many areas, including better quality parts, longer warranties, and expanded features.
This model has received very good reviews for its size, power, cushioning, and 5-year parts warranty, as well as numerous mentions on Best Buy Lists.
If you are considering the NordicTrack Commercial 1750, consider this close cousin as a viable alternative if you can get it at the unbeatable price of around $1,499 with free shipping.
If you think you need a little bit more, like a bigger touch screen or more powerful motor, look at its big brothers, the Pro 5000 and Pro 9000 treadmills.