ProForm Carbon T14 –
Rise To The Challenge

The latest addition to the ProForm Carbon series, the T14 joins the T10 and T7 as ProForm's mid-level offerings, helping users rise to the challenge without stretching their budget. The Carbon series fits neatly between the entry level City Series and top of the line Pro Series and all three models offer plenty of great features.
We were interested to see how the T14 stacked up against the other Carbon series models and we found it was actually quite similar in size, with many of the same features designed for comfort and convenience, which might leave you wondering if it's worth the extra cost.
Let's take at the new T14 to see what it's all about...
Carbon T14 - The Machine
Like all of the Carbon series models, The ProForm Carbon T14 is designed to provide maximum comfort and confidence, with a solid build and plenty of cushioning.
Large, easy to use controls for the incline and fan allow you to make adjustments on the fly without interrupting your workout and the spacious belt accommodates users of any size.
Here are the most important specs...
·       2.75 CHP Motor

·       20" x 55" Walking Belt

·       14" Smart HD Touchscreen

·       0-12% Quick Incline™

·       0-10 mph QuickSpeed™

·       ISO Flex Cushioning

·       EasyLift Assist

·       30 day iFit® Trial Included

·       Dual 2" Bluetooth® Speakers, Bluetooth® Headphone Compatible

·       CoolAire™ Workout Fan

·       300 lb. Weight Capacity

·       Warranty – 10 year frame, 1 year parts & labor

The Buzz
As the name indicates, what makes the ProForm Carbon T14 stand out from the other models is its spacious 14" HD Touchscreen. We were particularly impressed with the large, easy to press buttons that make it simple to change resistance level or adjust fan speed and audio effortlessly.
Not only does this enable you to stay focused on your workout, it also lets you make the most of the wide range of iFit workouts. As of this writing, the 30 day iFit trial that is included with your treadmill purchase gives you instant access to expert personal trainers who can lead you in studio classes or take you on the road for outdoor training in beautiful locations around the globe.
The trainers can also take the headache out of working out by automatically adjusting your speed and incline, or you can make the adjustments yourself. The T14 can go from 0-12% incline and ranges from 0-10 mph. Whether manually adjusting or using the AutoAdjust feature with iFit, the change is smooth, frictionless and quiet, making for a very comfortable workout experience.
Another great feature of the iFit program is Connected Fitness Tracking, which automatically records every training session so you can track your progress and adjust your workout programs accordingly.
You can even move to the floor with iFit's Off-Treadmill workouts for more full-body training and movements to help increase your flexibility.
You'll be immersed in your workout experience with the built-in dual 2" Bluetooth speakers and the T14 is also Bluetooth Headphone Compatible so you can get your workout in without disturbing anyone around you.
Of course there's more to the Carbon T14 than just the screen. It has a comfortable 20" x 55" deck with new advanced ISO Flex cushioning and a 2.75 CHP motor which provides plenty of power.
As with all of the Carbon Series models, it also features EasyLift Assist, allowing you to easily fold and store your treadmill to save space.
Bonus features include the CoolAire fan, which has two speed settings and quick console controls, a convenient upright accessory bar that lets you keep your water bottle and any other necessities close at hand, and oversized leveling feet that are easy to adjust and help keep your treadmill steady on any type of surface.
How Does the Carbon T14 Compare to the Other ProForm Treadmills?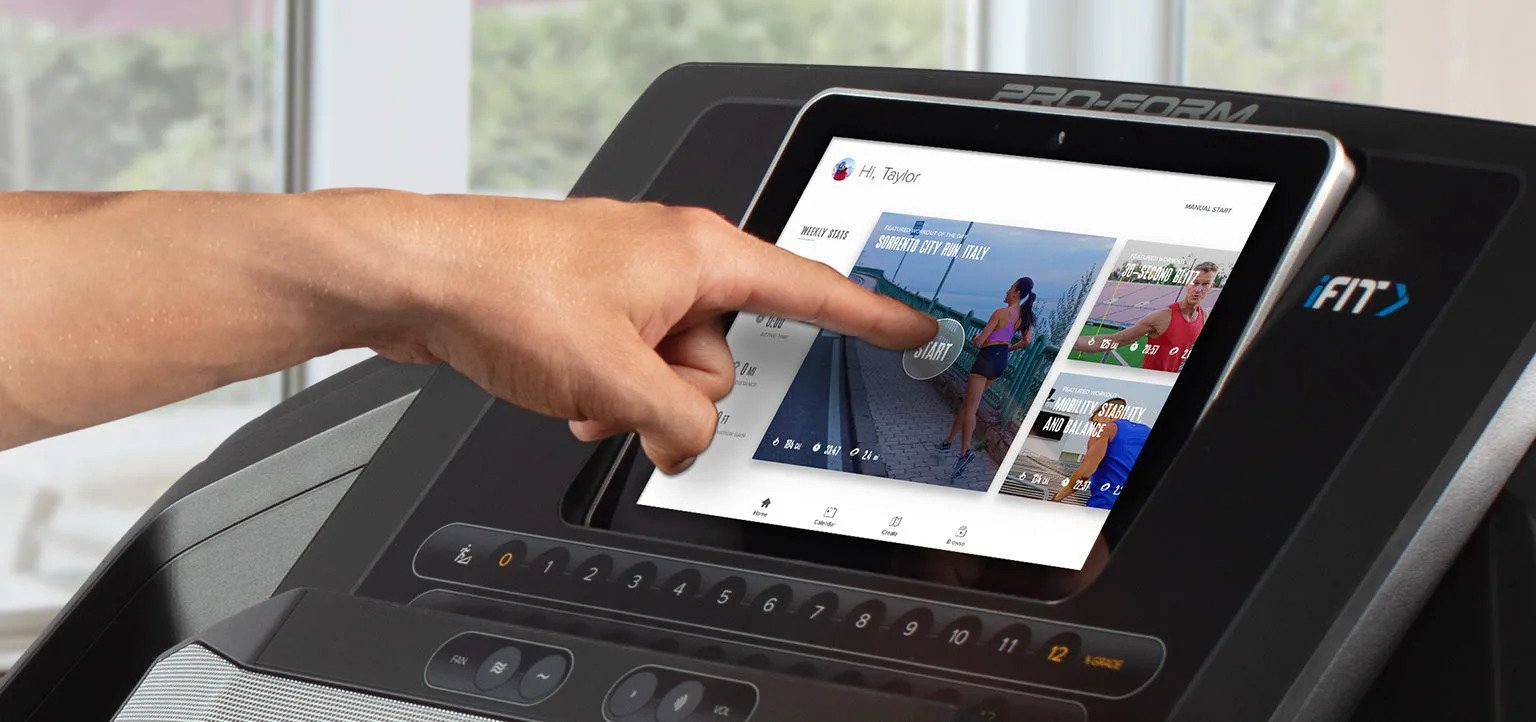 As part of the Carbon Series, the T14 is a mid-level model, situated between the entry level City Series and high-end Pro Series.  That gives it a good balance of features and price which should make it a good choice for the average home gym, but let's look closer and see how it compares to the other ProForm models.
The most affordable ProForm model is the ProForm City L6, which includes a 1.6 CHP motor, speeds up to 8 mph and a 250 lb. max user weight capacity. It lacks the incline and touch screen display of the Carbon T14, but does come with a 30 day iFit membership and a built-in tablet holder, so you can easily access their wide range of workouts on your own device. The slim 17.5" x 45" belt lets it fit in easily in even the smallest of spaces.
In the Carbon series, you have the Carbon T7, which features a 2.6 CHP motor, 20" x 55" deck, speeds up to 10 mph and a 300 lb. max weight capacity as well as incline up to 10% and a 7" Smart HD touch screen.
The Carbon T10 has many of the same features at the T7, with incline that adjusts up to 12% and a larger 10" touch screen display.
As mentioned above, the T14 takes the technology up a step with a 14" screen and a 2.75 CHP motor 
At the top of the line is the Pro Series, which includes the Pro 2000 and Pro 9000 and gives you a little more bang for your buck.
The Pro 2000 has a 3.25 CHP motor, a 20" x 60" deck and speeds up to 12 mph. Along with up to a 12% incline, the Pro Series models also include -3% decline for an even more challenging workout and ReBound Pro cushioning to ensure maximum comfort. The Pro 2000 has the same 10" touch screen as the Carbon T10 and full iFit access.
The Pro 9000 includes all of the same features as the Pro 2000 and adds a stronger 3.6 CHP motor as well as ProForm's largest screen, a 22" Smart HD touch screen.
With the three series ranging in price from about $599 to $1,999, ProForm has something for everyone. From the affordable, compact City Series to the intermediate level Carbon Series up to the Pro Series, which is designed for more serious runners, you can get a great workout while maximizing space no matter the size of your home gym.
ProForm Carbon T14 Review - Bottom Line
We were intrigued by the introduction of this new model to the Carbon Series and at first glance, we have to admit that the Carbon T14 doesn't seem to be that big a change from the T10 and T7 models.
All are the same size, with ISO Flex Cushioning for comfort and adjustable speed and incline and all come with a 30 day free trial of the iFit program. The major difference is, of course, the size of the touchscreen, with the T14 offering a little more screen space.
While we found it comfortable to use and appreciated the easy to see 14" screen, we have to admit that the difference may not be enough to make it worth the extra $300 in retail price compared to the T10, although you may be able to get a bargain with special offers from ProForm.
When it comes down to it, your decision will ultimately rely on your budget and how serious your workout needs are. That said, all of ProForm's models are solid and come with a decent warranty, so you'll be getting good quality no matter which model you choose.