The ProForm Power 995i Treadmill Review – Great Specs, Awesome Value
The ProForm Power 995i treadmill is ready to plug into the internet and make your training session part of a virtual workout!
With the new iFit Coach capability and a wireless network, you can receive automatic downloads of new workout videos, train with instructors all over the world and get nutrition, sleep and exercise recommendations from top experts.
If you're in the market for an affordable treadmill for your home that doesn't skimp on capability, this one might be right up your alley.
Power 995i - The Machine
The ProForm Power 995i treadmill comes with a new Round Watts LED display that lets you see your power output as well as quickly navigate through workout stats and program options, and the console has a Workout Intensity Control – a sole button that lets you increase or decrease the intensity of any workout.
The iFit Coach system, introduced several years ago, is a totally immersive experience, with an endless library of specially designed programs and so much more.
The specs on the ProForm Power 995i include: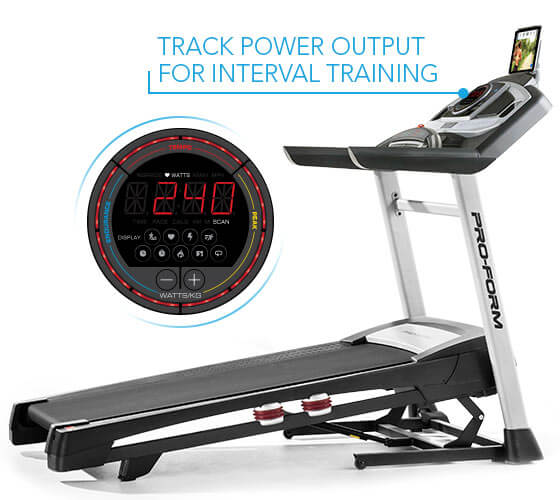 3.0 CHP Mach Z™ Motor
20" x 60" Tread Belt
0-15% Quick Incline™
0-12 mph QuickSpeed™
30 Workouts
Watts LED Display
Workout Intensity Control
ProShox Cushioning
Dual-grip EKG™ Heart Rate Monitor
iFit® Bluetooth Enabled
iPod® Compatible Music Port
Intermix Acoustics™ 3.0
CoolAire™ Workout Fan
350 lb. Weight Capacity
SpaceSaver® Design
Warranty – Lifetime frame, motor; 3-year parts & 1 year labor

The Buzz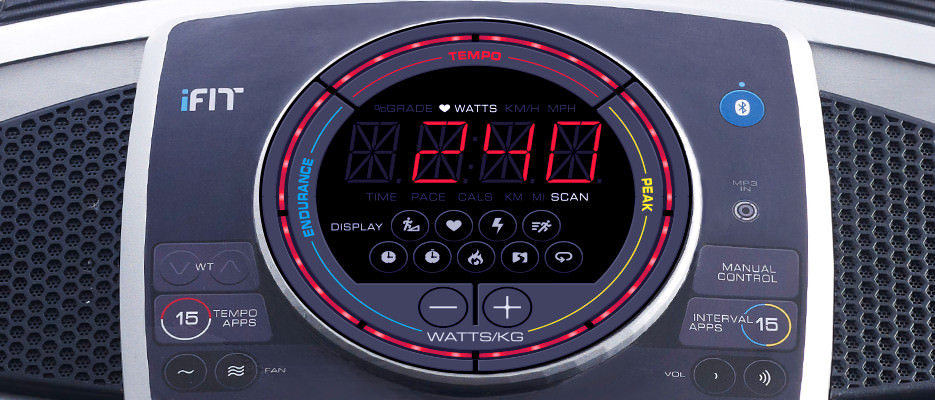 UPDATE: As of 2020 it looks like the Power 995i may be discontinued. Check out our ProForm treadmill reviews to find a comparable machine.


The ProForm Power 995i treadmill has an upgraded workout fan and sound system, an attractive console with easy-to-navigate buttons along the sides, a round Watts Power display, iFit technology, 15% quick incline, adjustable deck cushioning from firm to soft, and a powerful workout fan.
The 3.0 CHP motor features high-grade wiring and insulation ratings, a thermal cut-off switch, commercial bearings and brushes, and a self-cooling fan.
It's one of the strongest motors treadmill pros have seen installed in mid-priced machines.
Even if you don't opt to purchase the iFit annual plan, you can still get in great shape on the ProForm Power 995i by running one of the 30 pre-programmed treadmill workouts, which include Competition Training, Performance, Distance, and Weight Loss.
For entertainment, plug your iPod or mp3 player into port and listen to tunes through the Intermix Acoustics™ Sound System, which uses two 3" high fidelity equalized speakers with audio amplified sound.
How Does the Power 995i Compare to the Rest of the ProForm Treadmills?
The Power Series is the mid-level ProForm treadmill line, sitting between the entry level Performance Series and the top of the line Pro Series.
There are currently two Power models, the 995i and the 1295i.
The Power 995i, as you've learned from reading this review, gives you a 3.0 CHP motor, up to 15% incline, 20" x 60" deck, 30 workout programs, SpaceSaver design, Watts Power Display and a 300 lb. max weight capacity.
The up-level Power 1295i gives you all of the capabilities of the Power 995i plus a 3.5 CHP motor, 34 workout programs, 7" Smart HD display and a 350 lb. max weight capacity.
So the 1295i is the more advanced model, improving upon the 995i in many key areas.
The Performance Series, featuring the 400i and 600i, is a step down from the Power Series, and is only worth considering if you are looking for more of an entry level treadmill for light walking.
The Pro Series is the most popular, featuring the Pro 2000, 5000 and 9000.  These heavier grade treadmills are built for performance, with the strongest motors, more incline as well as decline capability, the most advanced cushioning and the largest variety of workout programs.
To give you a general idea of pricing, the Performance Series costs around $599-$799; the Power Series costs around $899-$1299 and the Pro Series costs around $1299 to $1999.
Which One Should You Choose?
Think about your budget and your wants/needs when deciding which ProForm treadmill to choose.  
The Power 995i is a very popular choice, so if it has what you're looking for, by all means go for it.  If you like the idea of a touch screen, more workouts and a stronger motor, consider the C 1650 for about $400 more.  It can handle more use.
We wouldn't recommend the Performance Series for anything but light use, but if that is where your budget is the 600i is a better option at around $799 or so on sale.  These are OK for walking, rehab, the elderly...any basic usage.
If we had our choice, however,  it would be one of our favorite treadmills, the ProForm Pro 5000.  It costs about $200 more than the Power 1295i, but it's well worth it in our opinion for what you are getting.
The Pro 5000 has everything covered: a strong yet quiet 4.0 CHP motor, 15% incline, 3% decline, 22" x 60" deck, 7" touch screen console with internet, 38 workouts, ProShox cushioning, iFit, music, fan...the list goes on and on.
ProForm Power 995i Review - Bottom Line
The Proform Power 995i comes with a big 3.0 CHP commercial pro motor, iFit Coach, a new power display, and a 20" x 60" belt – all for a sale price of around $899? That's really impressive.
Those kinds of specs are included on some commercial models that sell for much more!
Note that if you are interested in a touch screen with internet built in, check out the new Power 1295i model as well.
And if you can stretch your budget a bit further, definitely take a look at the Pro Series, which has a lot of features and capabilities that the Performance and Power Series do not have.
Still, the Power 995i is a great, reliable entry level treadmill that will definitely help you burn calories and get into shape.