Is the New Peloton Tread Worth the Money?

From the company that brought you the enormously popular studio bike comes the all new Peloton tread, two high end, commercial-grade treadmills with access to an ever-growing library of live and on-demand in-studio classes.
It's the live classes that separate Peloton from its competitors, and the reason that the company has developed an almost cult like following.  They're hoping to replicate the bike's success with the new tread.
What's the Peloton Tread All About?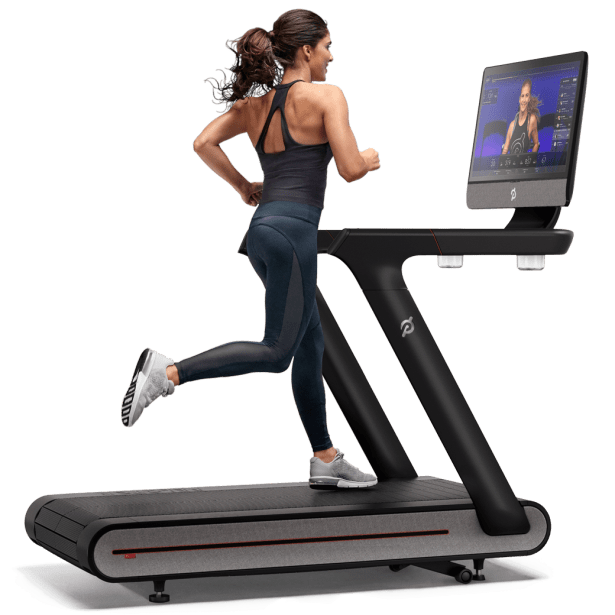 As you can see from the picture, the treadmill has a very sleek, clean, modern look. 
The focus of the machine is the huge 32" 1080p HD touch screen, which is even larger than the display on the NordicTrack X22i, a rather large display itself.
Here is where you watch all of the live and on-demand classes, with the instructor front and center and all of your workout stats, as well as a leaderboard, displayed around the perimeter.
The Peloton tread belt is quite spacious, at 20" wide and 67" long, which is one of the largest belt sizes you will find on the market.  It features a rubber slat belt design, similar to the Woodway Curve and 4Front treadmills.  Those treadmills are manual only, where the Peloton Tread offers both motorized and manual operation.
Some of the other appealing features include up to 15% incline capability, up to 12.5 mph speed, an emergency safety key and easy adjust incline and speed knobs to make transitions from one level to the lnext more seamless.
But the main attraction as we mentioned is of course the classes.  The large touch screen has a 20 watt sound bar, digital signal processing, Bluetooth, ANT+ and WiFi capability and a 5 megapixel camera.  In other words, it's built for performance and interactivity.
The live classes are streamed from the Peloton Studio located in the West Village of New York City, and you can choose from about a dozen of them  offered at various times throughout the day.
If the live classes don't jibe with your schedule, you can choose from a large selection of pre-recorded classes, all with different themes, music, levels, instructors, etc.  So there is definitely something for everyone, and you can try all of them to see which ones most appeal to you.
You can also compete against other Peloton Tread owners or race against your own personal bests.  The community feel of Peloton bikes and treads is what makes them unique.
UPDATE: In late 2020 the company announced a new, more affordable model called the Peloton Tread. It's due to come out early 2021 and we'll be adding a review once it's available. The current model will now be called the Peloton Tread +.
What Does the Peloton Tread Cost?
As far as Peloton Tread costs, there are currently four packages to choose from: Basics, Essentials, Works and Family, ranging from $4,295 to $4,865, which includes delivery and assembly.  They offer a payment program through Affirm with affordable monthly options.
There's also the $39/month membership fee, which is the same as on the popular Peloton Bike.

So your first year, you are looking at around $5,000 or so, and then about $500 per year going forward.

Why would you spend this much money on a treadmill?  Well, the company is hoping that the Peloton Tread will replace your gym membership.  With all of the different workouts it offers, including many that are geared for off-treadmill training, you can get a very effective workout without going to the gym.
However, you can get an equally good workout on a popular treadmill like the NordicTrack Commercial 2950, which costs a little more than half the price of the Peloton Tread, and still gives you the large touch screen, wide selection of workouts plus a lot of additional features with iFit Coach that you don't get with Peloton.
Granted, the Peloton is a much higher end machine with more commercial-grade components and better belt quality, but it's still very expensive for a home treadmill.  You have to decide if it is worth the expense.
We can see the appeal of the Peloton bike, as having a live or recorded personal trainer leading you through a workout is quite beneficial and appealing, which is why those classes are so popular.  But for a treadmill, there is less of a need for an instructor in our opinion.  
If you belong to a gym now or you have in the past, think about the classes that are offered.  Were there any treadmill classes? Maybe a section of your gym had a few machines lined up and there was a small group of people training at the same time.  But that's never been a big thing at the health club.
However, spinning classes have always been quite popular and remain so.  Taking that experience to the home just makes sense.  Not so much with the treadmill.
Also keep in mind that if you don't pay the $39 per month Peloton Tread membership fee, all of the live and pre recorded classes are gone, as well as the competing and tracking capability.  
So if you should decide down the road that you no longer can or want to swing the monthly fee, you're left with a very expensive machine with limited capabilities.  If the treadmill classes don't catch on, the company could decide to shut down that end of the business and just concentrate on what does work...the Peloton bike.
You might just be better off with one of the best treadmills in a lower price range, or one of the higher end ones that doesn't come with a monthly membership like Life Fitness, TRUE or Precor.  That way you don't have to worry about losing any functionality down the road.
How Does the Peloton Tread Compare to the Competition?
As of this writing there is no real direct competitor to the Peloton Tread.  They are the only ones offering the live studio classes throughout the day.  Everyone else has pre-recorded classes.
As far as the treadmill itself, it is very much like the Woodway models in its construction and look.  It has the individual slats rather than the uniform belt.  It can also be used in manual mode like those treadmills as well as motorized, which is a unique feature.
So the machine has great cushioning and rock solid design and feel just like Woodway.
As far as the technology, you might say that Peloton competes directly with NordicTrack, as they also offer the very large touch screen consoles, the vast library of workouts and workout tracking/sharing capability.   NordicTrack's iFit Coach monthly subscription is priced similarly, but you can often get the first year of membership for free.  
The iFit Coach community is not nearly as rabid as the Peloton community, and they don't currently offer live streaming classes, so that's something to take into consideration.  If you like the idea of becoming part of something with like minded individuals across the country, then the Peloton Tread might be a good choice for you.
So you can think of the Peloton Tread as a gym treadmill with advanced residential technology.  There are other high end brands like Life Fitness and Matrix that do offer some components of what Peloton and NordicTrack offer, but not the limitless library of classes/workouts.
So What's the Bottom Line on the Peloton Tread?
For those who like to have an instructor leading them through their workouts, the new Peloton Tread might be just what you're looking for.  There is a wide variety of workouts that you can do on and off the treadmill for a full body workout, including yoga, weight training, stretching, etc.
It is a pretty hefty initial and ongoing expense, but if it motivates you to work out as well as saves you a gym membership, you might decide that it's absolutely worth it.
For those without the budget, and/or those that prefer to train without an instructor, you may be better off with one of the alternatives.  You can always just pay for the app and stream it on your phone or tablet without buying the pricy machine.  Or you can opt for a less expensive alternative like the NordicTrack and get additional features on top of the classes and workout tracking.
If money is no object and you love studio class training, by all means go for the new Peloton Tread.
---