Is the New Echelon Stride Worth Buying?

On-demand training is all the rage these days and the new Echelon Stride gets in on the action, giving you access to a wide variety of workouts led by high-energy personal trainers.
But how does this treadmill compare to competitors like Peloton & NordicTrack? What makes this one different and is it worth buying?
Our experts dive in to see what the Stride is all about...
What is the Echelon Stride?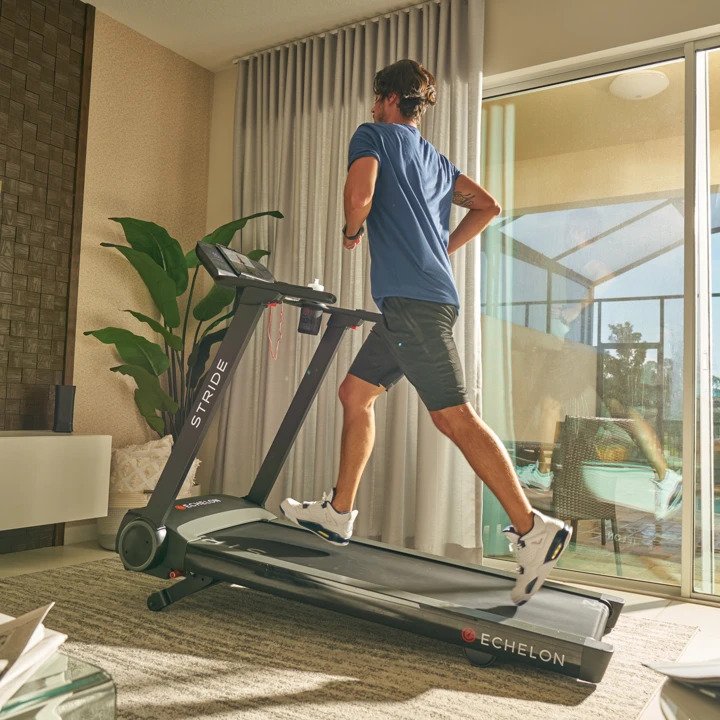 The Echelon Stride is a very compact treadmill offered by the relatively new company that also offers a line of Connect Bikes, Reflect Mirrors, Rowing Machines and the Echelon App that you can access on all of them.
Through the app you can tap into daily live or on-demand classes that you can do on or off the treadmill, as well as track and share your workout results and compete with family and friends.
The Stride measures 69.3" long by 31" wide by 49.2" tall, so it's significantly more compact than most treadmills on the market today. You get a 55" x 20" running surface, 12 levels of incline for a max of 10%, speeds up to 12 mph, max user weight of 300 lbs. and a 1.75 CHP motor.
You get a very basic display with buttons to change your incline and speed, and a place to rest your tablet so you can access the Echelon app workouts.
The compact design is great for those with smaller workout areas. The Stride is only 10 inches deep when you fold it, and it folds very easily with the touch of a button. You can then wheel t to a corner or even slide it under a bed to make more room.
But besides the space-friendly design, everything else is pretty standard, i.e. nothing really stands out. You do get a decent sized running area and speeds up to 12 mph, but the motor is on the weaker size (comparably priced treadmills typically have at least 2.5 CHP motors) and 10% incline is a bit below the industry standard of 12-15%.
So it makes sense to compare the Echelon Stride to other comparably priced treadmills to see if it makes sense for your home gym. And speaking of price...
What Does the Echelon Stride Cost?
It's important to know that an Echelon United Membership Plan is required with your Stride purchase. So you can't just get the treadmill itself on its own. But this is really the main draw of the brand anyway, so it's understandable that you need to join to tap into the Echelon live and on-demand workouts.
As of the writing of this review there are three options: monthly membership, yearly membership and two-year membership.
Monthly membership is $39.99 per month, yearly is $399 (which works out to $33.33 per month) and two years is $699 every two years (which works out to $29.16 a month)
So assuming you opt for the monthly plan, it would be $1,299 for the bike itself plus the cost of one month, or $1339.98.
If you opt for the year it would be $1699.98, and two years would be $1999.
So your initial cost will be in the $1339-$1999 range for the Echelon Stride.
How Does the Echelon Stride Compare to the Competition?
When most people think about live and on-demand interactive classes, the first name that comes to mind is Peloton. They are essentially the first-to-market innovators in this field, and as such people compare all new comers to the industry leader.
Peloton started with the bikes and building on their enormous popularity they recently expanded into treadmills with the Peloton Tread and Tread +.
The Peloton Tread is the newer, more affordable model, and the Tread + is the older, higher end treadmill.
So how does the Echelon Stride compare to the Peloton Tread?
You can't really compare the Echelon Stride to the Peloton Treads because other than the live and on-demand classes, the treadmills themselves are much different.
If you were to draw a comparison, it would be to the base Peloton Tread rather than the Tread +. The Stride and the Tread are equally compact, but the latter does not fold flat like the Stride, so it's not as space friendly.
Beyond the size, the Peloton Tread has it beat in most categories. You have more running space, slightly higher max speed, up to 12.5% incline capability and a much stronger 3 HP DC motor.
The Peloton Tread and Tread + come with HD touch screen displays, a noticeable difference. So you don't need to use a tablet to access the workouts, a definite convenience that is more like a health club experience.
The Treads have a camera, microphone and speakers as well.
Now we know what you're thinking...they must cost a lot more too. Let's take a look
The Peloton Tread costs $2,495 for just the treadmill without the optional equipment, plus $39 per month for the interactive workouts.
So the Peloton Tread is almost twice the price of the Echelon Stride, but you're getting a lot more so it makes sense. Peloton does offer more classes at the moment, but that could certainly change in the future.
What about the rest of the competition?

Basically any company that offers on-demand or live interactive workouts is technically a competitor for the Echelon Stride.
NordicTrack has their version of the Echelon App called iFit. They are currently offering many of their treadmills with a free year of iFit, so you could compare the Echelon Stride to the NordicTrack Commercial 1750, which comparably priced around $1699-$1799.
Like the Peloton Tread, the NordicTrack Commercial 1750 has a touch screen display, but it adds more incline as well as decline capability, much larger running area and stronger motor.
It does have a larger footprint but folds easily if you do need to move it.
Bowflex has a new treadmill as well called the Bowflex Treadmill 10, which competes head to head with NordicTrack but adds streaming capability to the touch screen and a free heart rate arm band. Bowflex's program is called JRNY and it is similar to iFit.
The Bowflex Treadmill 10 is a bit more expensive at around $1,999.
So if you look at the Echelon Stride vs Peloton, NordicTrack and Bowflex, the main difference is the competition has touch screen displays to access their live and/or on-demand workouts, and you need to use a tablet on the Echelon Stride.
The Stride treadmill itself is more compact than the others and also more basic, whereas the competition is much more advanced as far as features and capabilities.
So What's the Bottom Line on the Echelon Stride?
If you're looking to participate in live classes on your treadmill, currently only Echelon and Peloton offer this capability, although that might change over time. All of the other competitors offer on-demand classes that you can access any time.
So if live classes are definitely a must, then the Echelon Stride might be a great option for you, especially given its extremely compact design, easy folding and comparatively low price tag. If you prefer a more advanced treadmill, then Peloton is probably more your speed. (no pun intended)
However, if you're OK with on-demand classes only, as most people are, and space is not a major issue, then you might be better served with a more advanced treadmill from NordicTrack, ProForm (which also offers iFit) or Bowflex.
All three have touch screen displays, incline and decline, advanced cushioning, stronger motors and larger running surfaces.
Check out the Echelon Stride and see if it's the right treadmill for your home gym. Look live class competitors like Peloton as well, and on-demand competitors like NordicTrack, ProForm and Bowflex.
---