Woodway Treadmills – Rehab and Residential Models
Like finely crafted Swiss watches, Woodway treadmills are superior technically to most other machines on the market. The innovative technology eliminates the conveyor belt and deck design, and replaces it with a revolving slat surface.

This system effectively eliminates most of the harmful shock that walking transfers to connective tissue in the body.
Decades of Research and Innovation
Willi Schoenberger founded Woodway in 1975 in Weil am Rhein, Germany. The name Woodway is derived from the German word Waldweg, which translates to "wald" meaning "wood" and "weg" meaning "way."
Schoenberger wanted to design a treadmill that offered a natural but firm surface, as well as feature a technical system that eliminated the friction seen in conveyor belt-style treadmills.
In 1988, the company granted a license to a U.S. firm in Waukesha, Wisconsin, to be the primary manufacturer of Woodway treadmills. Along with two other plants in Germany and Japan, Woodway is now the largest specialized treadmill manufacturer in the world.
They sell primarily to universities, hospitals, governments, and pro sports teams, and they are moving into the residential home market.
The Current Woodway Lineup
The residential line of Woodway treadmills consists of 6 machines: the 4Front, Curve, Curve Trainer, Mercury, Path and Desk Mill.  All are extremely well made and ideal for any kind of specialized training.
4Front
One of their most popular models, the 4Front features a 22" x 68" running surface, with a 60 individual slat belt, 2 HP motor, 15% incline standard with the ability to upgrade to 25% as well as decline, wireless and grip heart rate, Bluetooth workout tracking, 10 built in workouts and multiple console options.
Curve
This top selling Woodway treadmill is completely self powered, without the motor of the 4Front and other models.  It has a 17" x 67" running surface and wireless heart rate capability, with unlimited applications for light, medium or heavy training with no maximum speed levels as the entire workout is self directed.  It features a basic LED display showing you your speed, calories, distance, pulse and time.
Curve Trainer
The Curve Trainer is identical to the regular Curve, but it has a lower rise at either end to make it easier to run at a steady pace.
Mercury
The Woodway Mercury has a 16" x 68" running surface, and is narrower than the similar 4Front making it the most compact treadmill offered by the company.  Otherwise, the 2 machines share similar specs.
Path
Just as the Mercury is narrower than the 4Front, the Path is shorter, with a 22" x 52" running surface and 47 individual slats as opposed to 60.  It too has the same features and capabilities that the 4Front and Mercury have.
Desk Mill
The Desk Mill is a mini version of Woodway's conventional, non curving treadmills, designed for use while you work.  You can adjust the maple or cherry colored desk from 27" up to 50" and it has a running surface that is 15" x 39", with two console options.
Which Woodway Treadmill Should You Choose?
The Woodway treadmills are awesome, but they are also quite expensive and are typically reserved for high end gyms, universities and rehab facilities.
However, if you can swing the $6000+ price tag, these are a great choice for your home gym, requiring little to no maintenance and lasting twice as long as most conventional treadmills.
As far as which one you should buy, the decision should come down to price, obviously, as well as whether you want a motorized or non-motorized machine and what your space constraints are.
We mentioned above that the Curve and 4Front are the most popular choices, but you might find that one of the other models works better for you.
Because the Curve and Curve Trainer are self powered, they are the least expensive Woodway treadmills. Yet for those who prefer to determine their own speeds and make transitions on the fly, those could be the perfect choices.  They allow for all kinds of training from basic walking to HIIT intervals and all out sprints.  They also save you a lot of money in electricity, making them a very green choice.
If you prefer a motor, incline levels and workout programs, then definitely look at the Woodway 4Front, although it is about $4000 more expensive than the Curves.  If space is an issue, consider the Mercury and Path, both of which have smaller profiles and may fit in better in your home gym.
What to Expect in a Specialized Treadmill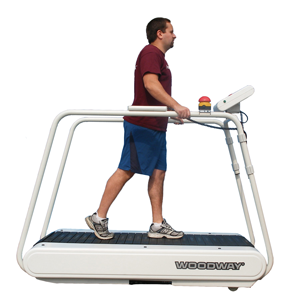 Instead of a moving belt pulled by end rollers across a deck, Woodway treadmills use individual slats that glide along two low friction ball bearing rails. The vulcanized rubber slats move across the walking platform and over the ends like tank treads, both in forward and reverse motion.
Woodward describes the shock absorption properties of the treadmill's slats, with a Shore A Hardness of 38-43, as the feeling of running on a bed of soft pine needles covering a path in the forest.
Researchers at the Deutsche Sporthochschule in Cologne, Germany, determined this to be the ideal surface softness, the sweet spot if you will, to maintain proper biomechanics stride while eliminating the harmful shock to joints and muscles.
Take a look at the entire Woodway lineup on the company site!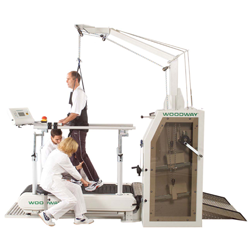 In addition, this low friction system spins freely to deliver smooth and consistent speed, with no slippage – ever. Tests show that the system never strains the motor and performs with the same horsepower output whether there is a person standing on the belt or not.
Without the excessive stress on the motor, drive system, and electrical parts, these treadmills offer lower repairs, minimal maintenance, and longer life. Compared to standard 2-ply treadmill belts, which can last up to 20,000 miles, Woodway's patented Slatflex transportation system can last up to 150,000 miles.
Designed for Optimum Comfort
Woodway now offers a self-powered home treadmill, called the Curve, that moves so fluidly it is hard to believe there is no motor pulling the slat platform.
Ranging in prices starting around $6,000 for home models, and moving up to $24,000 for medical testing and rehab models, Woodway treadmills score high in terms of cushioning, noise level, walking area (up to 68" in length), reliability, warranty, and quality.
No other traditional treadmill can touch a Woodway. It is the best treadmill you can own, and quite possibly the last treadmill you will ever have to buy.
Click here to write your own review!
Woodway Treadmill Model Reviews
Woodway 4Front - One of the most popular models, with impact reducing slats, console options and incline/decline capability.

Woodway Curve - A unique treadmill with no motor, its special design allows you to train slow or fast, low intensity or all out, burning up to 30% more calories.
Woodway Bariatric Tread-Ergometer - The smoothest, quietest, and most reliable medical treadmill available. Used for rehab, bariatrics and other medical applications, with accurate testing results.
---