The Treadmill Desk: For Those Who Can Walk and Type (at the same time)
Can't get away from the office to exercise? A treadmill desk could be the answer to your expanding waistline. We aren't talking about the old school designs of a flimsy piece of furniture mounted awkwardly over a regular treadmill. The newest designs, from Woodway treadmills, have compact-size tread belts and store flat right under your desk.
Adding a Hamster Wheel to Your Rat Race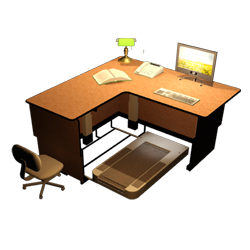 Woodway has created a miniature walking platform that is comfortable to walk on even if you're wearing a pair of street shoes. So just imagine those times when you are engaged in a long phone call, or just reviewing documents, you can kick your chair out of the way, roll the desk treadmill out from underneath, and start walking.
Studies show you can burn 100 calories or more per hour by standing up and moving around, so having one of these handy could help you burn a couple of hundred extra calories every day.
There are a few misconceptions about the treadmill desk. For one thing, it isn't designed to be a cardio challenging workout, but a slow walk. It's meant to help the thousands of overweight (or just under-exercised) people who would like to burn more calories while doing their jobs.
The miniature walking platform is ideal for folks who have to sit in a cubicle all day long, and often don't get any more exercise than getting up to go to the copy machine or the restroom.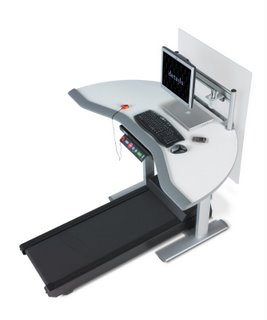 The Machine for the Multi-Tasker
The desk treadmill is much shorter than a regular treadmill; the longest tread belt area measuring about 39". The motors are smaller too, generally running about 2 hp for Continuous Duty (5 hp for Peak), but they offer enough power to support a large maximum user capacity of up to 400 lbs.
It has a top walking speed of 3.5 mph so don't plan to run on it. If fact, Woodway recommends that you don't walk any faster than 0.7 to 1.0 mph. It's also recommended that you don't operate the treadmill for long periods of time at slow speeds because it could burn out the motor.
The company also makes the furniture-type treadmill desk design, but it may not be a good fit for people who would have problems walking and working at the same time, or for folk who would like to sit down at the desk at least part of their day. The smaller model is convenient and discrete, and would be perfect for offices, cubicles, counters, labs, booths, and more.