The New NordicTrack Treadmill Desk Platinum Review - iFit and Power Incline
NordicTrack expanded its treadmill desk lineup recently with a brand new Platinum model.  This one includes power adjustable incline and Bluetooth iFit technology for enhanced workouts.
For those who want to get some exercise in and burn some calories while they work, this one is a great option, with features and capabilities you just don't find often on a desk treadmill.
The Machine
The Treadmill Desk Platinum features a large 40" by 18" work surface with a mahogany wood grain laminate.  
It has a 3 window LCD display which shows you all of the relevant workout metrics such as distance, time, incline, calories and speed so you can keep track of your progress.

Let's take a look at the most important specs...
3.0 CHP DurX™ Motor
18" x 60" Tread Belt
0-8 mph 1-Touch™ Speed
0-10% 1-Touch™ Incline
Cushioned Deck
Heart rate grips
iFit™ Bluetooth Enabled
Oversized Work Station
350 lbs User Weight Capacity
Spacesaver Design with Easylift™ Assist
Warranty: Lifetime frame and motor, 2 year parts, 1 year labor
The Buzz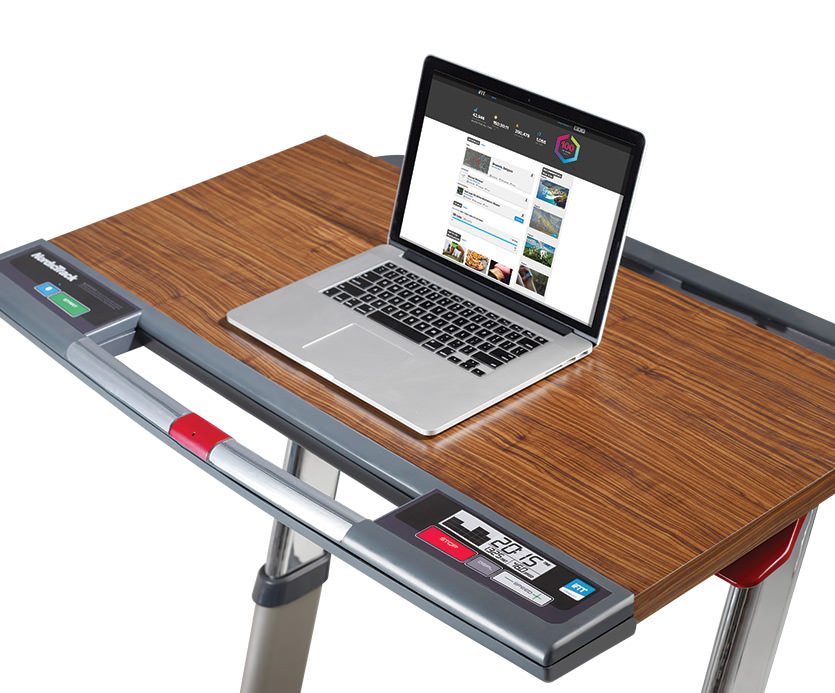 UPDATE: As of our latest review NordicTrack no longer sells treadmill desks. Check out our LifeSpan Fitness desk treadmill reviews to find a comparable model.
------------------------
The NordicTrack Treadmill Desk Platinum has been well received thus far and early reviews are quite positive.  
While most treadmill desks are very basic, this one has a lot of great features that make it a nice option for those who need to get some work done while they work out.
The tread belt is very generously sized at 18" x 60", an upgrade from the base model, so if you want to walk or jump up to the top speed of 8mph there is plenty of room to work out.  The deck is well cushioned and you can raise or lower the large desk surface to achieve the perfect height for your needs.
The 3.0 CHP motor is strong and quiet so you can work without any distracting loud noises, even at the higher speed levels.  For reference the motor on the base model is 2.6 CHP.
One of the nice features on the Platinum is the capability to go up to 8mph, which is twice as fast as you can typically go on a treadmill desk, even one of the better ones like the similarly priced LifeSpan TR1200-DT5.
NordicTrack includes iFit Bluetooth capability on this one, which means you can have access to a number of specially designed workout programs, tracking and sharing, as well as Google maps which enable you to pick any location in the world and watch the trail unfold in front of you while you work out.
All you need is your tablet or smartphone to utilize this feature, which does require a yearly membership.
Other nice features on the Platinum include a power adjustable 10% incline and easy folding capability.  They also upped the parts warranty to 2 years from one on the base model.
The NordicTrack Treadmill Desk Platinum comes with a generous 350 lb. maximum user weight capacity, which is about the same as you get on the other top brands.
NordicTrack Desk Platinum Review - Bottom Line
If you need to get some work done while you work out, the NordicTrack Treadmill Desk Platinum is a good choice.  
It's less than $1,500 on sale and comes with a very strong motor and a generously sized runner's deck.
You also have the ability to use it sitting or standing, and it's easy to adjust to any height you'd like.  It has power incline that you definitely don't find very often on a desk treadmill, as well as generous speed.
Lastly, you can take a break from your workout and tap into all of the great features of iFit, which breaks the monotony of ordinary workouts.
This one is definitely worth looking into if you're interested in a treadmill desk.
Also look at LifeSpan's TR1200-DT5 for comparison, another highly rated desk treadmill with some unique features.