The NordicTrack C700 Treadmill Review – Upgraded Entry-Level Model
The NordicTrack C700 treadmill was recently redesigned and is a very capable machine for entry level or moderate users who like a lot of extra features and capabilities.  It features iFit Bluetooth capability as well as a new calorie burn meter, among other upgraded amenities.
C700 - The Machine
The C700 has a respectable 20 workout programs designed by personal trainers and a multi window LED console that gives you the standard information, such as time, speed, calories burned, heart rate and distance traveled. It also has a ¼ mile track graphics feature showing your progress.

The specs for the NordicTrack C700 treadmill are: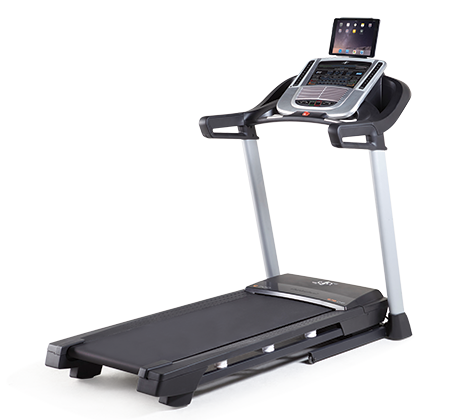 2.75 CHP DurX™ Motor
22" x 55" Tread Belt
0-10 mph 1-Touch™ Speed
0-10% 1-Touch™ Incline
20 Workouts
FlexSelect™ Cushioning
iFit™ Bluetooth Enabled
Adjustable AutoBreeze Fan
300 lbs User Weight Capacity
iPod Compatible Sound System
Spacesaver Design with Easylift™ Assist
Warranty: Lifetime frame, 25 year motor, 1 year parts/labor
The Buzz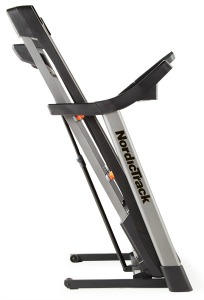 UPDATE: As of 2020 it looks like the C700 and the rest of the C Series treadmills have been replaced with the all new T Series. Check out the latest NordicTrack treadmill reviews here.
The NordicTrack C series remains popular due to its attractive pricing, and the new NordicTrack C700 treadmill should continue that tradition.
Most consumer reviews note that you're getting a good machine and adequate variety of workouts at a great price when you buy it on sale. Although it lists at $999 it's usually on sale for $799, which is a bargain for a machine that works this well.
The new iFit Bluetooth technology is a nice addition to the machine that wasn't on the previous version.  What this means is that you can connect your iPad, phone or other Bluetooth device and tap into a slew of customized workouts, sharing and tracking capabilities and watch any location unfold in front of you with Google maps.  
You do need to pay a membership fee to access it, but it's relatively cheap at about $15 per month...well worth it for what you get.  You'll find iFit on more and more NordicTrack treadmills these days.
It's perfectly fine on your tablet, but if you would prefer a touch screen you can opt for the up-level C990 model, or the top of the line C1650 treadmill.
Any of the C Series treadmills is a great entry level choice for walking and jogging, and will help you reach your fitness goals while remaining entertained and motivated.
How Does the C700 Compare to the Rest of the NordicTrack Treadmills?
The C700 is the base model in NordicTrack's entry level series, so it's going to be the most basic of all of their treadmills.  However, if you compare it to the entry level model from most other companies, it's anything but basic.
The C Series consists of the C 700, C 990 and C 1650....
The C 700, as you've learned above, gives you a basic LED display, 20" x 55" deck, 2.75 CHP motor, up to 10 mph speed, up to 10% incline, FlexSelect cushioning and 20 built in workout programs.
The mid-level C 990 is a big step up from the C700, with a 7" Smart HD touch screen, 20" x 60" deck, 3.0 CHP motor, up to 12 mph speed and 12% incline, and 32 built in workout programs.
The top of the line C 1650 has everything the C 990 has, plus a 10" Smart HD touch screen, a 3.5 CHP motor and 34 workout programs.
So the biggest jump is going to be from the C 700 to the C 990, with a smaller jump from the C 990 to the C 1650.  The costs are around $799, $1099 and $1399, respectively.
There are two other NordicTrack treadmill series that you can consider as well, especially if your budget is more open.  
The Commercial Series, including the popular 1750, 2450 and 2950, give you more powerful motors, better cushioning, higher inclines, as well as decline, wider belts and more workout programs.  They start out at around $200 more than the C 1650 and move up from there.
The Incline Trainer Series, including the X9i, X11i and X22i, are the most expensive NordicTrack treadmills, and feature a huge 40% incline and 6% decline, very strong motors, excellent cushioning and lots of built in workout programs?
Which One Should You Choose?
If you want a basic machine for walking and light jogging, and are OK without the touch screen console, by all means choose the C700 and save yourself some money.
If you want something a little more durable, with a longer deck, touch screen console and stronger motor,  as well as more speed and incline levels, consider the C 990 and C 1650 models.
We recommend the Commercial Series if it's within your budget, as they are much sturdier, with strong motors as well as decline capability that you just don't find anywhere else.  The Commercial 1750 is our favorite treadmill offered, as it has the perfect combination of everything.
And the Incline Trainers are great if you really want to ramp up (and down) your training with serious incline and decline levels for heart-pumping, calories burning workouts.  They start at $1899 though, over twice as expensive as the NordicTrack C 700.
NordicTrack C700 Review - Bottom Line
The NordicTrack C 700 treadmill's 2.75 continuous HP motor is surprisingly durable and carries a 25 year warranty, and much quieter than on previous models.
On sale you can get this machine for just under $800 and still get a number of different workout programs, incline capability and iFit technology which isn't shabby.
The weight limit has dropped slightly to 300 pounds and the warranty is only 1 years for parts and 1 year for labor, but this machine holds its own when compared to others at this price point, particularly since you can subscribe to and use iFit if you like, giving you practically endless workout options for far less than the cost of a gym membership.
You can get a lot more from the C990 and C1650 if you can swing the additional few hundred, and take a look at the Commercial 1750, the most popular treadmill in the series.