Best Folding Treadmills in 3 Price Categories
Our top picks for best folding treadmills are more competitive than ever now that the quality of foldable treadmills has improved considerably over the last few years. They are basically the same machines as their non-folding sibling models, with the addition of shock absorber lifting mechanisms that make storing one of these machines away such a breeze. Best of all, these easy folding features do not appreciably add much to the price.
Folding Treadmills under $500
It's tough to build a quality treadmill for under $500. The motors are too small, the frames are weak, and the running decks are short and narrow. The most prominent models in the sub-$500 market are the Weslo foldable treadmills from ICON Fitness. They come out with new models every year but too often they come with the same problems rehashed in a new design. We still favor the C72 model ($450) over the lower-priced C22, C32, and C44 foldaway treadmills (all discontinued as of December 2009), but the motors are so undersized that you're wasting your money on a sub-$500 machine.
Compare Foldable Treadmills Under $500 Here
Folding Treadmills $500-$1000
Let's take a moment to give an honorable mention to the 2.25 horsepower Horizon T101, rated a Best Buy runner up at the Treadmill Doctor. The fold away treadmill has a 20" x 55" running area, 10% incline, and 9 workout programs and it's a good value at at $600. The Smooth 5.65 remains our top pick in this price range at $999. It's Smooth's most popular and best-selling foldable model, and it offers tremendous value for the price — equal to the 5-star rating we gave the 5.45 folding treadmill last year..
Compare Foldable Treadmills $500 - $1000 Here
Folding Treadmills $1000-$2000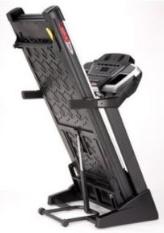 In this price range you can't go wrong choosing either a Smooth or Sole machine. On the lower price end, the Smooth 6.75 foldable treadmill ($1500) has a powerful 3 continuous hp motor, 20" x 60" running area, 2.5" rollers, 15 incline levels and an ultra-quiet whisper weave belt. Closer to the top of the range, Smooth has a couple of foldaway treadmills - the 7.35 with its dual-stage soft drop folding system, and the 7.6 HR Pro - that comes with advanced features as well as the power fold technology; no need to lift the heavy unit, just press a button and it folds up by itself.
Compare Foldable Treadmills $1000 - $2000 Here
Another one of our favorites among foldable treadmills in this price range is the Sole F85 ($1999) which has a 3.5 hp motor, 2.75" rollers, 20" x 60" running deck, and handles a user weight of up to 400 lbs. It's rated a "Best Buy" at Treadmill Doctor and it's simply one of the best built folding models on the market. Shipping is free so you won't go over your $2000 budget limit on this one.
The majority of foldable treadmills stay below the $2000 threshold since the more expensive models aim for stability and features. They weigh more, carry a greater user weight and therefore they tend to be the most stable machines, approaching "club quality". We feel there are a number of excellent folding treadmills you'll find ranging from $800 to $2000, with the very best being the Sole F85, coming in at $1999.
Return from Folding Treadmills to the Treadmill Reviews Home Page