The Horizon Elite T9 is the Top End Treadmill in the Series
The Horizon Elite T9 treadmill is the top-tier model in the series, with tons of great features and capabilities packed into a well-designed machine.  With incline, a generously sized belt and a ton of workout programs, this one is a great choice in the under $2000 category.
The Machine
The Elite T9 features an 8.5" LCD display showing your distance, time, calories, speed, heart rate, laps, incline and two features that you don't typically find: date and time.
Let's look at the specs on this treadmill...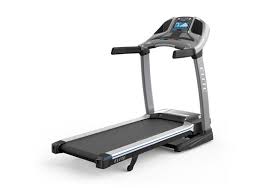 3.25 CHP Motor
0.5 - 12 mph Speed
0 - 15% Incline
22" x 60" running area
40 Workout Programs
MP3 compatible; Sonic Surround™ Speakers
3-Zone variable Response Cushioning
FeatherLight lift system for fold-up storage
350-lb. User Capacity
Wt / Dimensions: 275 lbs / 79" x 39" x 63"
Warranty: Lifetime frame & motor, 5-year parts & 2-year labor

The Buzz
The Horizon Elite T9 is probably the most talked about treadmill in the series, and has received great reviews as well as made a number of Best Buy lists over the last few years.
The Elite series is a nice step up from the Adventure series, with maintenance-free Infinity belts, free Polar heart rate monitors, higher incline levels and stronger motors.
The T9 improves upon the popular T7 treadmill with a larger deck and a stronger motor.
The T9 also features Passport connectivity, which allows you to view HD destination videos right on your own TV.  Passport features two high-def locations that you can virtually run through synced to your speed and intensity.  So it's like you are actually walking, jogging or running in those locations.
Some other great features are the Johnson Drive system, which is strong yet quiet, ViaFit to track your workout results, a tablet rack, water bottle holder and a 350 lb. max weight capacity to accommodate all users.
How Does the Elite T9 Compare to the Other Horizon Treadmills?
The Horizon Elite T9 is the very best treadmill that the company offers, the most advanced model in an already advanced series.
The Elite Series is geared towards more serious trainers, with more power and more incline capability than the other Horizon treadmills.
Let's take a closer look at all of the models so you can see how they compare to each other...
T101
The T101 is the base model in the lineup, a very popular and affordable treadmill built with walkers in mind.  It gives you plenty of great features, but is designed for very light use, i.e. it is not a runner's treadmill.
You get a smaller deck, less powerful motor, less incline capability, a basic console and no workout tracking.
Adventure 3
The Adventure 3 is a step up from the T101, but still not really a runner's treadmill.  You get a slightly stronger motor, more speed (12 mph vs 10 mph), more incline (12% vs 10%), ViaFit workout tracking, Passport HD videos and WiFi.
Elite T5
The Elite T5 replaced the former Adventure 5, adding a new base Elite Series model.  Here you jump up to a 350 lb. max weight capacity (300 on the T101 and Adventure 3), stronger motor, more incline up to 15%, in reach resistance controls, larger display and 38 built in workout programs, as opposed to just a handful on the others.
Elite T7
The Elite T7 gives you a longer belt than the other models, 20" x 60", another step up on the motor, 3.0 CHP, a USB port and 4 additional workouts for a total of 42 programs.
Elite T9
The top of the line Horizon Elite T9 gives you the largest belt, 22" x 60", the strongest motor, 3.25 CHP, aluminum side rails, Bluetooth capability and the most extensive warranty of any of the Horizon treadmills.
Which Horizon Treadmill Should You Choose?
If you are on this page, you might already be leaning towards the Horizon Elite T9.  If so, it's definitely a good choice.
If you are going to be doing a lot of running, you should definitely be looking at one of the Elite Series models.  Of those, we like the T7 and the T9 the most, because they give you the roomier running decks, allowing you to really stretch out.  You'll really appreciate this, especially if you are on the taller side.
The Elite T5 is OK, but it kind of sits in the middle of the entry level and higher end series.  For an extra $300, it's worth at least the jump to the T7, if not the T9 for just $100 more.
What about the T101 and the Adventure 3?  Again, these are more geared towards lighter use.  They are fine for basic walking and jogging, but for anything more you'll be much better off with a treadmill that is equipped to handle heavier use.
The Elite Series, namely the Horizon Elite T7 and T9, are much better choices for runners.
What We Say About The Elite T9 Treadmill
The Elite T9 is definitely a solid treadmill with some unique features and capabilities.  You get a lot of Horizon's patented comforts, including FeatherLight folding, variable response cushioning, a powerful yet quiet motor and a large, runner's deck.
If you are a runner, you will certainly appreciate the extra room to stretch out, and there is a large number of programs to work with to make your workouts more interesting.
The only thing missing here is decline capability and a touch screen, that you do get on similarly priced NordicTrack models.  
Still, the Elite T9 is a great choice with enough features to keep you motivated and focused.