Sole Treadmill Customer Feedback
by Matt
(Los Angeles)
UPDATE: Note that some of the Sole treadmill consumer feedback below is about older models that are no longer being sold.

To read our expert reviews of the latest Sole treadmills just follow that link.


---
Love it. The
Sole F80 treadmill
is a great product that proforms well.
The deck is great, the speakers are ok but could be better in the low end. I love the wireless chest strap; I didn't think I would use it but it comes in handy.
The treadmill is very heavy and therefore feels very planted when running on it, no complaints there. The rollers are big at 2.75" and heavy at 10 lbs so the belt runs solid. The treadmill has a high torque 3.0 hp motor so it's really a joy.
I thought I would use the treadmill 3 times a week but because it's so comfortable to run on the patented quiet deck I use the Sole F80 every day when my baby is asleep about 15 feet away.
Start a new discussion with your own Treadmill Consumer Reviews.
Sole F85 Treadmill Warranty
by Josh
(San Antonio, TX)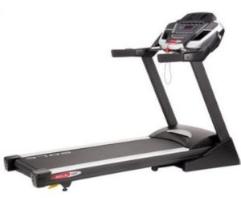 First of all the Sole F85 treadmill stands up to consistent abuse from me.

I'm 6'5" 278 lbs, two to four miles, three to five times a week. Never had a single issue with slippage or incline even at higher speeds.

We bought ours from Dicks Sporting Goods in Dec. 09 and just yesterday I noticed a button on the control panel wasn't responding. The start button would not work.

I called customer support. Someone answered at 6:30 pm Central time within 3 rings. No run around, no hassle, he arranged for a replacement panel to be shipped to me within 5 days.

Sole is literally replacing the entire top portion of my treadmill, no questions asked.

Awesome customer support, great product, you cannot buy a better treadmill with a better warranty.

I highly, highly reccommed the Sole F85.
Start a new discussion with your own Treadmill Consumer Reviews.
Sole F85 Treadmill Consumer Comments
by Debbie
(Clarksville, TN)
I purchased the Sole F85 treadmill in Feb 2010...I love it!

I am an amateur runner, but this treadmill has the smoothest, quietest motor. It's not hard on my knees and I have yet to have any problems.

I received the box and put the treadmill together by myself.

I would definitely buy another Sole treadmill if this one ever gave up!!!
Start a new discussion with your own Treadmill Consumer Reviews.
Sole F80 Treadmill Consumer Review
by Tink
(West Virginia, USA)
We are very dissatisfied right now for two reasons. I selected the Sole F80 treadmill based on its overall very good reviews and warranty. Thus, I wanted to share my experience in return.

First problem - I purchased from Sears. BEWARE! If you purchase a Sole product from Sears, Sole will not even speak to you on the telephone...even for simple "how to" matters.

Nowhere in Sears' or Sole's websites did it say that Sole will not honor its warranty if you purchase their product from Sears. You must deal with Sears for warranty related matters. We know that because of the second problem.

From the moment it was first plugged in, the display has been stuck in some sort of demo mode, scrolling through all the available programs.

We performed all diagnostics and corrective actions recommended by the manual with no results.

Sears service was dispatched and they called Sole for diagnostic instructions that I could have performed. Repair parts have been ordered by Sears and another service call is required.

It is now January 17 and we are still unable to use the treadmill that we received for Christmas.
Sole F63 Treadmill User Review
by Mike
(Centennial, CO)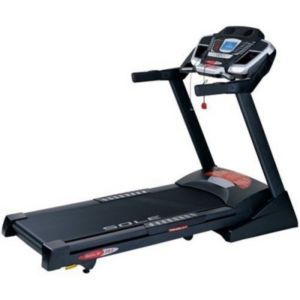 The Sole F63 treadmill is an amazing machine.

I am a runner and I have had no problems with it not keeping up with me.

The downside was that I thought it doesn't have a wireless heart rate monitor, but it does.

I would highly recommend this machine to all levels of runners.
Start a new discussion with your own Treadmill Consumer Reviews.
Sole F80 Treadmill Consumer Review
by Cathy Barnard
(Atikokan, ON Canada)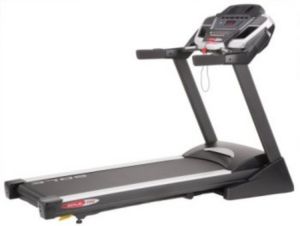 I read many reviews and ratings, on many different treadmills. I finally made the decision to go with the Sole F80 treadmill. I am very happy I did.

This is a great machine. It's solid, well made, and user friendly. It's definitely a heavy piece of equipment, but this is expected in order for it to be solid and stable.

I've read complaints about the speakers, but I have no problem. I'm not looking for a home stereo system on my treadmill, just something to get me through an hour workout.

The tray down low, to hold water bottles, is definitely too low to use while running on the treadmill, but there is room up top to put your water bottle.

I just use the lower rack to store a couple of extra water bottles, and I put the heart rate chest strap there, when I'm done my workout.

The fans are weak, but I didn't base my purchase on the fans. My focus was on purchasing a very well made treadmill, that has a great warranty, and is going to last me a long time.

I don't know that a person will ever find anything 100% perfect to everything they would like to have in a treadmill, but this is pretty darn close. I am so happy with this purchase, and have no regrets at all.

I highly recommend the Sole F80 treadmill.
Start a new discussion with your own Treadmill Consumer Reviews.
Sole F80 Treadmill Problems
by Jonathan
(Saint Paul, MN, USA)
We are happy owners of the Sole F80 treadmill, suggested by this site.

I prefer to see the weight and distance displayed in Metric units. This is supposed to be an option on the Sole F80, obviously, as it is sold in areas outside of the US.

When switching to Metric units, the instructions look straightforward--but the workout changes drastically despite using the same settings in Metric.

I phoned SOLE and was told by a rather impatient male associate that "that's just how the thing works." He talked louder and louder, perhaps assuming I was unable to hear him.

Finally I was transferred to his supervisor who offered to try to reproduce my experience on a similar Sole treadmill there in their lab.

I never received a return call, but did get a shipment from FedEx of a whole new console for the F80 and prepaid return postage. The next console went together easily, but didn't perform any differently.

Do any others have this result? Switch your units to Metric--without changing anything else. (Using equivalent metric weights, obviously.) Do you get strange performance? I am using the HR1 program.

We like our Sole F80 treadmill, but would like it more if this were an option that worked.
Start a new discussion with your own Treadmill Consumer Reviews.
Sole Treadmill Customer Service
by John K
(Lancaster NY)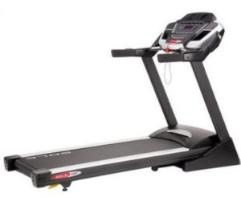 I purchased a Sole F85 in January 2009 and have loved it. My wife and I use it about 4 times per week and it is outstanding.

In April 2011, I noticed an LED light that was skipping from the track display along with the pulse indicator turning on about 2 minutes into my workout but then turning off. I emailed Sole to explain the problem, (it wasn't a problem, but not wanting to wait as we all do before it really becomes a problem), explained the issue and within 4 hours, I received a call stating that they would Fed-ex a new console.

3 days later, I completed the swap out, recalibrated and was good to go. It took about an hour start to finish, unpacking, reading the directions from the manual, etc.

I have not seen such wonderful customer service in a long time.

If you are on the fence about which brand to purchase, Sole is there for you.


Start a new discussion with your own Treadmill Consumer Reviews.