Best Folding Treadmill – The Sole F80 Reviewed
The absolute best folding treadmill on the market today is the Sole F80 treadmill. It was originally designed by Sole to be used in hotels in response to a demand for high quality treadmills that could fold away for storage in guest rooms. The commercial version of the Sole F80 treadmill is now in thousands of Hiltons and other hotels around the world.
The Machine
Read the review of the newest model here: Sole F80 Folding Treadmill
The Sole F80 has plenty of features that make it a solid treadmill for runners, but what makes it the best folding treadmill is the unique double horseshoe folding frame. It's a patented design that is so stable that it surpasses even that of some stationary models. In addition you get:
3.0 HP continuous motor
15% maximum incline
350 lbs. user wt. limit
Continuous display console
20" x 55" running surface
Wireless heart rate monitor
6 pre-set programs, 2 heart rate programs
Cooling fans
Cushion Flex Deck
Warranty: Lifetime on motor, deck and frame; 5 yrs. on belt, rollers and electronics; 2 yrs. labor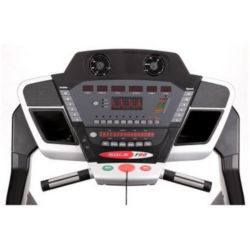 The Buzz
Personal trainers have high regard for the Sole F80 for a number of reasons. One feature that is unusual is the speed and incline controls set into the arm rests, making it easier to maintain your pace and stride without having to reach for the console to make changes. It's one of the best features that runners will appreciate. Professionals are also extremely impressed with the unique folding frame design – the stability wins kudos from every reviewer. You would never know this was a folding treadmill by walking or running on it.
What We Say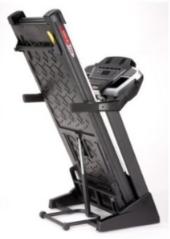 We hate to be late to the game, because others have already chosen the Sole F80 as the best foldable treadmill, but we have to agree. Sole's Cushion Flex Deck is even quieter than phenolic decks and is extremely comfortable without being over-cushioned. The 3.0 horsepower motor has a higher than normal torque, giving this treadmill real power. When you look at the warranty, it's simply a no-brainer. The lifetime on motor, deck and frame is fantastic, and two full years of labor is almost unheard of. It's simply the best folding treadmill at any price.