The Sole F85 Folding Treadmill – Best Foldable Machine on the Market
The top model in the F series, the Sole F85 treadmill is perhaps the best foldable machine on the market today.  It's loaded with features and capabilities, but somehow the company has managed to keep the price under $2000.
The Machine
Sole manufactures treadmills that consistently perform with the smooth feel of commercial models found in the finest gyms and health clubs. They last forever and are well worth the money.
The Sole F85 folding treadmill in particular gives users everything they could want for serious workouts, including a heavy flywheel for truly fluid performance and a generous 10.1" TFT LCD console that features scrolling messages to keep you on track with your workout.
Let's take a close look at some of the best features...
4.0 CHP motor
Speed: 0.5 to 12 mph
Incline: 0-15%
Running surface: 22" x 60"
2.75" rollers
2 ply, 4 layer belt
7 fitness tests, 12 custom workouts
Pulse grips and compatible with chest strap (included)
MP3 compatible sound system
Two cooling fans
10.1" TFT LCD touch console display
Weight capacity: 400 pounds
Overall dimensions: 57"x 37"x 83"
Warranty: Lifetime on frame, motor, deck; 5 years on electronics and parts, 2 years on labor

The Buzz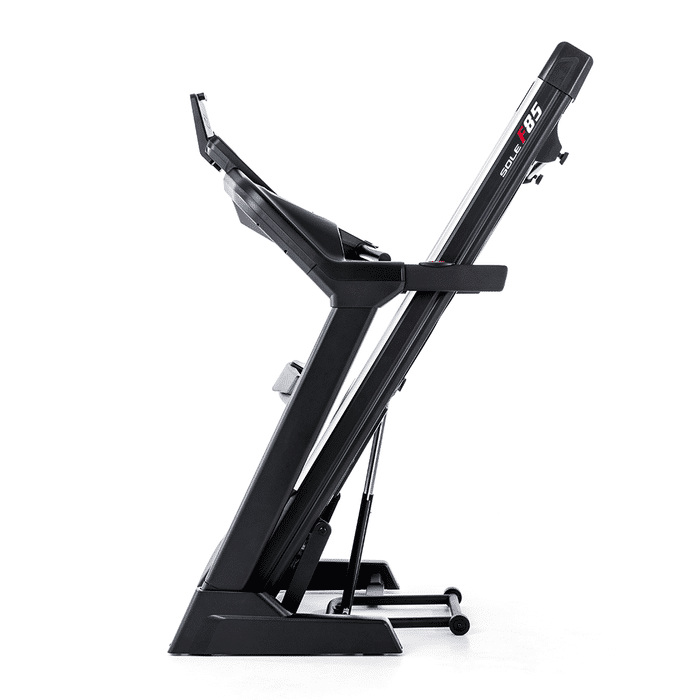 The Sole F85 treadmill has always been a favorite of athletes and weekend warriors, who have admired this model in past reviews and continue to give five star ratings to the new model. Users love the light commercial grade of the oversized console and the upgraded tread belt, which contributes to the smooth motion.
A particularly popular feature is the program that automatically recommends a target heart rate based on your age, which novices and experienced users both appreciate. The new 10.1" TFT-LCD touch console is considered one of the best in its class. It's almost like having a workout buddy.
The F85 is the top folding model from Sole, and is very similar to the non-folding S77 model.  Both have seen similar recent improvements.
You get a powerful and quiet 4.0 CHP motor (an upgrade from the F80's 3.5 CHP) up to 15% incline for targeting different muscle groups, a large running deck, and a heavy max weight capacity of 400 lbs, a testament to the durability of the F85.
You can adjust the incline and the speed right on the armrests and there are built-in speakers for your iPod or any other mP3 device if you like to listen to your music while you workout.
The new Bluetooth technology, mentioned above, allows you to sync your workouts through the Sole App or several other fitness apps on the market.  This is one thing that was missing on Sole treadmills for years, and a welcome change for those who like to keep track of their progress.
How Does the F85 Compare to the Other Sole Treadmills?
The F85 is the most advanced folding model that Sole offers, and it gives you much more than the F63, F65 and F80.
As a comparison, the base F63 gives you a 20" x 60" running deck, a 6.5" display, a 3.0 CHP motor and a 325 lb. max weight capacity.
As you've learned above, the F85 gives you a 22" x 60" running deck, a 10.1" touch display, a 4.0 CHP motor and a 400 lb. max weight capacity.
The other models are somewhere in between, so it's a matter of checking out the specs and deciding which model appeals most to you.  The F63 costs around $999 on sale.  The F85 is around $1,999 on sale.
The S77 is simply a non-folding version of the F85, so consider that one if you prefer a lighter treadmill that isn't foldable.  And the TT8 is commercial grade, an incredibly strong machine for those looking for a rock solid gym level treadmill.  It is also the most expensive model at $2,499.
As it is always good to have a folding treadmill even if you do have room in your home gym, our favorite models are the F80 and F85, as they give you more room to spread out than the you have on the F63, as well as stronger motors to accommodate heavier workouts and larger displays.
What We Say About the F85
Unique to this model is the Easy Assist Folding Deck. You simply activate it and it unfolds with no heavy lifting required. It's built for performance and heavy duty use, which means sturdier, heavier components.
With a full 4.0 hp motor and a heavier flywheel, this is probably the closest you can get to a commercial grade machine without spending considerably more cash.
In fact, the console, motor and running deck are labeled "light commercial," and we won't quibble with the designation. Just look at the warranty - lifetime on frame, motor AND deck!
The Sole F85 folding treadmill is built to outlast any other treadmill at the price and we have no reason to think it won't.
If you want to save a little money take a look at the F80 as well, another great machine that has topped our best buy lists for many years now.