The
Smooth EVO FX30 Folding Treadmill

– Top Choice for Runners

The Smooth EVO FX30 folding treadmill offers one of the better values you'll find in an exercise machine in terms of comfort and performance. Runners who chart up 50 miles or more per week will be pleased to find a folding design that has the stability and durability to handle their training regime.
The Machine
The Smooth EVO FX30 folding treadmill has an incredible number of extra features, including the motion control on the hand rails where you only need to wave your hand over the light sensor to change speeds.
The console display gives you a 1/4 mile running track, and 3 pre-set programs are adjustable with 12 intensity levels each. The specs of the Smooth EVO FX30 include: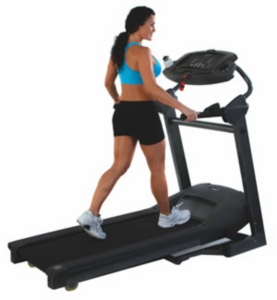 2.75 HP motor
10 mph max. speed
15% max. incline
20" x 54" running area
6 workout programs
350 lbs. max. user weight
Textured low-noise belt
Motion control technology on hand rails
Hand grip heart rate monitor
Optional wireless heart rate monitor
Lifetime warranty on frame and motor
5 year warranty on parts, 1 year on labor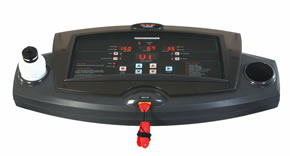 The Buzz
UPDATE:  The Smooth EVO FX30 has been discontinued. Check out our list of best treadmills under $1000 for a comparable model.

The Smooth EVO FX30 folding treadmill is a best buy on most trainers' lists. It's not only one of the most stable folding treadmills on the market, its cool features and shock absorbing system making running a pleasure.
It has the same AirCell™ cushioning to help absorb the impact on your legs as more advanced models. And under the hood, the large non-slip 2.5" rollers set the bar in treadmill technology for extending the life of the belt, deck and roller bearings.
Owners of the Smooth EVO FX30 have to knock themselves in the head trying to come up with any weak points with Smooth treadmills. The company delivers extremely affordable folding and non-folding models ranging in price from $1000 to $3000, and then stands behind them with extensive warranties, and quiet powerful motors.
Like buying extra features on a car though, beware of paying too much for things you can do without — like the speed sensor adjustment on the hand rail. (If you don't need the motion control go for the Smooth 6.25 which is $300 cheaper!)
What We Say
Finding a folding treadmill that offers just the right readouts you like, rock solid stability and deck cushioning is essential not only to your health but to your budget.
The Smooth EVO FX30 lists for $2499 but can be found for about 30% less if you buy factory direct from the Smooth Fitness website.
The Smooth EVO FX30 folding treadmill will likely be in your top 3 choices when making the final purchase decision.
Show me other Smooth Treadmills